Heck demotes campaign chief after UNLV-UNR game incident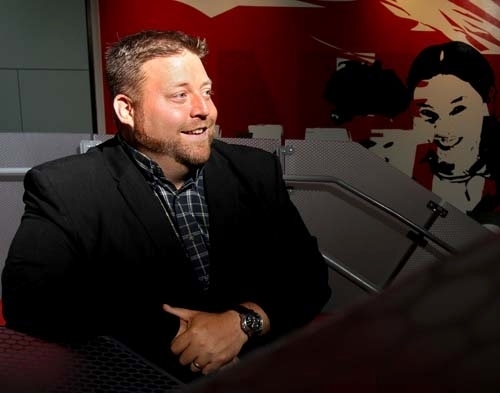 U.S. Rep. Joe Heck on Friday demoted his campaign manager after he was ejected from a basketball game last weekend between the University of Nevada, Reno and its rival, the University of Nevada, Las Vegas, for making an obscene gesture during a heated exchange among fans.
Mark Ciavola, who was Heck's campaign manager and is UNLV's student body president, apologized for the incident.
Heck, R-Nev., who is running for a third term, named Keith Hughes as his new campaign manager. Hughes is Heck's district director. Heck represents Southern Nevada's 3rd Congressional District, which includes Henderson.
Ciavola was ejected after leading a group of UNLV fans around the perimeter of the basketball court at the Lawlor Events Center, according to published reports. A security guard or police officer told them to return to their seats, but when they did UNR students responded by flipping off the UNLV contingent and throwing bottles, Ciavola told the Reno Gazette-Journal. At that point, Ciavola apparently made an obscene gesture and was ejected as the leader of the UNLV group.
"I am deeply sorry for the inappropriate behavior that resulted in my ejection from the UNLV/UNR basketball game in Reno last weekend," Ciavola wrote in a letter posted on the UNLV student union's Facebook page. "My actions did not reflect who I am or meet the high standards that I expect of myself or that should be expected of a student body president."
"I regret that my actions reflect poorly upon the University and those who chose to put their trust in me," he added. "I have learned from this humbling experience and look forward to moving beyond it with a renewed focus on positively representing our students and this University."
Ryan Erwin, a spokesman for the Heck campaign, said Ciavola would become political coordinator for Heck.
"Mark has shown genuine remorse, accepted personal responsibility and publicly apologized for his actions," Erwin said in a statement. "Effective immediately, Mark will no longer serve as campaign manager."
Hughes will join the Heck campaign in April, according to Erwin.
Contact reporter Laura Myers at lmyers@reviewjournal.com or 702-387-2919. Follow her on Twitter @lmyerslvrj.