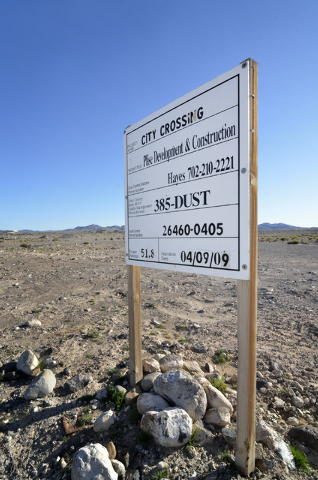 Henderson resident Ron Meek has opposed developers from building houses west of his Seven Hills community for almost eight years.
The Henderson City Council on Tuesday rewarded Meek's efforts yet again.
Council members unanimously approved a $25 million like-value land swap with developers behind the Sage Mountain Ranch proposal that city officials and nearby residents said was too close to the Henderson Executive Airport.
The city for months has been negotiating with developers, who had proposed the housing project on the southwest corner of St. Rose Parkway and Executive Airport Drive.
Henderson will swap 15 parcels near Mission and College drives totaling about 108 acres valued about $27.16 million, Henderson spokesman Bud Cranor said. Sage Mountain developers will give back almost 88 acres valued at $27.69 million, he said.
Although the city is giving more acres to the developers, the city is receiving slightly more valuable land, he said.
"This is a big success for the city. It helps us with economic development and preserves that land for commercial and industrial uses that we've been promoting out there," Cranor said in an email. "I think all sides are happy that we've been able to come to such a positive resolution."
The Sage Mountain proposal, which was initially denied by the Planning Commission on Feb. 13, was strongly opposed by area business owners, homeowners and pilots.
Meek, president of the Seven Hills Master Community Association, said the residents were concerned about Sage Mountain's proximity to the airport.
Pilots fly over the vacant Sage Mountain development to the west of Seven Hills, Anthem and Inspirada communities. Residents were worried airplane noise will increase if pilots start flying in that direction to avoid the homes at Sage Mountain.
"If they build houses there (at Sage Mountain), where do the pilots go? There's nothing but houses all around them, and that's just dangerous for everyone," he said.
Meek said the land swap was great for the developers, the city and the residents.
"Everybody gets what they wanted," he said.
Contact Mike Blasky at mblasky@reviewjournal.com. Find him on Twitter: @blasky.