Hyde Bellagio Lounge will open Sunday
December 29, 2011 - 2:05 am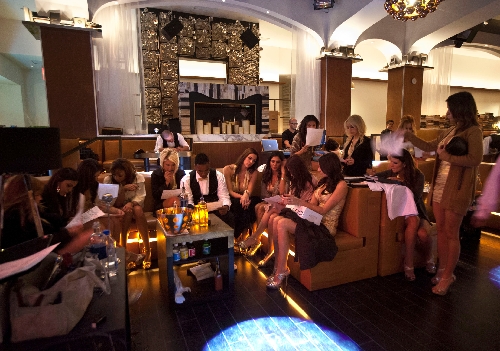 Sam Nazarian has long-believed the Strip was a perfect spot for one of SBE Entertainment's nightlife brands.
Little did he imagine a prime location at the center of Bellagio would open up.
"With great real estate comes great responsibility," said Nazarian, whose SBE-operated Hyde Bellagio Lounge opens Sunday in a 10,000-square-foot space overlooking the Fountains at Bellagio that once was the Fontana Bar.
"We're going to take advantage of this location and deliver like we have never delivered before," the SBE founder and CEO said.
Strong words from Nazarian.
His company operates 14 nightlife and restaurant venues in Southern California, including four Katsuya locations, The Abbey Food & Bar, and Gladstones in Malibu, all haunts of Hollywood and entertainment industry crowds.
SBE also has 30 properties in cities such as San Francisco, Dallas and Miami, including the luxury SLS hotel brand, and plans to remodel and reopen the now-shuttered Sahara at the northern end of the Strip.
But until this weekend, SBE didn't have a brand in Las Vegas.
"SBE was probably the largest lifestyle company not operating in Las Vegas," Nazarian said. "We know our customers come to Las Vegas, so we wanted to bring something to the market that is new, exciting and unique."
Hyde Bellagio is similar to SBE's Hyde Lounge Hollywood and locations at the Staples Center in downtown Los Angeles and California's Mammoth Mountain ski area. Hyde Beach is to open in Miami's South Beach next year.
Hyde Lounge is not just a nightclub venue. Starting at 5 p.m. daily, it serves high-end appetizers SBE officials call "small bites." They include Kobe beef sliders, Ahi tuna tartar cones, caviar service, Kumamoto oysters, a Thai Mango salad and deserts. At 11 p.m., the space becomes a high-energy ultra lounge with celebrity DJs. On Friday and Saturday nights, the club is open until 4 a.m.
The Hyde Bellagio has 40 tables and a capacity for 714 people.
"We weren't looking to do a nightclub for 3,000 or 4,000 people," Nazarian said. "We wanted a venue that was small, had an exclusive feel and was manageable."
Hyde Bellagio features a mixology program with drinks served tableside from a signature cart. Service includes an Italian sparking wine Bellini menu, which changes by season.
Bellagio President Randy Morton said the Hyde Lounge concept offers several options for the hotel's customers. He said the property needed a newer area that doubled as a bar and lounge for guests looking for something to eat, but not a large meal.
"The location for Hyde is certainly going to be a driver," Morton said. "It's not only at the 50-yard line of the fountains but it's at the 50-yard line of Las Vegas Boulevard. It's really a one-of-a-kind experience with the tableside mixology and the spectacular view of the fountains."
Morton said the timing of the Hyde Lounge's opening works perfectly with completion of Bellagio's remodeling of 2,568 guest rooms.
Bellagio owner MGM Resorts International paid for the transformation of Fontana Lounge, which was closed in March. The area was walled off and now has a more exclusive entrance, while the patio was expanded to include a VIP table closer to the fountains.
SBE and MGM Resorts also have an agreement to cross-market their customer loyalty programs.
Morton said the deal was "18 months in the making." The lounge will officially open New Year's Day after a private New Year's Eve party.
Contact reporter Howard Stutz at hstutz@reviewjournal.com or 702-477-3871. Follow @howardstutz on Twitter.
PLANS MADE FOR SAHARA
The venerable Sahara will reopen as the SLS Las Vegas, but SBE Entertainment still is working with designers and architects to determine the size and scope of the hotel-casino.
The Sahara closed in May after 59 years on the Strip. SBE officials said at the time it was "no longer economically viable" to operate the 1,720-room hotel-casino.
SBE Chief Executive Officer Sam Nazarian wouldn't detail renovation plans, but in November Clark County approved a tentative plan to reduce the hotel to 1,600 rooms and add several elements. "
There's what I can say, what I want to say, and what I'm allowed to say," said Nazarian, whose Los Angeles-based company acquired the Sahara in 2007 in a joint venture with Stockbridge Real Estate, a private equity group out of San Francisco.
In an interview with Bloomberg Business Week, Nazarian said the Sahara would be renamed SLS, which is SBE's luxury hotel brand. Nazarian said it will feature his company's restaurant brands, including Katsuya and Umami Burger, and two SBE nightclubs.
No timeline or costs have been announced. Architectural design firm Gensler and Penta Building Group are planning the redevelopment.
"I've always said I was excited about the north end of the Strip," Nazarian said. "I'm hopeful we'll be able to announce something soon."
LAS VEGAS REVIEW-JOURNAL