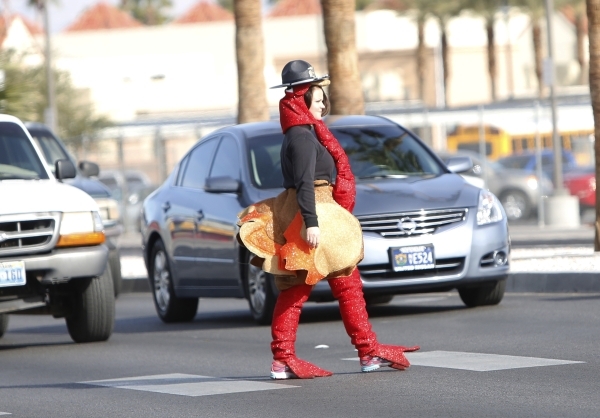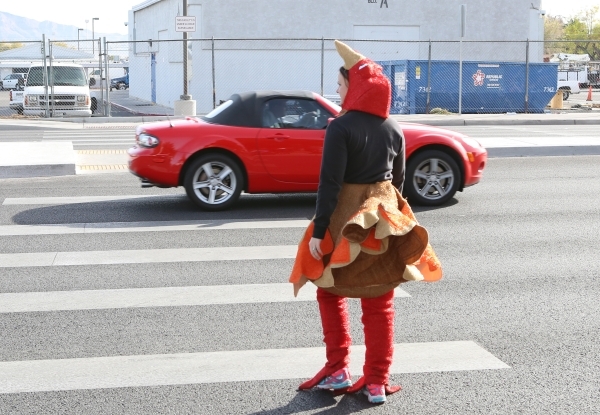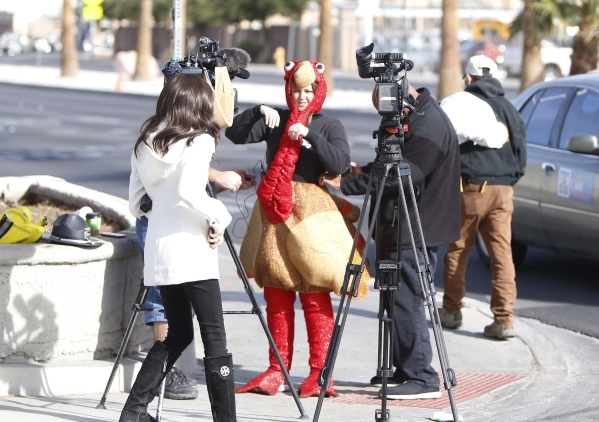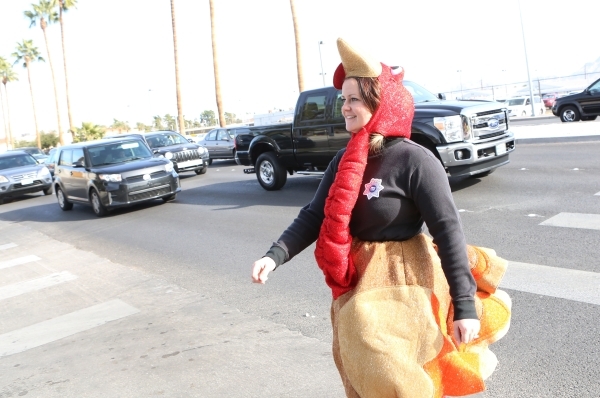 An unusual costumed crusader was spotted waddling across the street in the central valley Wednesday morning: a cop in a turkey suit.
Dubbed "Butterball One," the costumed cop and the annual stunt are meant to draw attention to pedestrian safety issues. The idea is to show that many drivers don't even notice a giant turkey in a crosswalks, much less a person on foot.
Metro, Clark County School District police and the Nevada Highway Patrol — with Trooper Chelsea Stuenkel in the role of the turkey — came together for the holiday awareness campaign. A posse of officers accompanied the bird to issue tickets for failure to yield or passing a stopped vehicle at a crosswalk or intersection.
The cohort setup at the intersection of Eastern and Sunrise avenues in the morning, then moved to Eastern and Wengert Avenue after lunch.
Because the enforcement effort occurred within Las Vegas proper, citations would start at $191 plus court costs that typically run $74, said Erin Breen, director of UNLV's Vulnerable Road Users Project.
Vulnerable is the appropriate word. Small children and the elderly are considered most at-risk, often dying in low-speed collisions.
Recent cases show pedestrians are vulnerable even when they aren't jaywalking.
Darlene Schroer, 80, died from multiple blunt-force injuries after she was hit by a pickup truck last Thursday afternoon. The Las Vegas woman was walking on a sidewalk in front of a Walgreens on Charleston Boulevard near Torrey Pines Drive.
That same day, Bruce Lee, 72, died at University Medical Center. Lee was waiting at a bus stop, in a wheelchair, when was hit by a car that lost control after a collision at Eastern Avenue and Bonanza Road. Police have said Noah Moffett, 54, is suspected of driving under the influence in the crash.
"We don't want any more of those kinds of crashes to happen," Breen said. "They're completely preventable."
Though the Nevada Department of Transportation said pedestrian deaths have dipped 13 percent (six fewer than the 45 during the same period in 2014), Breen said more than 40 percent of last year's pedestrian deaths happened in November and December, and many involved an impaired driver.
"Darkness and alcohol are the things I would point to," Breen said.
Pedestrians are the most vulnerable at night, so flashing lights were given to school children in the area.
The turkey costume also serves as a valuable reminder of the upcoming holidays.
"It's the worst time of year to lose someone," Breen said, adding that everyone should avoid drinking and driving.
"Just plan ahead," she said.
Contact Wesley Juhl at wjuhl@reviewjournal.com and 702-383-0391. Find him on Twitter: @WesJuhl