Indoor farmers market planned in Las Vegas
December 19, 2011 - 1:59 am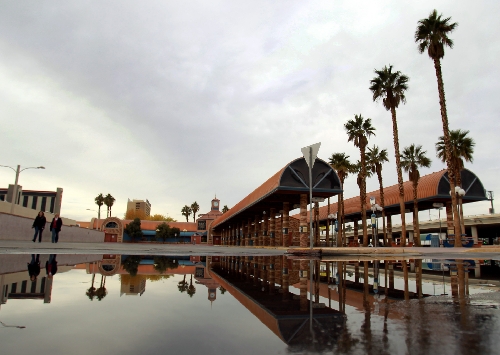 Just a block from a stretch of Fremont Street where epicurean highlights include deep-fried Twinkies and cheap hot dogs, Kerry Clasby peels open an organically raised tangerine to share with a small group.
The fruit is plucked from a basket of specialty produce that includes cauliflower, artichokes and heirloom tomatoes.
It's cold and cloudy and the produce basket is the only splash of color livening up the vacant downtown Las Vegas bus terminal where Clasby is handing out fruit samples.
She and her business partner, longtime Las Vegas food and beverage executive Cheryl MacPherson, aren't bothered by the cold or the din of traffic from the nearby freeway overpasses.
They're enjoying the fruit and envisioning the farmers market they're planning to open Friday mornings at the site in February.
"This is ideal," said Clasby, an anchor tenant at the Bet on the Farms market held Thursdays at Springs Preserve and "intuitive forager" for some of Las Vegas' top restaurants. "I've been cross country four times going to farmers markets. It is a great spot."
Clasby and MacPherson are partners in the market with Fifth Street Gaming — the company leading a $120 million conversion of the defunct Lady Luck hotel-casino to the Downtown Grand on behalf of owner CIM Group and the city of Las Vegas, which owns the old bus terminal — to create the market.
They love the terminal's tile floors, high copper ceilings, big windows, ample parking, location next to the freeway and about 11,000 square feet of indoor space.
They're planning to sell locally roasted coffee from a former bus ticket window and use the spacious interior for cooking demonstrations and other events.
"The biggest problem with Las Vegas farmers markets is they are outdoors. The produce is compromised, and people are either freezing or sweating," Clasby said.
"I foresee this building as a community gathering place."
Last week, the Planning Commission voted unanimously for a two-year approval for the market, which will invite food trucks and "pop-up retail" shops to the site adjacent to the Mob Museum. The museum is scheduled to open in February.
The proposal is scheduled to go before the City Council on Jan. 18.
At first glance, a farmers market doesn't seem to jibe with the Fremont Street vibe, which includes booze, junk food, gambling and more booze among its offerings.
But with Fifth Street Gaming going for a more upscale feel at Downtown Grand in 2013 and online shoe retailer Zappos.com set to move into City Hall when city government moves to a new headquarters on Main Street, there are hopes attractions such as a farmers market aimed at a wealthier, higher educated crowd will succeed.
"Farmers market was in the plan since Day One," said Seth Schorr, CEO of Fifth Street Gaming. "We think Las Vegas will be receptive to the real deal."
Real deal, indeed.
Clasby is well-connected to high-profile restaurants on the Strip.
Her business, which includes her own heirloom tomatoes and avocados grown in Santa Paula, Calif., involves foraging for fresh, organic and specialty produce up and down California — from Arcata to Santa Monica — and trucking it to chefs such as Mario Batali and others.
The produce at the market, such as Hidden Rose apples Clasby brings fresh from Arcata, is the same as what chefs are using on the Strip.
"That apple is a very rare expensive apple to produce and to get," Clasby said. "But because Wolfgang Puck's pastry chef orders them, I order an extra case or two and have them at the farmers market."
The vacant bus terminal has been a dark spot in downtown Las Vegas since autumn 2010 when the Regional Transportation Commission opened a new transit center at Casino Center Boulevard and Bonneville Avenue.
The site is part of an agreement between CIM and the city that calls for CIM to have an opportunity to lease or buy the land after it completes the opening of the Downtown Grand.
Contact reporter Benjamin Spillman at bspillman@reviewjournal.com or 702-229-6435.