Journalist arrested during tax protest outside Trump International in Las Vegas
Updated April 15, 2017 - 11:58 pm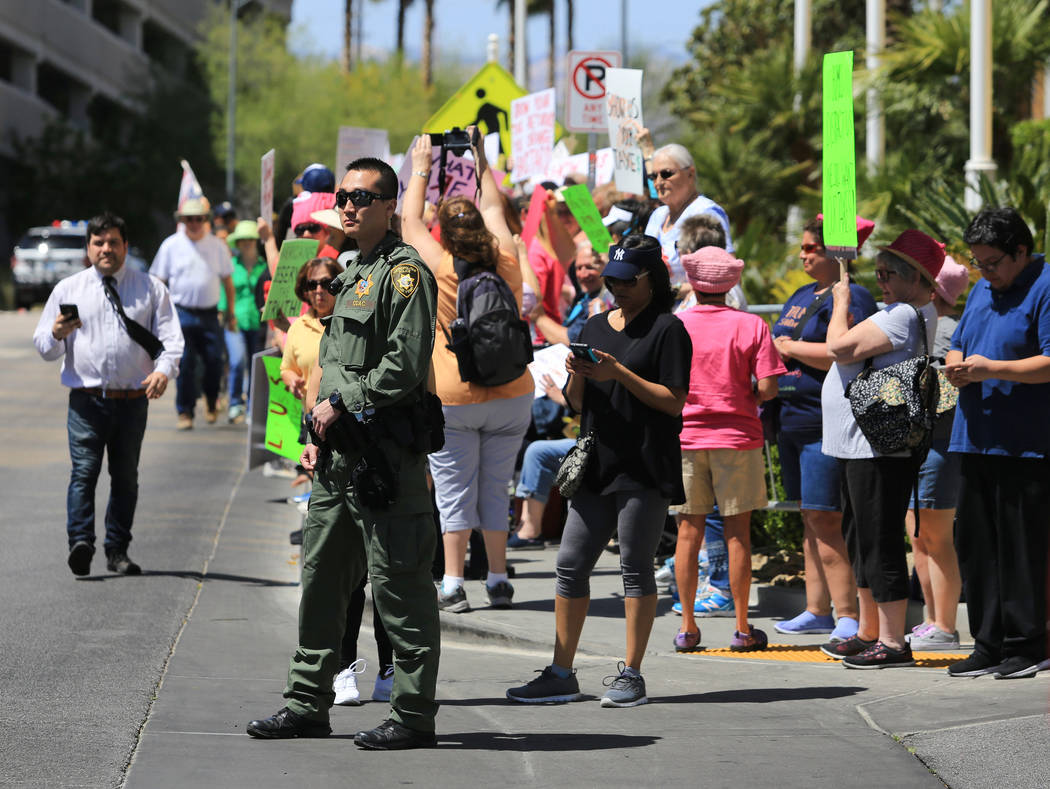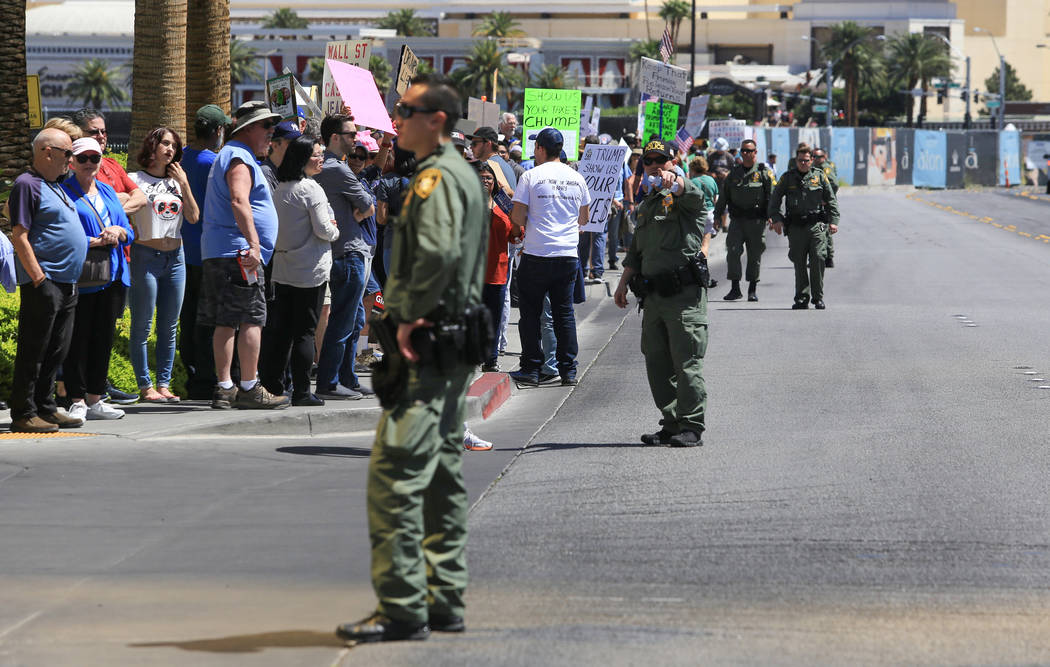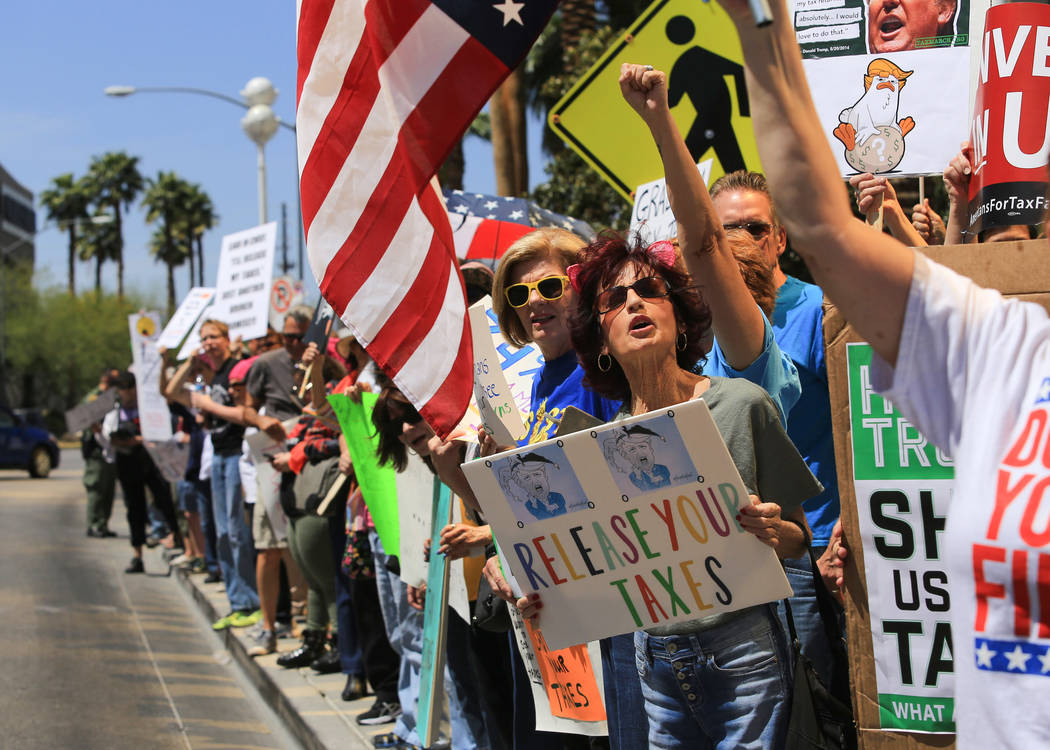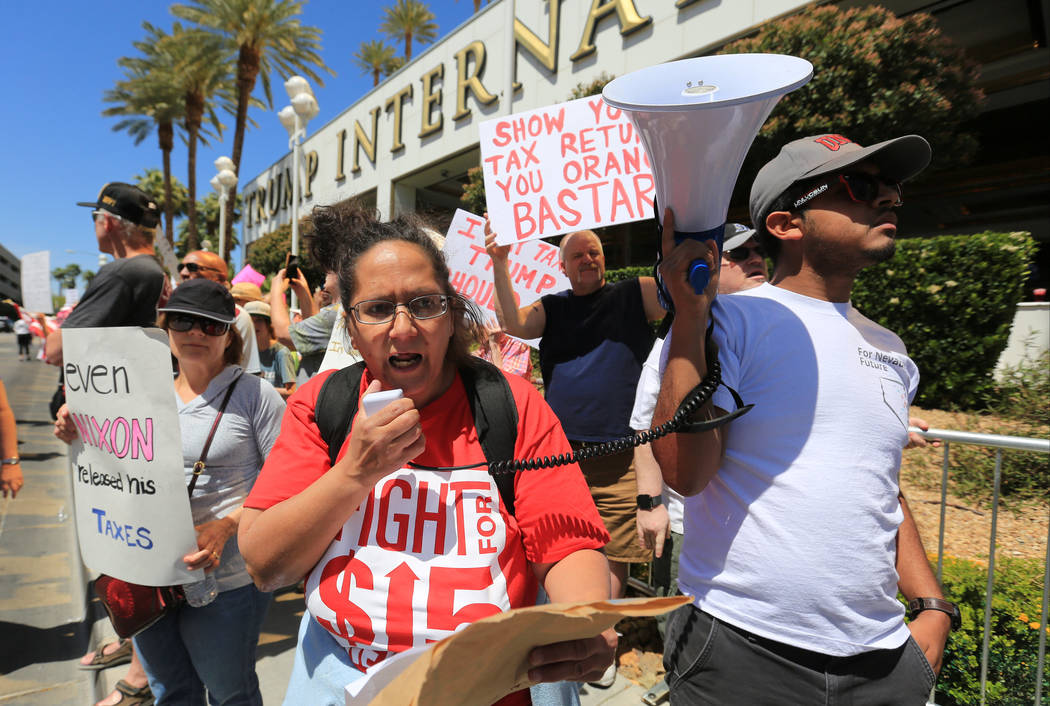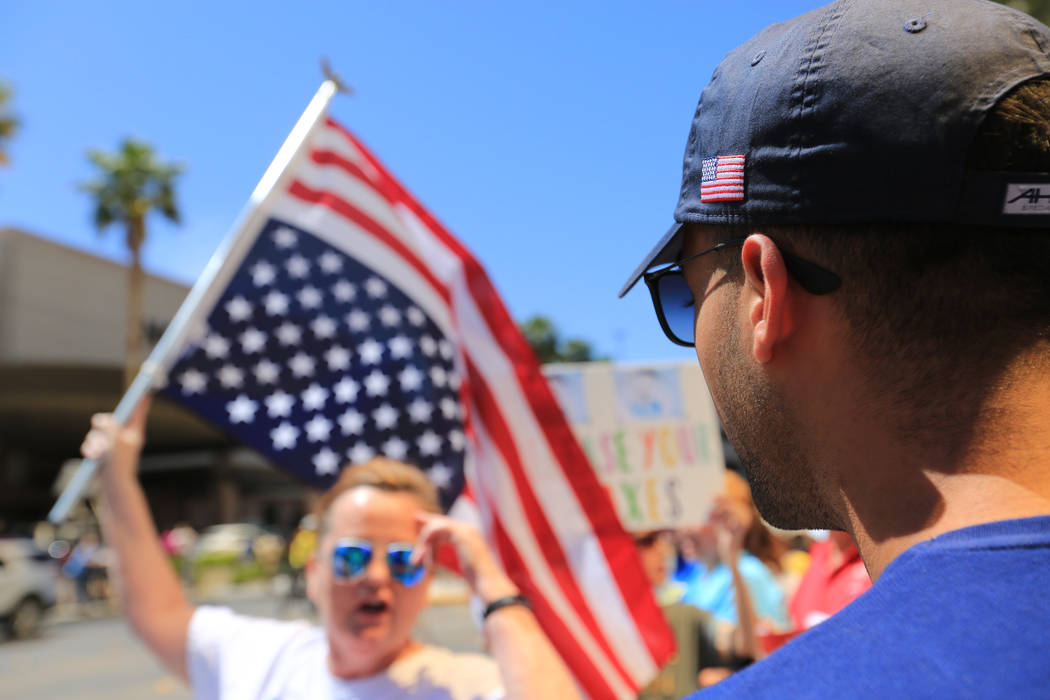 A television photojournalist was arrested during a protest in front of Trump International on Saturday.
More than 200 people were demonstrating in front of the hotel, calling on President Donald Trump to release his tax returns, when KLAS-TV photojournalist Nebyou Solomon was arrested.
He was standing on a sidewalk with his camera filming the protest when he was detained for what police said was trespassing on private property owned by the Fashion Show Mall.
Solomon was the only person arrested "during today's otherwise peaceful protest," the Metropolitan Police Department said in a statement. He faces misdemeanor charges of trespassing not amounting to burglary and obstructing a public officer.
KLAS Vice President and General Manager Lisa Howfield said Solomon was covering the protest for the CBS affiliate at the time.
"We're going to let due process take place here," Howfield said. "There were a lot of people out there. I'm not exactly sure why our reporter was arrested."
Howfield said Solomon's arrest seemed "to be a misunderstanding of public property."
On Saturday night, Metro emailed a statement about the arrest to the media.
"While Mr. Solomon was working in an official capacity as a member of the media, he was recording the event from what was determined to be private property which belongs to the Fashion Show Mall," the statement read.
Mall security officers requested that Solomon not film from their property and when he refused, notified Metro officers who were already present at the event, according to the statement.
"Upon contact by officers, Mr. Solomon was uncooperative and refused to provide his personal identifying information, in violation of (Nevada Revised Statues) 171.123. Mr. Solomon was told he would be issued a misdemeanor citation for Trespass to which he replied that he would not sign – a violation of NRS 171.177."
Because of his refusal, the statement said, Solomon was arrested and transported to the Clark County Detention Center where he was booked accordingly.
ACLU weighs in
Solomon's arrest sparked interest on social media and caught the attention of the American Civil Liberties Union.
Nevada's ACLU has litigated similar public forum issues for more than two decades, according to ACLU Nevada legal director Amy Rose, including areas in question on the Fremont Street Experience and sidewalks in front of The Venetian.
"The courts have consistently found that sidewalks on Fremont and on parts of the Strip are traditionally a public forum," Rose said.
But according to ACLU Nevada, the immediate issue following Solomon's arrest is the obstruction of the freedom of the press.
"It is so, so disturbing that Metro decided to arrest a journalist who was doing his job by filming a political protest," Rose said. "And the facts as we understand them, this was an assault to his constitutional rights."
Rally one of many throughout U.S.
The Las Vegas rally, which Metro estimated drew about 250 participants, was one of dozens of marches and rallies held around the country Saturday. Tax March events were scheduled in nearly 150 cities, including Washington, New York, Boston and San Francisco.
Last year, Trump diverged from a decades-long tradition of presidential nominees and presidents making their returns public.
Organizer Jake Rachmel said this protest was more about shedding light on economic inequality than the specific contents of Trump's tax returns.
"We know that whatever is in there is enough to bring him down," he said.
One person leaving the Trump hotel shared his opinion in support of Trump's tax return stance.
Andre Porter, a visitor from Pomona, California, said he disagreed with the protest because it further divides the country.
"No matter how much they protest, he's not going to go anywhere," he said.
Porter, 27, said he doesn't have a problem with Trump keeping his taxes away from the public.
"Just because he's the president or a public figure, that doesn't change his right to privacy," Porter said.
During the rally, 16 police officers patrolled the street in front of the hotel, and another 10 were on standby near the area. Several people were detained throughout the rally, but Solomon was the only person arrested.
The Associated Press contributed to this report.
Metro arrested a @8NewsNow video reporter pic.twitter.com/Ou2dQIdd0k

— La Firma (@lafirmanv) April 15, 2017
Contact Blake Apgar at bapgar@reviewjournal.com or 702-387-5298. Follow @blakeapgar on Twitter. Contact Rio Lacanlale at rlacanlale@reviewjournal.com or at 702-383-0381. Follow @riolacanlale on Twitter.
#KLAS news photographer @nebsolomon taken into custody for doing his job. #LVMPD #TrumpProtest #lasvegas pic.twitter.com/yMdjhHPBwQ

— David Becker (@davidjaybecker) April 15, 2017