Judge tosses plea in slaying of Arbor View freshman
March 20, 2016 - 12:20 pm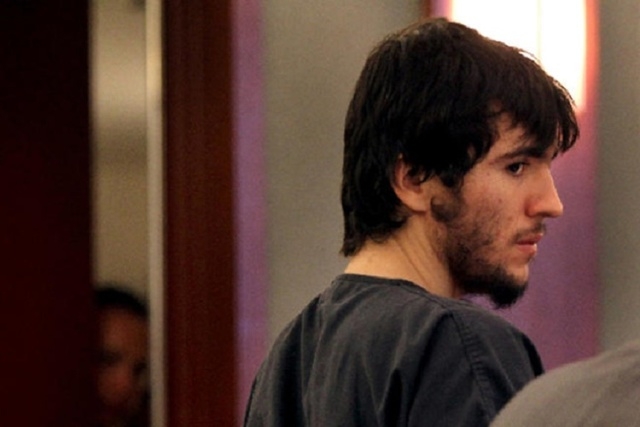 In a highly unusual move, at the request of prosecutors, a judge on Thursday tossed out the guilty plea of a man who a month ago admitted to the rape and murder of a 15-year-old Arbor View High School freshman.
In February, Javier Righetti, 23, pleaded guilty to 10 counts, including murder with use of a deadly weapon, first-degree kidnapping and sexual assault with a child in the September 2011 death of Alyssa Otremba.
At issue is the most serious charge: first-degree murder. District Judge Michelle Leavitt rejected Righetti's plea on that count Thursday, after prosecutors said his admission did not meet their requirements.
Righetti's plea in February did not include a theory of liability that included "willful, deliberate and premeditated" murder, which prosecutors said must be included in the agreement. That's significant because it allows prosecutors to ask a jury to consider more factors with regards to the severity of the crime when weighing Righetti's sentence.
Chief Deputy District Attorney Giancarlo Pesci said that prosecutors cut no deal with Righetti, and that he was supposed to plead guilty to every charge alleged.
Defense attorneys said they plan to appeal Leavitt's ruling to the Nevada Supreme Court.
Deputy Public Defender Christy Craig said the judge should have been able to reject the plea only at the time it was entered.
"I'm not sure on what grounds the court can reject the plea after the court's accepted it and made findings that it was a valid plea," she said.
That leaves the future of the case against Righetti unclear. In October, he is scheduled to face a jury that could sentence him to death. If the high court rules that his guilty plea should stand, the jury would decide his penalty. If Leavitt's rejection stands, Righetti could go trial on the murder charge.
In her ruling, the judge said Righetti should not have been allowed to "plead guilty and carve out a theory and limit the state in the penalty phase."
Righetti confessed to Las Vegas police that after raping Alyssa in September 2011, he tortured her by using a knife to stab her more than 80 times in the face and other body parts, according to authorities. He carved the initials "LV" on the freshman's body because he felt it was "gangster" and returned later to burn the body, authorities said.
The slaying occurred on the Friday that ended Alyssa's first week at Arbor View High School. She had stayed home from school that day after not feeling well in the morning. But she wanted to pick up a textbook from a classmate so she could do her homework for the weekend.
Prosecutors argued that Righetti also was guilty of first-degree murder under two other theories of liability, including torture and that the killing occurred along with another felony, which he agreed to in February.
Chief Deputy District Attorney Michelle Fleck called his plea without each theory "fraudulent," "deceitful," "absolutely dishonest" and "only done to gain a tactical advantage."
Craig said that no law states that a defendant must admit to each of the theories. She said she is required to explore "anything I can to put my client in a slightly better position."
The judge said she did not find that Craig misrepresented the pleading or acted fraudulently.
Contact reporter David Ferrara at dferrara@reviewjournal.com or 702-380-1039. Find him on Twitter: @randompoker