Jury finds ex-Las Vegas mortgage agent not guilty at wire fraud retrial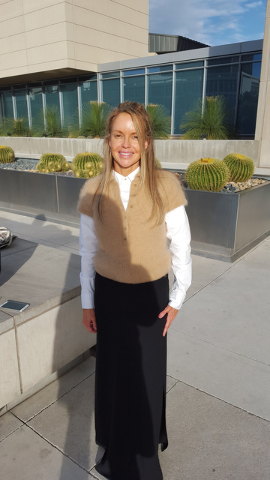 Following a five-day retrial, a former Las Vegas mortgage agent was acquitted late Monday in what federal prosecutors alleged was a $1.2 million mortgage fraud scheme.
A federal jury took less than two hours to find Heidi Haischer not guilty of conspiracy and wire fraud charges.
Haischer, 48, was convicted of the same charges in November 2012 and later sentenced to 15 months in prison, but a San Francisco federal appeals panel last year overturned the conviction and ordered the new trial.
The 9th Circuit Court of Appeals found that U.S. District Judge Miranda Du failed to give Haischer a fair trial when she prohibited her defense team from raising evidence of abuse at the hands of her boyfriend and co-defendant, Kelly Nunes.
According to the three-judge panel, Du refused to let the jury hear that Haischer's leg was broken and that Nunes wouldn't take her to the doctor unless she signed documents in the mortgage fraud scheme, which prosecutors alleged occurred between 2006 and 2007. At the time, Nunes was a senior broker in the mortgage firm.
"Had this evidence been before the jury, a reasonable juror might have doubted whether Haischer had the requisite knowledge and intent to commit fraud," the panel wrote.
The case was retried before Du and prosecuted by trial lawyers with the Justice Department's Fraud Section in Washington, D.C.
Defense lawyers Lisa Rasmussen and Michael Kennedy obtained the acquittal after Du this time allowed them to introduce the Nunes abuse evidence.
"Ms. Haischer is a sweet and kind person who has endured a great deal during the past five years, including the pain of having to relive the abuse she endured by explaining it to the jury," Rasmussen said Tuesday. "Michael Kennedy and I are so thankful that the jury understood this and that she can move forward and finally really put this behind her."
Nunes, 44, has been serving a 51-month federal prison sentence following his conviction in a related mortgage fraud case. He is now in a federal halfway house.
Contact Jeff German at jgerman@reviewjournal.com or 702-380-8135. Find him on Twitter: @JGermanRJ