Jury in Strip shooting trial set to deliberate
August 20, 2014 - 8:59 pm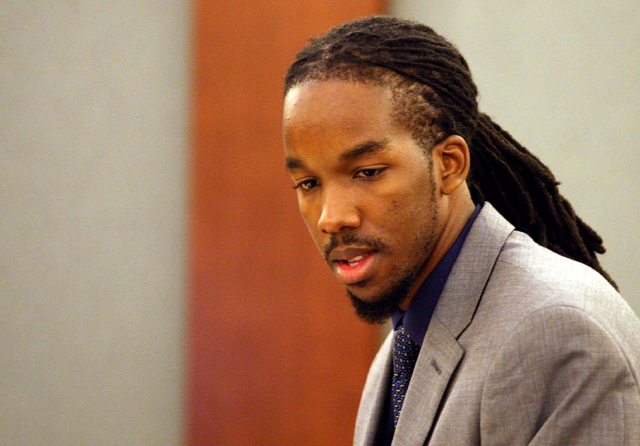 Immediately after a summer 2007 shooting on the crowded Las Vegas Strip that left four people injured, Robert Jackson went "off the grid" for four years, with no bank account, no cellphone records and no credit cards, prosecutors said.
When he was captured in Chicago four years later and before revealing his true identity, he handed police an identification card that said his name was Sa-El, and he was a member of the Moorish Nation, a religious group that espouses black empowerment.
As attorneys presented closing arguments in Jackson's trial on nearly a dozen charges, prosecutor Marc DiGiacomo told jurors Wednesday that Jackson eluded authorities "because the evidence is so darn compelling."
Jackson's case was featured five times on the "America's Most Wanted" TV show, and he was named to the U.S. Marshals Service's 15 most-wanted list.
But Jackson's attorneys have said that he did not know he was wanted at the time. Defense attorney Ozzie Fumo told jurors that evidence showed there was no proof that Jackson touched the handgun that was used in the shooting.
"The fingerprints don't lie," Fumo told jurors. "The DNA doesn't lie. The ballistics don't lie."
Prosecutors said that Jackson, a known member of Squad Up, fired five shots into a crowd on the Strip on Aug. 19, 2007, in the midst of a battle with the rival Wood gang that had been waged for years.
Four people were struck by the gunfire, including three tourists and a Las Vegas resident.
Surveillance video captured the subsequent commotion outside Jimmy Buffett's Margaritaville, and prosecutors said video also showed Jackson running south and ditching his lime green polo shirt in a trash can.
None of the gang members in the fight was hurt.
"They turned our streets into a battleground and they shot our tourist industry," DiGiacomo said. "That's what Mr. Jackson did that night."
DiGiacomo said Jackson, who faces nearly a dozen counts of attempted murder and battery, was "absolutely guilty of every one of the offenses charged."
A jury of eight men and four women is scheduled to begin deliberating Monday.
Fumo called Jackson innocent and pointed the finger at another man, Edward "Lil Earl" Walker Jr., a reputed Squad Up gang member. Fumo said DeMario Morris, also a gang member and the only shooting victim who was not a tourist, was actually the intended target.
Three tourists testified during the trial that started last week, but Morris did not take the stand.
None of the victims who testified could identify the shooter.
The gun used in the shooting was found in a trash can at the scene, and Jackson's shirt was discovered in a trash can outside the former Bill's Gamblin' Hall &Saloon.
Eric Pratt, a friend who was with Jackson on the night of the shooting, has said that he saw Markus Burton give a gun to Jackson, who was wearing a green, collared shirt and plaid shorts. Pratt, who had sold the gun to Burton, said he saw Jackson fire into the crowd.
Fumo said Walker, who is serving time at High Desert State Prison on a murder conviction for a slaying that occurred two months after the Strip shooting, should be facing the charges in the Strip shooting.
"He finished the job he started" on the Strip, Fumo said. "He's a stone-cold killer."
Contact reporter David Ferrara at dferrara@reviewjournal.com or 702-380-1039. Find him on Twitter: @randompoker.