'Just didn't feel right': Father of 2 killed in motorcycle crash remembered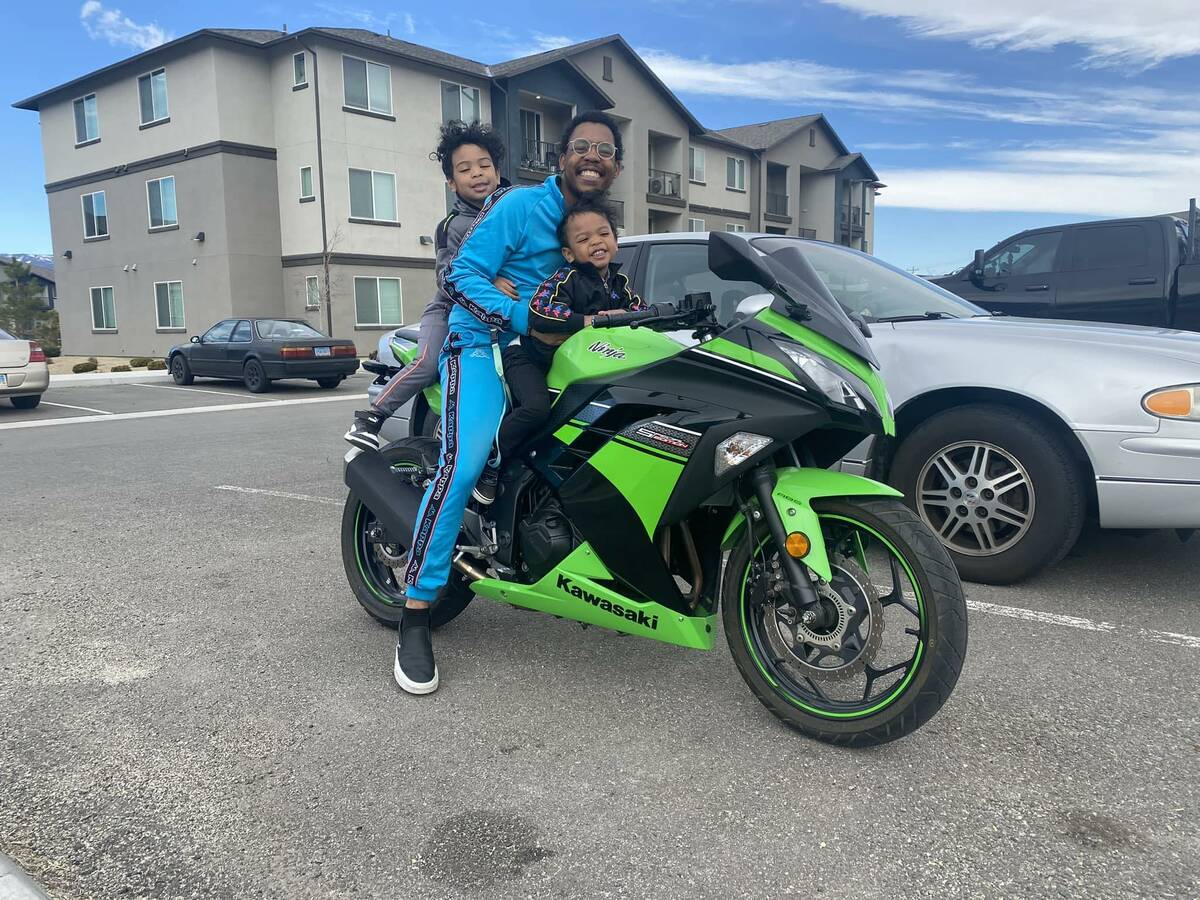 Debbie De Vicente started panicking when she saw her fiance's Kawasaki motorcycle on the ground at a central Las Vegas intersection last week.
Allen Carter Jr. was on his way home from UNLV around 9:50 a.m. on Sept. 6 when he was fatally struck by a vehicle making a left turn at Flamingo Road and McLeod Drive.
Carter had called De Vicente when he left the campus about 20 minutes earlier and told her he was on his way home. She tracked his location on her phone and noticed it stopped at Flamingo and McLeod for longer than normal. After texts and calls went unanswered, De Vicente got in her car and started driving to the intersection.
"Something about it just didn't feel right," De Vicente said.
'A special kid'
Carter, 25, a father to 4-year-old Robin and 3-year-old Julian was pursuing a degree in physics. De Vicente said their family moved to Las Vegas within the last month so Robin could be enrolled in pre-kindergarten and Carter could start at the University of Nevada, Las Vegas.
His father, Allen Carter Sr., said his son had recently started riding a motorcycle. He said because his son was a new rider he took extra care.
"It's a travesty," Carter Sr. said. "It's hard to even explain."
He said his son "did way more than I did" in helping take care of his sons. Carter took a part-time job while his De Vicente was a full-time student so he could help take care of them.
"He was a special kid," Carter Sr. said.
De Vicente said she and Carter met in 2018 in Reno. She fell in love with his motivation and eloquence. As a father, Carter would always put De Vicente's well-being above his own to take care of them, she said.
"He didn't just to do an OK job," De Vicente said. "He was phenomenal."
Dana Moore lives in Elko but met Carter when they were in middle school in Reno. Moore said they bonded over music. Carter taught himself how to play the piano. His father said it started when the family moved into a home that came with a piano.
Carter played classical music, R&B, rock and TV show theme music.
Moore would sing and Carter would play the piano. In their teenage years, Moore and Carter would perform on public pianos. Moore said sometimes people would even tip them. A favorite of theirs to perform was Alicia Keys' "If I Ain't Got You."
Moore thought Allen's mother was joking when she told her that Carter had died in a motorcycle crash. When she told her it was true, Moore said she collapsed to the ground, sobbing.
"Allen was a beautiful person with a beautiful soul," Moore said.
This past Mother's Day, De Vicente asked Carter to write her a poem. She recorded her fiancee reading it aloud to her. Carter called De Vicente his warrior queen.
"To my spouse, my love, my partner, my friend," Carter read. "Our gratitude for you, I'll sing to the end."
An online fundraiser for Carter's funeral expenses had raised more than $6,000 as of Thursday night.
Contact David Wilson at dwilson@reviewjournal.com. Follow @davidwilson_RJ on X.