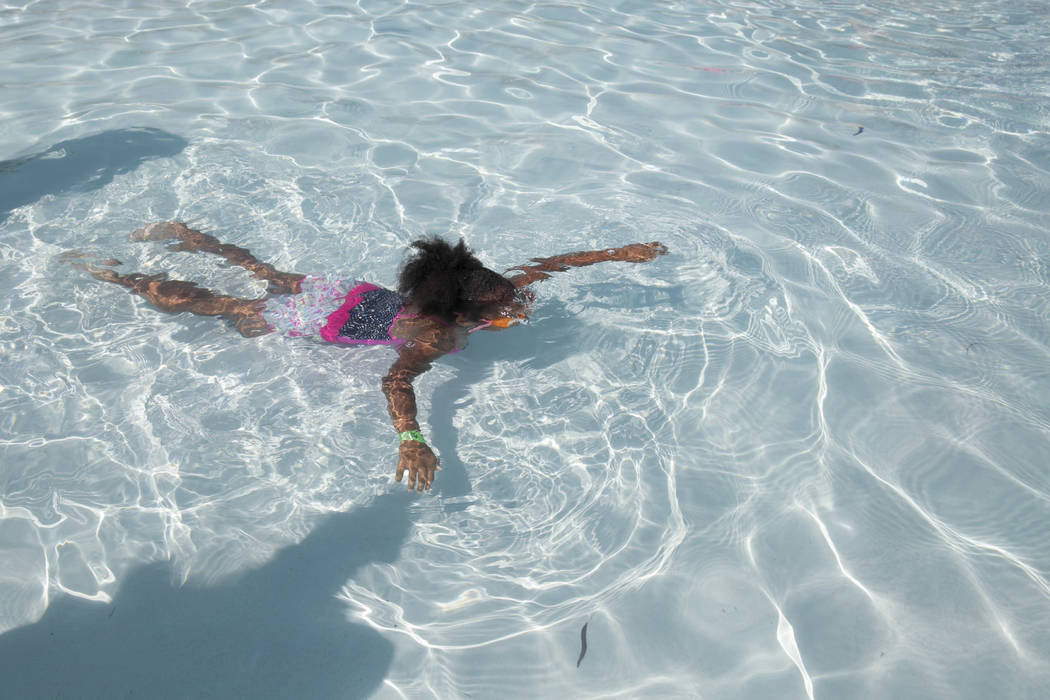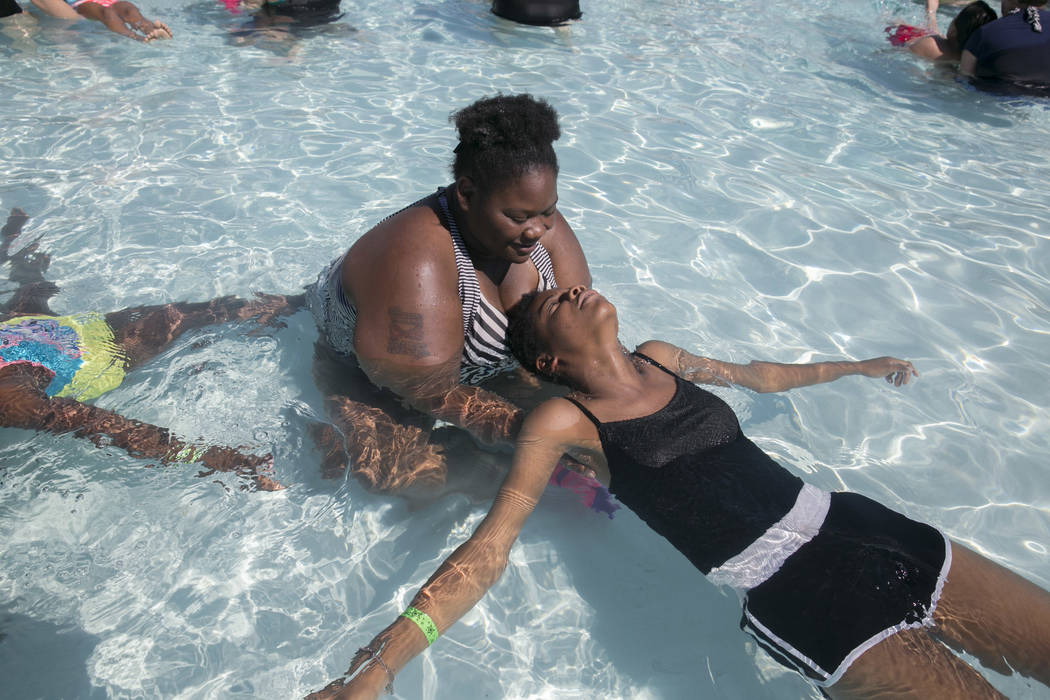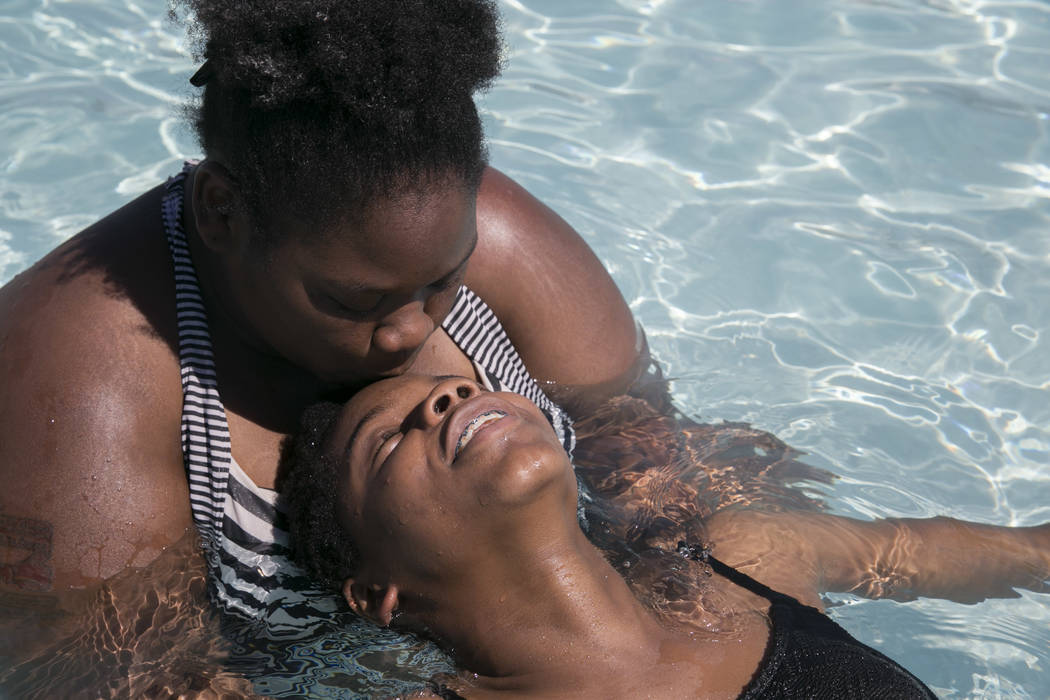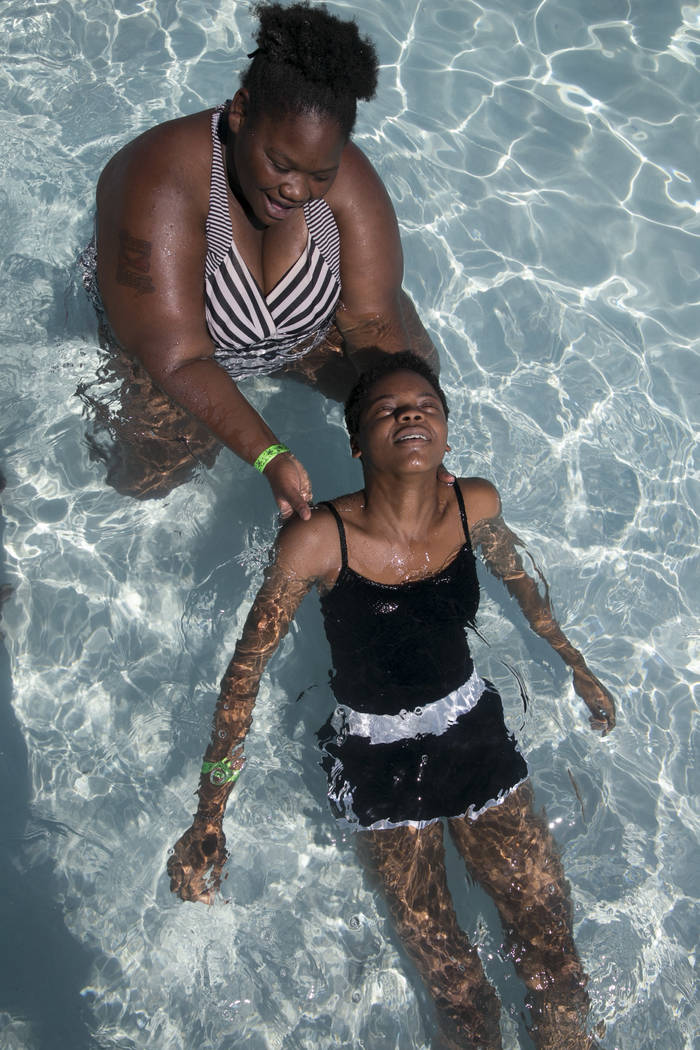 As the temperature hit 100 degrees at 9:45 a.m. Thursday, parents and kids were already slathering up with sunscreen and ready to hit the Red Rock Bay wave pool at Wet 'n' Wild Las Vegas. Splashing with their parents, 184 kids practiced back floats, blowing bubbles and playing Red Rover, Red Rover in the water.
They simultaneously joined thousands across 24 countries in an attempt to set a Guinness World Record for "The World's Largest Swimming Lesson." Last year, the global event drew 40,000 participants — a number the organizers hoped to beat while raising awareness about the importance of water safety and drowning prevention.
The more than 600 locations around the world will submit their numbers to the World Waterpark Association, which will determine if last year's record was beaten.
The main goal of the event is to get more kids involved in swim lessons and to prevent child drownings, said Cathy Lawson, director of operations at Wet 'n' Wild. "It gives them a good appreciation for water and a healthy respect," Lawson said. "And a chance to dip their toes into the water before signing up for a swim lesson."
When all the participants were wading in the pool, Lawson stood with a microphone at the front, directing the 30-minute swimming lesson. She started by encouraging kids to always get help in an emergency. She stressed the importance of "water watchers" and swimming while supervised and insisted everyone protect themselves from the sun's scorching rays.
"Nobody wants to take home a sunburn souvenir!" she shouted.
The kids sang along with Lawson to "London Bridge Is Falling Down" as they practiced staying afloat while contorting their bodies into bridges for 10 seconds.
"Eight Mississippi, nine…" Lawson counted. "Can anyone do it with one hand?"
Five-year-old Maya Williams pulled her orange goggles over her eyes and dunked her head under water. She stabilized herself with her right hand. Coming up for air, she squealed.
"I can!"
A few feet away, Dominque Ngenanze cooed to her 2-year-old, Levi, as he bobbed in the water in an oversized blue life jacket.
"Get down on your tummy," she said.
He splashed on his tummy. Ngenanze lowered her head to the water and blew bubbles. "Can you do that?" she asked him.
Enthusiastically, Levi leaned over, put his face in the water and did the same.
"Watch out, Michael Phelps, I see some really good swimmers out here!" Lawson shouted.
As the swim lesson came to an end, participants slowly made their way out of the pool. Some asked for pictures with Lawson to commemorate their participation in trying to set the world record. Walking out of the wave pool, Candiss Lohmeyer held her granddaughter Claire's hand.
"The lesson was amazing," Lohmeyer said. "She's on her way to be an Olympic swimmer."
Claire chimed in. "I learned floating, swimming and bubbles," she said. "We're gonna go on the slides."
Contact Briana Erickson at berickson@reviewjournal.com or 702.387.5244. Follow @brianarerick on Twitter.
7055 S Fort Apache Rd, Las Vegas, NV 89148