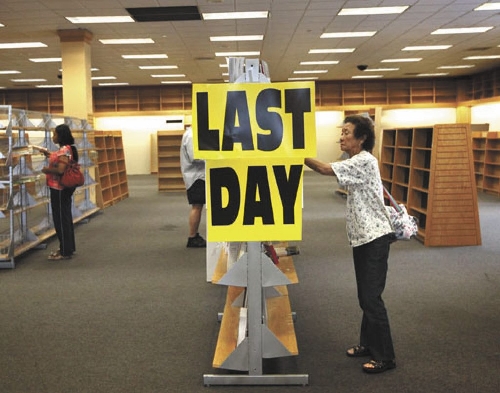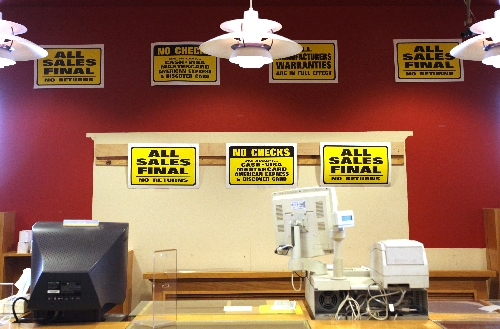 It is a loss that cannot be measured, the closing of a bookstore.
Where will serendipity happen?
What author will not be discovered?
Which child will opt for a video game instead of a book?
Who will fix it?
Why did it happen?
Who is responsible?
No, seriously, whose fault is it that Borders, one of only two national bookstore chains, is dead?
Let's blame this guy: Michael Hlavaty, the first customer on the last day.
Average. Thin. Dark hair. Glasses. He seems like a normal guy.
He says he works a retail job, just like any other normal guy.
It's raining and it's cloudy in the moments before 9 a.m. Wednesday, which is appropriate.
Hlavaty darts through the gloom toward the front door, just like anybody else would do.
He's wearing a black T-shirt. He's standing outside the last Borders in Las Vegas, at Rainbow and Lake Mead boulevards, waiting for the soon-to-be-jobless employees to unlock the door on the store's last day in business.
He goes to the only shelf in the store with any books left on it. Maybe 100 books, if that. They're $1 each or
90 percent off. Whichever is cheaper.
There are books in Spanish. An outdated Blackberry guide. A best sportswriting anthology. A pulp crime novel.
Hlavaty brings out a little device, smaller than a cell phone and starts scanning the bar codes on the books.
His technological wizardry tells him what that particular book is selling for right now on the Internet.
He picks up 35 books. It costs him, with tax, $36.97. He'll sell them for several times that, make a tidy profit.
"Incredible," he says.
"You saved $626.77," store employee Julie Rodela says after ringing him up.
Hlavaty says he has been selling books on the Internet for about six weeks now. He says he makes a good living at it. He's just trying to make a buck.
Um. Hmm.
He guesses he has bought 600 books in the past few days at the local Borders stores as they liquidate their inventory and close up shop.
"I've been cleaning up," he says.
He chuckles like a nervous Chihuahua when we tell him this whole thing is his fault.
"Obviously," he says, looking terribly guilty, "it's not all my fault."
He grabs his pile of books and makes his way back out into the rain.
Rodela, the employee, says she has been at Borders for eight years. She is sad to see it shut down, sad that the whole economy seems to be collapsing, but she says she'll be alright.
"It's not going to define me," she says. "There's another adventure out there waiting for me."
"I wish I could be that optimistic," says employee Sandra Cook, who smirks when Hlavaty leaves.
She's not just losing her job, she's losing faith in people.
"It's just sad to think about books going by the wayside," she says. "Authors, all of it. If you love books, it's a sad thing."
The employees all saw this coming a long time ago. The Internet stole the business.
Books are cheaper online. You can always find what you're looking for. Add in e-readers, and you can order a book and start reading it faster than the baristas at Starbucks can fill your order. And, often, for less than a cup of coffee.
Lots of people say they shop for books at the bookstore, then buy them online. Of course people do this. It only makes sense. It saves money.
But at what price?
The only chain bookstores left in town are the four Barnes & Nobles. There are a few mom-and-pop shops. Walmart and Target, too, with their small selections.
So there are still limited opportunities for serendipity, those moments of accidental good luck when you're browsing the crime section or the bargain bin and happen upon a book you would never have looked for on purpose.
But those opportunities are fewer today than they were yesterday.
Whose fault is it?
It's every normal person's fault.
It's no one's fault.
It's the opposite of accidental good luck.
It's a terrible shame.
Contact reporter Richard Lake at rlake@reviewjournal.com or 702-383-0307.