Las Vegas men face more than 100 felony charges in crime spree, police attacks
September 2, 2015 - 12:37 pm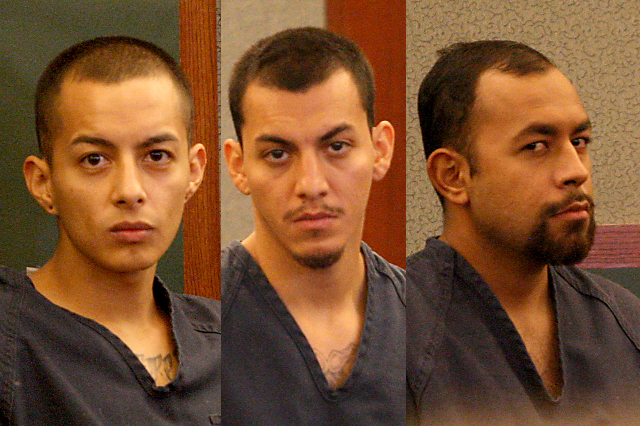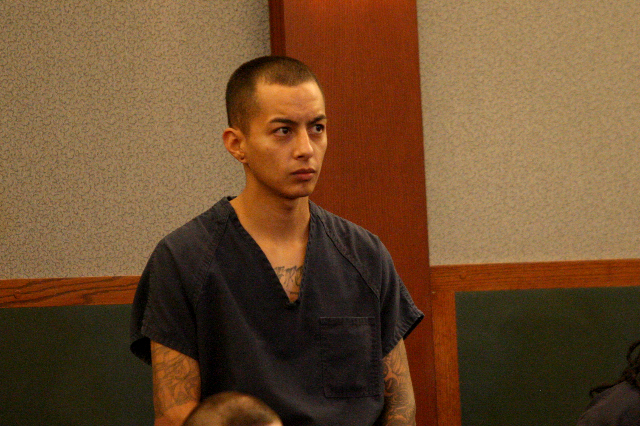 Prosecutors said Wednesday that they have added dozens of charges against men accused of using stolen vehicles to ram police cars.
Hugo Carbajal Jr., 27, Francis Carbajal, 26, and Edgar Medina, 35, originally were charged with 47 counts including burglary, grand larceny and assault with a deadly weapon. Medina and Hugo Carbajal now face 113 felonies each, according to an indictment. Francis Carbajal now faces 103 felonies.
Prosecutor Giancarlo Pesci said that as police continue an "extremely broad" investigation even more charges could be handed down.
Chief Judge David Barker ordered Medina and Hugo Carbajal held on $945,000 bail, and Francis Carbajal held on $910,000 bail.
The Carbajals and Medina are suspected of being the ring leaders among six men accused of committing 20 to 25 felonies per night for the past few years, mostly auto thefts and burglaries.
Police said that while searching the Carbajal home they found stolen property, including all-terrain vehicles, tools, go-karts, .50-caliber rifles and other weapons.
Defense lawyer Johnathan Leavitt, who attended an indictment hearing Wednesday representing Hugo Carbajal, said he planned to ask for a bail reduction.
"My client maintains his innocence in all of this," Leavitt said.
Recently, police believe, the group stole vehicles, rigged them by putting something heavy on the accelerator and aimed them toward patrol cars belonging to the Bureau of Land Management, Metro and the Nevada Highway Patrol. Those incidents — six total — began April 29 and occurred until late July.
Three other men, Ivan Gonsalez, 29, Abel Elizalde, 29, and James Farnan, 23, also face felony charges in connection with the repeated ramming of police cars.
The vehicular missiles didn't always hit their mark. One rammed into an officer's neighbor's car. And on July 22, police said, the group aimed a vehicle stolen in Mesquite the night before at an officer conducting a traffic stop near Bermuda Road and Starr Avenue. The car missed the officer and hit a pole.
Five days later, police said, the group used a stolen truck to ram an NHP car parked in a trooper's driveway at Desert Shores, near Cheyenne Avenue and Rampart Boulevard. The car was hit so hard it went inside the house, and the truck caught fire.
In late July, Metro released surveillance video of the group it said was ramming police cars. Citizen tips helped lead to arrests less than two weeks later.
Contact reporter David Ferrara at dferrara@reviewjournal.com or 702-380-1039. Find him on Twitter: @randompoker