Las Vegas partners with company on streetlights powered by solar, kinetic energy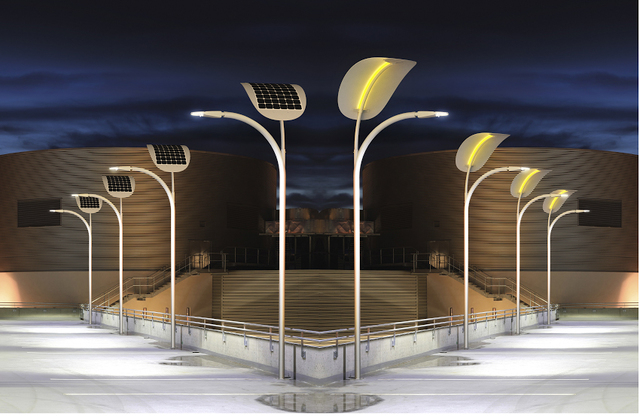 The city of Las Vegas is partnering with New York-based EnGoPLANET on a May installation of four kinetic and solar energy streetlights at Boulder Plaza at the Arts District downtown.
New York-based EnGoPLANET reached out to see if the city would be interested in testing its streetlights, said Jorge Cervantes, executive director of community development for the city of Las Vegas.
"We test different products often, which are donations, to see if there's technology that would be useful and beneficial to our citizens," he said. "We're always looking for opportunities to be sustainable and economical."
The city chose Boulder Plaza, 1047 S. Main St., because of its proximity to City Hall, Cervantes said.
"It's more convenient for us to test because it's close enough to City Hall so we can check on the battery life," he said. "Also, developers are building some restaurants across from it so we thought it would be a good location because there's going to be a lot of activity at night."
Petar Mirovic, chief executive officer of EnGoPLANET, said the streetlight is an off-the-grid solution that uses zero energy and zero emissions.
"During the day power from solar energy will be harvested and stored into the battery, and during the night the battery will power the light and its other features," he said.
EnGoPLANET's streetlights can come equipped with motion sensors to dim the lights when no one is in the vicinity, LED color change and a cellphone charging station.
"There are so many features in this lighting, including sensors that capture solar energy information," he said. "We've completely transformed street lighting."
The product launched less than two months ago, Mirovic said.
"Las Vegas was one of the first to recognize the benefits and potential of this solution and has the potential to harvest enough energy to light the entire city," he said.
The city of Las Vegas, Cervantes said, converted its streetlights from high-pressure sodium to LED four years ago and saw a significant decrease in electrical costs.
"We used to pay $3 million annually, and now we pay a million and a half," he said. "If we install solar, we could save as much as $1,000 a lamp not having to run power to it, and there would be ongoing savings by not having to pay for electricity."
Cervantes said EnGoPLANET's streetlights will be operable at Boulder Plaza for at least six to eight months in order to fully test their ability to handle the desert heat.
"We're hoping the batteries last because batteries don't often do well in extreme heat," he said. "We're hopeful that as technology evolves there is a product out there that can take the heat, and we'll have more opportunities to pursue this technology at other locations."
Cervantes added that trails across the Las Vegas Valley would benefit from EnGoPLANET streetlights.
"We have trail systems with no power nearby so this could illuminate areas and offer the ability to charge cellphones," he said. "We'll see how the batteries hold up in the heat."
Contact reporter Ann Friedman at afriedman@reviewjournal.com or 702-380-4588. Follow @AnnFriedmanRJ on Twitter.