Las Vegas police: Escaped Oregon mental health patient accused of killing grandfather called himself "the devil"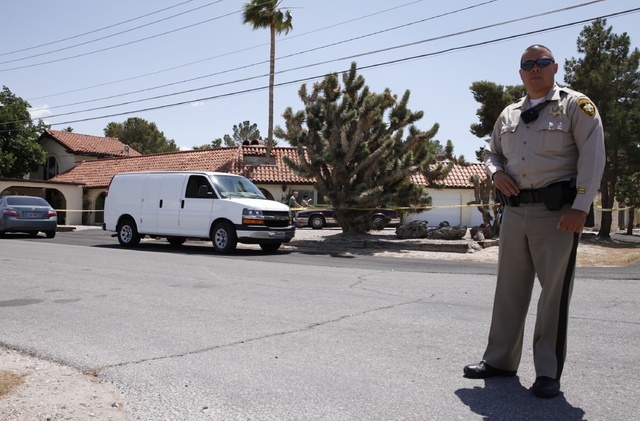 A man who escaped from an Oregon mental health facility told Las Vegas police he was "the devil" after he was arrested for slicing his grandfather's neck.
Metro police say Steven Woodard, 43, killed his grandfather, 91-year-old Richard Hill, in a home at 2841 Florence Ave., near Tropicana Avenue and Eastern Avenue in the southeast valley, according to an arrest report.
Woodard was arrested Wednesday morning, according to homicide Lt. Ray Steiber. Patrol officers found Woodard sleeping behind a vacant home near Charleston Boulevard and Chapman Drive.
Police believe Woodard killed Hill Monday night because a witness saw Woodard near his grandfather's home. Patrol officers discovered Hill's body after a health care worker arrived at his home about 7 a.m. Tuesday.
Hill was found dead with a "deep laceration" in his neck, the report said.
Earlier that morning, Woodard had gone to his father's home at 1427 Cottonwood Place and asked to use the bathroom. After his father allowed him inside, Woodard sliced his neck with a box cutter. He also attacked his father's roommate, the report said.
Woodard accused them of "trying to kill his children," the report said.
Woodard's father was hospitalized in serious condition but was expected to survive. He told police his son had been hospitalized at a mental health facility in Oregon after he tried to kill himself by jumping off a bridge.
He returned to Las Vegas several months ago, although it's unclear if he was under restraint or simply walked away from the facility. Woodard briefly lived with his father but was kicked out after being violent and causing trouble, the report said.
Woodard denied cutting his father or grandfather and claimed neither of them were injured, although he admitted to hearing "voices" in his head and believing he was the devil.
He was booked at Clark County Detention Center on a murder charge.
Contact reporter Mike Blasky at mblasky@reviewjournal.com. Follow @blasky on Twitter.