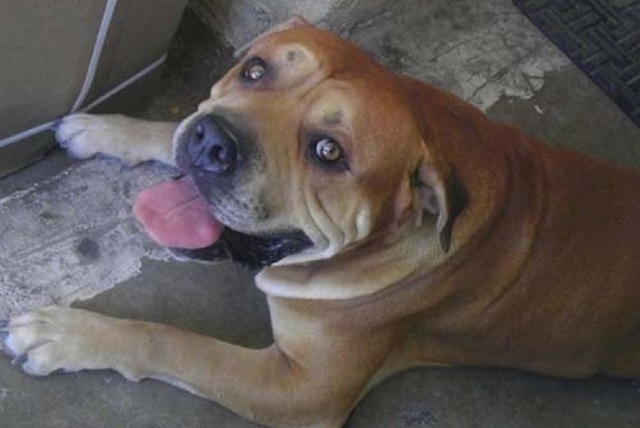 A Las Vegas man claims a police officer violated his civil rights in January 2013 by entering his backyard through a locked gate and fatally shooting his dog.
Victor Patino, who is represented by attorneys at Potter Law Offices, made the allegations in a federal lawsuit filed Saturday in Las Vegas. The complaint lists the Metropolitan Police Department, former Sheriff Doug Gillespie and Sgt. William Wilson as defendants.
The document claims Wilson "unreasonably seized" Patino's pit bull, Bubba, by shooting and killing him Jan. 6, 2013. It also claims Wilson and unidentified officers "used unreasonable, unnecessary and excessive force while responding to the call and executing Bubba."
As a result, the lawsuit alleges, Patino has suffered the "violation of his constitutional rights, extreme emotional distress and mental anguish."
On Wednesday, police spokeswoman Laura Meltzer said the department does not comment on pending litigation.
However, police defended their actions soon after the shooting.
Sgt. John Sheahan said in a statement emailed to the Review-Journal that "because of the nature and circumstances surrounding the call, exigent circumstance exceptions to the Fourth Amendment were more than satisfied, and thus entry to the backyard was both lawful and within policy."
The Fourth Amendment protects Americans from unreasonable searches and seizures. It also states that people have the right to be secure in their homes.
Police said Wilson was investigating a disturbance call in the 200 block of Earl Street at 1:49 p.m. when he heard a shot fired in the backyard of an adjacent residence in the 100 block of South 16th Street. Wilson also heard yelling or moaning coming from the backyard after the gunshot, police said.
The investigation led police to the backyard of the home at 147 S. 16th St., near Carson Avenue, where a dog charged Wilson, police said. He fired one round and killed the dog.
Patino's lawsuit claims police failed to knock on his door or attempt to talk to him before entering his backyard without permission. Patino was home at the time, according to the document, and the gate to the backyard had a "Beware of Dog" sign displayed in plain view.
"At no time did Bubba ever attack or come into contact" with Wilson or the other officers, according to the lawsuit.
The complaint further alleges that Gillespie encouraged or allowed the department's "longstanding policy and practice of unlawfully seizing dogs through use of deadly force against dogs."
That includes the use of deadly force against 21 dogs since 2010, according to the lawsuit.
At least two other federal lawsuits involving fatal dog shootings are pending against North Las Vegas police. In addition, state Sen. David Parks, D-Las Vegas, has requested legislation to require police training that would help them avoid shooting dogs.
Contact reporter Carri Geer Thevenot at cgeer@reviewjournal.com or 702-384-8710. Find her on Twitter: @CarriGeer.
Police kill pit bull 'Bubba' in backyard of Las Vegas home
Police investigate officer's fatal shooting of dog on private property
Site of fatal dog shooting by officer has history of frequent police visits
Nevada law sought to reduce unnecessary dog shootings by police