Las Vegas Valley residents with ties to Cuba reflect on Fidel Castro's legacy
November 26, 2016 - 11:27 pm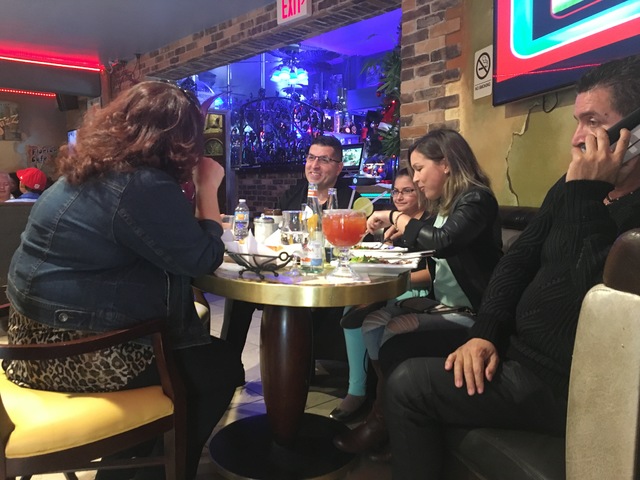 At just a year old, Maria T. Caminero lost her home.
The now-52-year-old founder of the Las Vegas Valley's Cuban Heritage Foundation said her 21-year-old mother fled the island nation in the 1960s with her and her infant brother in tow, first to Mexico, then to the United States.
Meanwhile, Caminero's father remained in the communist country as a political prisoner for 17 years. She didn't see him again until she was 19 years old.
"I feel like I have been a victim of communism my whole life," Caminero said Saturday, sitting among a boisterous crowd at Cuban restaurant Florida Cafe Cuban Bar & Grill on Las Vegas Boulevard South near Charleston Boulevard. "I don't know what my country looks like. I don't know what my country smells like."
Like the friends and acquaintances who surrounded her at the restaurant, Caminero rejoiced when she heard news of former Cuban President Fidel Castro's death.
Castro, who earned the hatred of many Cubans for his embrace of communism and hard-line approach to dissenters, died at age 90, his brother and successor Raúl Castro said late Friday.
The death sparked mourning in parts of Latin America and celebrations in the streets of U.S. cities like Miami, where large Cuban populations reside.
At the Florida Cafe, Cuban-Americans crowded in booths to toast Castro's death with tall glasses of a rum and Coke drink Cuba libre, which translates to "free Cuba."
Recorded songs sung in Spanish and a scent of spices and baked goods filled the air. The crowd ate traditional dishes like steak with black beans and rice while laughing, hugging and cheering the downfall of a man they likened to former German dictator Adolf Hitler.
"The joy, the happiness that it brought to me, I can't compare it to anything," Caminero said of Castro's death, clutching her Cuba libre.
To local Cuban-American attorney Alex De Castroverde, news of Castro's death was bittersweet.
In April 1961, his then-19-year-old father, Waldo, joined a group of Cuban expatriates in an attempted invasion at the Bay of Pigs.
Waldo De Castroverde, who served as a paratrooper in the failed takeover, was imprisoned for two years before being released and spent decades participating in anti-Cuba activities before his death about two years ago, his son said.
Alex De Castroverde, who was born in Miami and has never visited his father's birthplace, said his dad had a deep desire to outlive Fidel Castro and return home to see a democratic Cuba. But he never got the chance.
"Obviously we're excited that a brutal dictator … has finally reached his demise," Alex De Castroverde, speaking by telephone, said of his family. "(But) it's sad that my dad was not here to see it."
Maria Fundora, a local who came to the United States in 1967 when she was just 5 years old, said some of her family members lost their lives under Castro's regime.
"My parents had to basically lose everything to come here," Fundora said.
Her family was split up, an aunt of hers was jailed and her father, who didn't live to see Castro's death, lost almost all of his belongings and had to begin his life over in a new country.
"There is nobody in their right mind who would think this is a bad thing," she said of Castro's death. "Too many people have died … trying to get freedom."
To Fundora and many others at the restaurant, Castro's death coinciding with the pending start of Donald Trump's presidency in the United States was a sign.
Trump, who during his presidential campaign bashed President Barack Obama's efforts to engage in discussions and diplomatic relations with Cuba under Raúl Castro's presidency, drew the adoration of many Cuban-Americans who vehemently oppose any negotiations with a Castro government.
Annette Teijeiro, a local doctor and former Republican congressional candidate, said she believes Obama's policies only enabled Cuba's government, and she was further upset by Obama's statement on Fidel Castro's death.
"'Condolences to the Castro family' — really?" she asked.
State Sen. Mo Denis, D-Las Vegas, was less critical of Obama's efforts. Speaking by telephone Saturday, Denis said Obama's policies began a dialogue that he hopes will help Cubans see the benefits of democracy.
"You need to start somewhere," he said.
Whether the way forward for Cuba is with or without U.S. engagement with Raúl Castro's government, Las Vegas' Cuban-American population generally agrees that Castro's death marks a significant moment in Cuban history.
"It's the turning point," Caminero said. "It's the end of an era."
Contact Pashtana Usufzy at pusufzy@reviewjournal.com or 702-380-4563. Follow @pashtana_u on Twitter.
RELATED
Fidel Castro's overthrow reached all the way to Las Vegas
Cubans in Miami celebrate Castro's death, hope for change
Cuba's Fidel Castro, who defied US for 50 years, dies at 90