Lawsuit: Water district fired workers who were too old, knew too much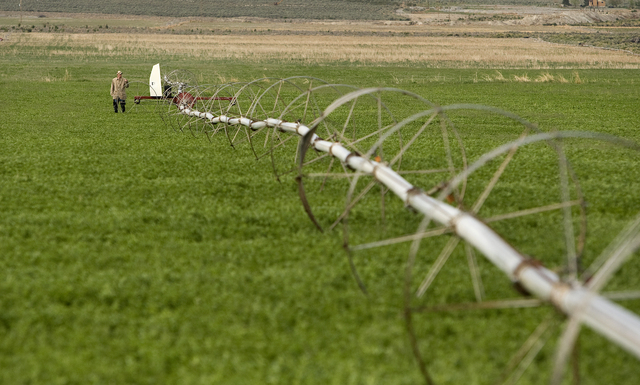 For the second time this year, the valley's largest water utility is being sued by former employees who claim they were forced off the job in part to cover up mistakes and wrongdoing that cost ratepayers millions of dollars.
The latest civil suit, filed April 30 in Clark County District Court, involves 16 people who accuse the Las Vegas Valley Water District of retaliation, discrimination and breach of contract among other claims.
They were among 101 employees laid off last year by the water district and its umbrella agency, the Southern Nevada Water Authority, in what agency executives framed as a post-recession move from a growth-based mission to one focused on operations, maintenance and customer service.
But the "Senior Sixteen," as they call themselves in the lawsuit, contend they were targeted for dismissal because they were approaching retirement age and the two agencies wanted to replace them with younger, less experienced and lower-paid workers.
The plaintiffs range in age from 41 to 67. Most are in their mid- to late-50s and held senior positions with the water district and the authority, both of which declined to comment on the legal action.
They argue in the lawsuit that the water district violated its own employment policies by not keeping workers with the most seniority or at least giving senior employees a chance to "bump" newer ones from equal or lower-paid positions when the layoffs came.
Then there is the other reason they were dismissed, according to the lawsuit: They were "whistleblowers" — potential ones, anyway — who knew too much about "two or more separate individual debacles, which collectively have caused LVVWD to waste over $150 million."
One involved the district's decision to buy and install electronic meter readers across the valley, only to discover that the technology did not work as advertised. The result, according to the lawsuit, was an avalanche of billing errors and angry customers that ultimately forced the district to buy more than 385,000 new "smart meters" at a cost of more than $190 million.
The other "debacle in the desert," as the suit calls it, was the authority's decision to spend almost $79 million to buy seven ranching operations in White Pine County's Spring Valley as part of a controversial plan to siphon groundwater from across rural eastern Nevada. The lawsuit contends those ranches were purchased "at a price well in excess of the fair market values" and have consistently lost money ever since, despite the authority's claims to the contrary.
The "Senior Sixteen" are represented by attorney Matthew Callister, who brought a similar suit against the two water agencies in March on behalf of retired comptroller Randall Buie.
Buie claims he was forced out of his job after he refused to go along with creative accounting designed to make the authority's ranches in White Pine County look like they were turning a small profit when they were actually losing roughly $2 million per year.
Callister said the "budgetary sleight of hand" was designed to mislead water authority board members and avoid scrutiny from the media and the public.
Agency officials declined to address the lawsuit as a whole or any of its specific claims. "As this is a matter of litigation, we are unable to comment on the specifics of this case, but we will be responding in court," said Bronson Mack, spokesman for the water district and the authority.
In January 2010, authority officials reported publicly that the ranches had lost more than $628,000 during the previous fiscal year and almost $1.5 million since the agency began buying them in 2006. Officials now insist the agricultural operations make money — almost $675,000 last year and just under $178,000 in 2013.
As for the water meters, the district switched to automated readers in 2002 at a cost of $28 million. Six years later, district officials acknowledged that the readers had resulted in billing errors for several thousand of the utility's more than 300,000 customers in a single year and that the devices needed to be replaced at a higher than expected rate because of the summer heat. Overall, though, officials said the system's positives far outweighed the negatives.
The "Senior Sixteen" is actually 17. On March 25, Callister filed suit on behalf of a former water district employee named Lyndalou Bullard, 58, who was laid off last year and is now raising similar allegations. That suit references but does not identify 16 other employees with complaints against the district.
Callister said it might make sense for his separate lawsuits against the water agencies to be combined into a single case, but that will be up to a judge to decide.
Contact Henry Brean at hbrean@reviewjournal.com or 702-383-0350. Follow @RefriedBrean on Twitter.