Lennon's 'lost' Las Vegas weekends recalled
December 7, 2010 - 5:40 pm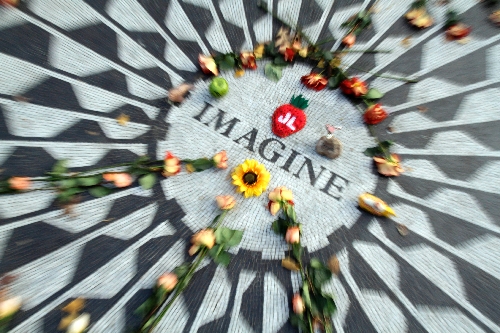 His musical presence still quakes the Strip, from The Mirage production bearing his rock band's household name to the revolving fab faux's "woooh!"-ing smaller venues.
But John Lennon, slain 30 years ago today by a deranged fan, once had a physical presence in Las Vegas, too.
It's well-documented that the Beatles played the Las Vegas Convention Center on Aug. 20, 1964, and stayed that night at the Sahara, where they also rehearsed. But few fans realize that the bespectacled former Beatle returned twice more to Las Vegas, during his mid-'70s separation from wife Yoko Ono, to quench a thirst for Vegas culture.
"He was fascinated with the Rat Pack and the old world of Las Vegas," said May Pang, Lennon and Ono's former personal assistant, who accompanied Lennon to Las Vegas as his lover on both getaways and documented their 18 months together in a 2008 book called "Instamatic Karma."
"With the Beatles, he never saw anything except the inside of a room," Pang said. "This time, he went back as a civilian, going around to take it all in.
"He was very much into Americana and wanted to experience it."
Lennon, who would have turned 70 in October, strove to be just another tourist at Caesars Palace, where he and Pang shared a deluxe suite for four days in October 1973. Gambling was an immediate draw, says Elliot Mintz, a TV reporter friend who accompanied the couple from their base in Los Angeles and later became the publicist for Ono and many other celebrities, including Paris Hilton.
"(Gambling) seemed like a very childlike experience to him," Mintz said. "John was immediately enchanted."
Mintz remembers lending Lennon $200 for roulette. ("He rarely carried money," Mintz explained.) Then Lennon announced he had "a system."
"He said the key was to cover every number except one," Mintz said. "John kept dropping all the chips over all the numbers. He said to let the croupier turn the wheel and it's a virtual certainty that you're going to win."
Within minutes, the chips were gone and word had reached all nearby gamblers about the legend in their midst. Mintz remembers it as "minor bedlam."
"A crowd gathered around him, but not the kind of crowd that gathered around high rollers," he said. "Everyone had cocktail napkins in their hands for him to sign."
Mintz said the moment of childlike tranquility quickly morphed into "a Hunter S. Thompsonesque-like Fellini movie."
"I told him it's probably a good time for us to leave," he said.
According to Pang, that first trip included a largely unreported footnote in music history: the only meeting between Lennon and '50s rock pioneer Fats Domino, who was headlining the Flamingo lounge over Frankie Valli.
"Fats came to our table before the show and sat down," said Pang, who reports that Lennon gushed: "I love you! I can't believe you're doing the lounge!"
Domino's "Ain't That a Shame," which appeared two years later on Lennon's "Rock 'N' Roll" album, was the first song taught Lennon by his mother, Julia, who died when he was a teenager. (She taught it to him with banjo chords, which he transposed to guitar.)
"I can't recall if he mentioned that," Pang said. "But they seemed very happy to meet each other."
Elvis Presley was never in town when Lennon was. But they had already met at Presley's Beverly Hills, Calif., home in 1965. And Lennon opposed the idea of catching his Hilton show. Earlier in 1973, when Mintz disclosed he was attending, Lennon demanded a full report.
"I described it in as much detail as I could," said Mintz, who strongly encouraged Lennon to attend. "I told him the songs he played, the configuration of the room. And I did add that, of course, he didn't look the way he looked on the Sullivan show. But if you closed your eyes and pretended …"
That's when Mintz remembers being cut off.
"I don't want to close my eyes and pretend," Lennon said.
Lennon's final Las Vegas sojourn, in March 1974, was spent mostly at the Riviera, where he and Pang stayed. But it included a tour of the newly opened MGM Grand (now Bally's). It was a more stressful four days, Pang remembers, because they were accompanied by troubled singer Harry Nilsson, for whom Lennon was about to start producing an album. (Days later, Lennon and Nilsson would be ejected from the Troubadour nightclub in Los Angeles for shouting insults at headliners the Smothers Brothers from the audience.)
"If John joined Harry in escapades, I had to be the one to watch out," Pang said. "John would drink, too, but he would stop. After a while, John would say, 'I've had enough, I don't want to be in the papers.' "
In June 1974, Lennon and Pang moved back to New York to share an apartment. By January 1975, Lennon had returned to Ono and their digs at the Dakota building. ("The separation didn't work out," he told reporters at the time.) The couple had a son, Sean, for whom Lennon ditched five years of his career to raise. Lennon was murdered in 1980, at age 40, while returning to the Dakota from a recording session.
"When December 8 happened, it was such a loss," Pang said. "It was devastating. I got a call from Ringo's executive assistant. She's going, 'Which hospital?' And I'm saying, 'You can forget it, he's gone.' "
Since the 2006 opening of "Love," the only show ever co-produced by the Beatles, Las Vegas has become Liverpool west for Fab Four tourists. Mintz recalls accompanying Ono to the Cirque du Soleil co-production's premiere as her spokesman.
"I kept asking myself about how John would have reacted to all this," Mintz said. "I think that if he saw the reaction of the people who go to the theater to see 'Love,' in my heart of hearts, I feel that he would have been very pleased.
"When you go into that hotel, it just feels like you could be entertaining that era once again."
Contact reporter Corey Levitan at clevitan@reviewjournal.com or 702-383-0456.