Magic Johnson shares success secrets at Las Vegas beauty expo
Updated July 9, 2017 - 5:03 pm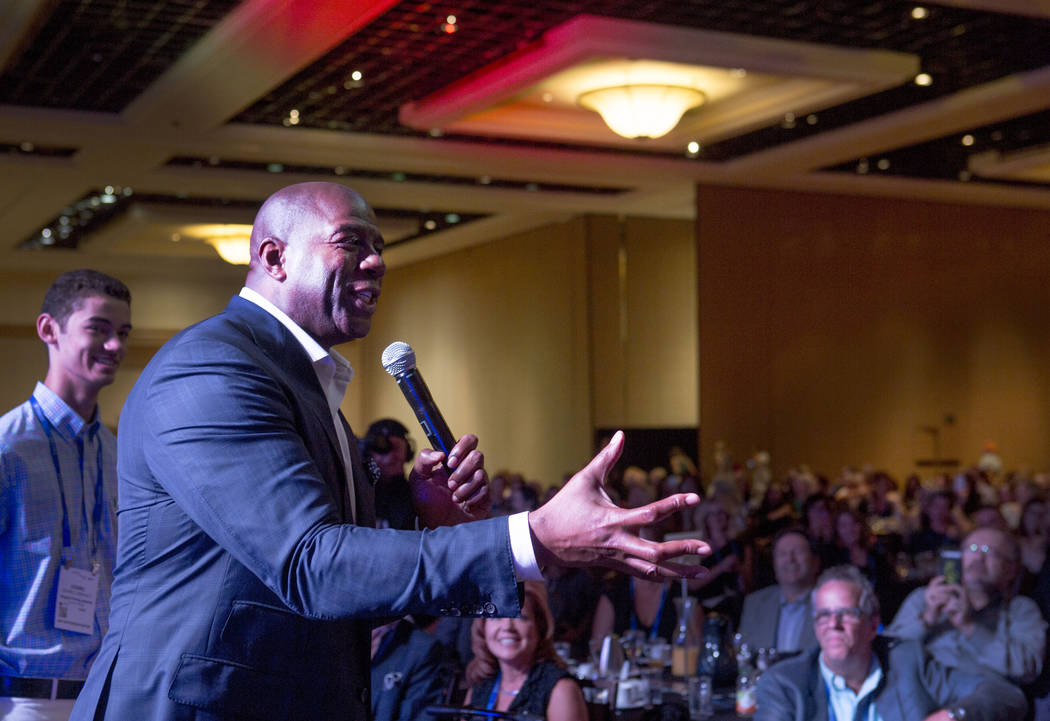 Earvin "Magic" Johnson is famous for delivering the basketball on the court as a point guard for the Los Angeles Lakers. He racked up more than 10,000 assists during his National Basketball Association career.
Now Johnson, who has become a shrewd and successful businessman, is telling entrepreneurs to overdeliver to their customers.
About 600 beauty industry professionals, business owners and students attended his speech Sunday in a Mandalay Bay ballroom as part of the Cosmoprof North America conference.
The expo started Sunday and ends Tuesday. The Las Vegas Convention and Visitors Authority projects Cosmoprof will draw 35,000 conventioneers.
"When I think about the discipline that it took for me to win championships, I apply that today as the CEO of my own company," said Johnson, 57, who helped his Lakers win five NBA titles and was a three-time league MVP, a three-time NBA Finals MVP, a 12-time All-Star and a nine-time All-NBA First Team selection.
Johnson, now the Lakers' president of basketball operations, kept the mood light as he spoke, walking through the crowd and asking attendees to participate. He even stopped his speech a few times to snap selfies.
After retiring from basketball, Johnson succeeded in business. He runs Magic Johnson Enterprises, an investment firm that has partnered with a wide variety of companies over the years.
Johnson partnered with Sony Corp. to open his own chain of movie theaters that catered to urban centers. He also partnered with Starbucks Corp. in the late 1990s to open coffee shops in urban areas.
Part of creating success with those ventures, he told the crowd, was identifying customer needs and exceeding expectations. He switched up the food offerings at the Starbucks stores to better reflect taste preferences in minority communities, he said. Instead of selling scones, he sold peach cobbler, he said.
"If you overdeliver to your customer, you'll get the retention that you're looking for," he said.
Johnson joined an ownership group in purchasing baseball's Los Angeles Dodgers in 2012. He said paying attention to customers helped the storied baseball franchise's attendance numbers jump from the middle of the pack to the top of the league. According to Baseballereference.com, the Dodgers' home attendance increased from 3,324,246 in 2012 to 3,703,312 in 2016, an 11.4 percent jump.
Johnson said he came from an underprivileged upbringing, but that didn't thwart his ambition.
"I grew up poor, but I didn't have poor dreams," he said.
Contact Blake Apgar at bapgar@reviewjournal.com or 702-387-5298. Follow @blakeapgar on Twitter.