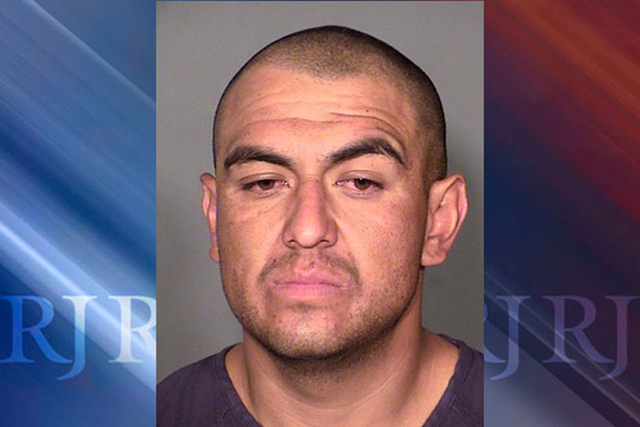 A man charged in a northeast valley beating death should undergo a mental health evaluation, his lawyer said Wednesday.
Jaime Zuniga, 29, faces charges of murder, robbery and burglary with a deadly weapon, attempted murder with a deadly weapon, battery, first-degree kidnapping and conspiracy to commit murder, according to an arrest report.
Police said Edward Michael Turner, 47, of Las Vegas, was beaten to death late March 23 in the 6800 block of Fallona Avenue, near Hollywood and Lake Mead boulevards. Turner's sister, who told police she is his caregiver, was also attacked and injured.
Zuniga's lawyer, Oliver Melgar, told Las Vegas Justice of the Peace Janiece Marshall that Zuniga has been undergoing psychological treatment through the state. The judge ordered a competency hearing for later this month.
Jennifer Mustachia, 33, was arrested March 24 and faces similar charges. A preliminary hearing is set for May 8.
Police said Mustachia owed Turner's sister money, and that Mustachia and Zuniga went to Turner's home to rob the siblings.
Zuniga and Mustachia repeatedly punched and hit Turner in the the head with a large metal crow bar until he said "that's enough, that's enough" and eventually fell unconscious, police said. Zuniga denied hitting Turner with the crowbar.
A man who drove Mustachia and Zuniga to the home but did not go inside told police that Zuniga was acting paranoid when he returned to the car and had blood on his hands.
Mustachia told police Zuniga began licking the blood from his hands and said "I love doing this s—-," the arrest report said.
Mustachia fell asleep at the scene and Turner's sister escaped to a nearby convenience store, where she called police.
Contact reporter David Ferrara at dferrara@reviewjournal.com or 702-380-1039. Find him on Twitter: @randompoker