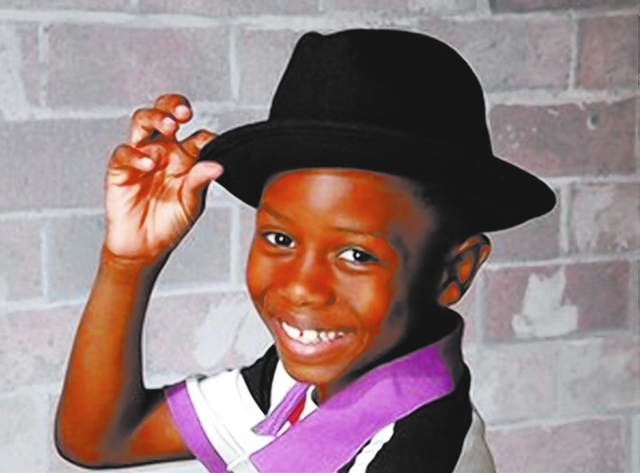 As he realized Wednesday that he would spend the rest of his life behind bars, Markiece Palmer broke down and cried, rocking back and forth in jail fatigues and shackles.
But Roderick "RJ" Arrington, the 7-year-old boy Palmer was convicted of beating to death, did not shed a tear in the more than two months Palmer tortured him inside a Las Vegas apartment, according to testimony during the trial.
"You used your faith as a basis to justify that," District Judge David Barker said at Palmer's sentencing hearing. "It sounds to me like you were trying to break him, this little boy, to break his spirit, to break his will."
In November, a jury convicted Palmer of first-degree murder and two counts of child abuse in connection with the November 2012 death of his wife's son.
"When RJ was under my care, I was raising him with the best understanding that I had in regards to the word of God," Palmer told the judge. "It wasn't when I disciplined RJ that it was premeditated malice in my heart that I desired to destroy him. It was none of that, though at times, my actions probably was overboard."
Palmer apologized to the judge, RJ's grandmother, Latanza Harris, Dina Palmer, RJ's father, "all of RJ's friends," his mother and father, "people all over the world."
But never, as in the boy's life, directly to RJ.
For her role in the beatings, Dina Palmer was sentenced last month to between 16 and 40 years in prison.
Markiece Palmer's defense lawyer Carl Arnold pointed out that Dina Palmer, "who is just as much liable for this death" and pleaded guilty to two counts of child abuse, neglect or endangerment with substantial bodily harm, likely would someday leave prison.
The judge briefly contemplated giving the 36-year-old Markiece Palmer a chance at freedom, saying that RJ — had he survived the abuse — would be 29 when Palmer had his first appearance before the parole board.
The defendant begged for "forgiveness" and "mercy," saying he "honestly did not try to hurt" RJ.
But at a November trial on first-degree murder and child abuse charges, prosecutors detailed months of horrendous abuse, and a jury took less than two hours to convict Palmer.
Palmer said Wednesday that he cries himself to sleep every night in his cell, and that he remained composed throughout court proceedings and at trial because of the "pressure of the situation."
When RJ died, his body was riddled with more than 100 welts, bruises and cuts on his arms, abdomen, back, legs, thighs and buttocks. The boy's brain was swollen from having been slammed against the wall.
Markiece Palmer wanted to instill religion and honesty in RJ, prosecutors said. When RJ lied about reading the Bible, the couple took turns beating him until they grew tired. If the boy fell asleep with his head in the Bible, he was beaten.
"What I did was out of ignorance, not malice, jealousy, bitterness, hatred," Palmer said. "I made an honest mistake. And for that mistake I am truly sorry."
Palmer would have the boy stand against a wall with his arms stretched out or bend over and touch his toes as the couple beat him with a belt, coaxial cable, wooden brush or broom stick.
"Life taken, life lost," Barker said as he sent Palmer to prison for the rest of his life without the possibility of parole. "Everything points toward a productive life taken senselessly."
Barker also ordered Palmer to pay $1,000 toward RJ's headstone.
The boy had only known his mother's husband for a couple months. RJ's mother moved to California to marry the man in November 2011, while RJ stayed with his father and other relatives.
By the latter half of 2012, the couple had moved to Las Vegas. RJ came to live with them in September 2012 and they found a place in the central valley.
A neighbor told Roundy Elementary school workers the second-grader had trouble walking and sitting on Nov. 28, 2012. She also called Clark County Child Protective Services with her suspicions.
A school counselor called a child welfare hotline with suspicions of abuse at the boy's home, but social workers did not immediately respond to the school.
Because school employees did not observe the extent of RJ's injuries, the hotline worker who took the call had assigned a 24-hour response time from Clark County Child Protective Services. RJ died on Nov. 30, 2012.
Yuluanda Greenberry, a CPS investigator assigned to RJ's case, testified that the calls "should have been handled differently."
As he endured the abuse, the 4½-foot tall, 71-pound boy remained stoic. RJ would squirm, fall down and struggle back to his feet while the Palmers whipped and beat him.
"He never did cry," prosecutor Michael Staudaher said. "He just died."
Contact reporter David Ferrara at dferrara@reviewjournal.com or 702-380-1039. Find him on Twitter: @randompoker