Man mowed down at car wash doesn't recall being hit
December 13, 2014 - 9:35 pm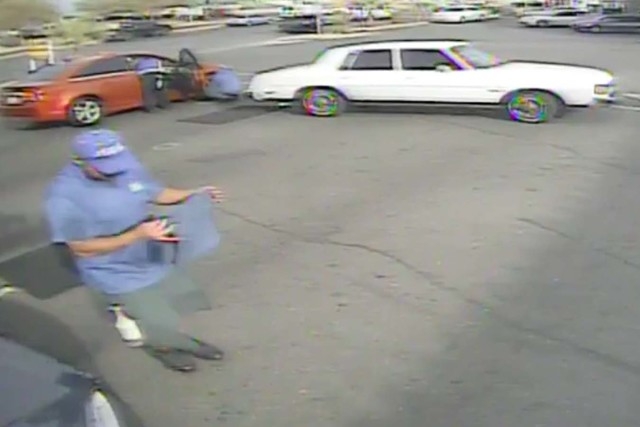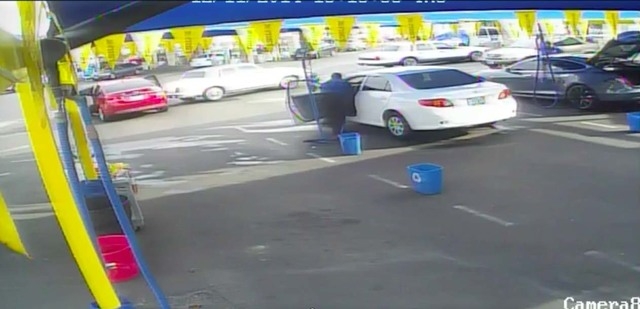 A Las Vegas car wash employee said he does not recall the moment a car plowed into his back and another man's leg before speeding off while they were cleaning another car Thursday afternoon.
The only recollection of the southwest valley crash that 29-year-old Francisco Luis Lorenzo had Saturday afternoon, as he struggled to sit or even speak while in a recovery room at University Medical Center, comes from surveillance footage from cameras installed a week prior at Alamo Hand Car Wash.
Las Vegas police were called to the car wash, 5705 S. Rainbow Blvd., near West Russell Road, about 1:15 p.m., police call logs show.
Police did not provide any details of the incident Saturday, but video provided by car wash owner Michael Dorantes, 47, shows two white cars pulling into the parking lot together shortly after 1 p.m. About four minutes later, a car that resembles a 1980s model Oldsmobile Cutlass Ciera backs up into a red sedan that Lorenzo and 26-year-old Jairo Navarro were cleaning.
The driver "could have killed one of them," Dorantes said.
That driver backed up and appeared to speed up and did not try to stop, according to Dorantes. Though Dorantes doubts the crash was intentional, saying he thinks perhaps the driver might not have seen the men and the car, he said it was in­excusable for that driver to have fled.
Dorantes said police didn't get clear descriptions of the driver or the passenger but said five people saw the incident.
Lorenzo, who was facing the car kneeling down, was pushed into the car's front side. The door was pushed into Navarro's leg. Navarro limped off, Lorenzo rolled on the ground in pain, the video shows.
Lorenzo said his injuries include two fractured bones in his back, an injured leg that he can't move and broken teeth. Navarro was treated and released shortly after the crash.
Dorantes said Lorenzo has been his employee for five out of the nine years the car wash has been open. He never has been late or taken a sick day, and he is a pleasure to work with, Dorantes said.
"We're going to miss his smiles" and "cheerful" attitude, Dorantes said. Lorenzo's recovery will take at least six months, he said. The company's holiday party scheduled for Friday was canceled.
The surveillance video of the crash, which has circulated among TV news stations in Las Vegas, has attracted the attention of valley residents who are willing to help, Dorantes said.
A local dentist contacted Lorenzo about fixing his teeth for free, Dorantes said, adding that about six people showed up Saturday to donate money, which has amounted to about $300. Those costs will go toward medical and living expenses.
Dorantes, who has visited Lorenzo at UMC multiple times, said that he's in the process of opening a donations bank account for Lorenzo and also is planning a benefit car wash for Wednesday. A donation site is available at www.gofundme.com/iubooc.
Lorenzo tightened his face's muscles and he appeared to be in agony when a nurse helped him move in a walker from his bed to a chair Saturday afternoon. He said his release has been delayed at least twice after doctors noticed that he struggles to move his leg.
Lorenzo's message to the fleeing driver: "It's not fair that the driver fled not knowing if someone died," he said in Spanish.
Contact Ricardo Torres at rtorres@reviewjournal.com or 702-383-0381. Find him on Twitter: @rickytwrites.