Man sentenced in federal court for Las Vegas-area smog check scheme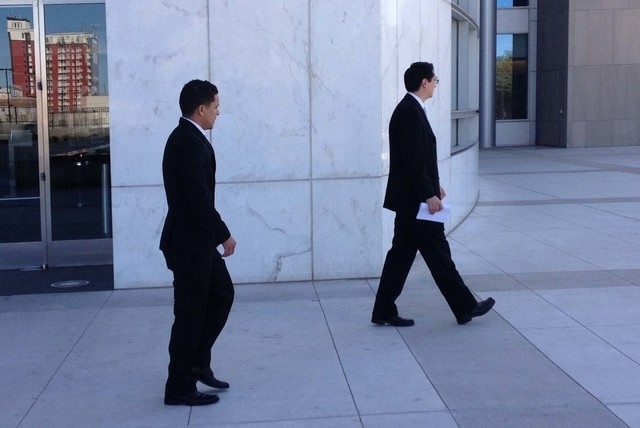 With the help of federal prosecutors, a former emission control inspector got a lighter sentence Thursday stemming from his conviction in a family-run scheme to submit phony test results to the Nevada Department of Motor Vehicles.
Luis R. Batista, 32, who once was licensed by the state, was given credit for roughly seven months already served in federal custody and four months of home confinement.
U.S. District Andrew Gordon also ordered Batista, who could have faced up to 18 months in prison, to serve three years of supervised release.
In court papers this week, Assistant U.S. Attorney Roger Yang asked Gordon for the lighter sentence because of Batista's extensive cooperation in the case.
In giving Batista a break, Gordon told him Thursday, "This is sort of your chance for renewal."
Batista apologized and promised to turn his life around.
"Your honor, I am deeply sorry for what I have done," he said.
He pleaded guilty in February to one federal count of making a false statement to a government agency. The DMV oversees the vehicle smog check program in Nevada for the U.S. Environmental Protection Agency under the Clean Air Act.
Batista, who was indicted in March 2013, and his two brothers participated in the scheme, performing more than 1,500 illegal smog checks, his plea agreement said.
He admitted submitting 150 false emission inspection reports to the DMV between March 2008 and August 2010. During that time, he worked at Snappy Car Wash on North Nellis Boulevard and Smog Check Car Wash on North Lamb Boulevard.
One of Batista's brothers, Henry A. Batista, 30, pleaded guilty last month to making a false statement to a government agency and is waiting to be sentenced.
His indictment alleges he submitted more than 500 false emission inspection reports to the DMV from local smog check kiosks between July 2009 and March 2013. The younger Batista was a licensed emission control inspector when he worked at Snappy Car Wash on North Nellis and Las Vegas Smog on East Lake Mead Boulevard.
According to prosecutors, the brothers falsified emission certificates for a vehicle that could not pass the tests by entering identifying information for the vehicle into an emission analyzer and then connecting another vehicle to the analyzer they knew would pass the test.
In the process, the defendants obtained false vehicle inspection report printouts to provide to their customers.
The third Batista brother, whose identity is not known, has not been charged in the investigation, which is being conducted by the FBI, the EPA's Criminal Investigation Division and state agents.