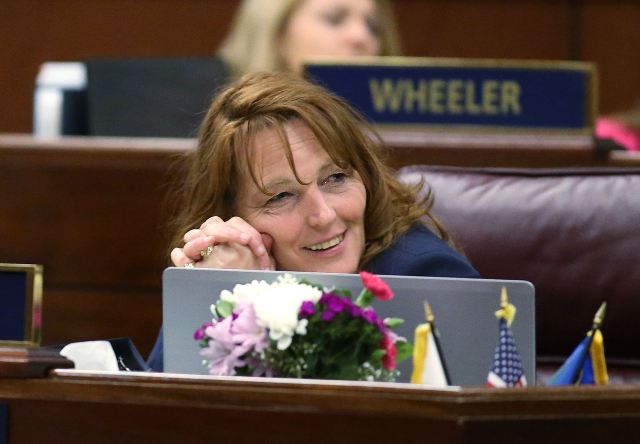 CARSON CITY — Gov. Brian Sandoval on Tuesday appointed former Assembly Speaker Marilyn Kirkpatrick to the Clark County Commission, replacing Tom Collins who resigned earlier this month.
Collins, a controversial "cowboy commissioner," resigned Aug. 10. In a letter to the governor, he said he was leaving office "due to family matters" and provided no other explanation.
Collins is a Democrat from North Las Vegas. Under state law, the Republican governor was obligated to appoint another Democrat to the commission, which is considered one of the two most powerful political bodies in Nevada.
Kirkpatrick, D-North Las Vegas, is respected by colleagues on both sides of the political aisle as a hard worker, tax policy scrutinizer and fierce negotiator. She worked with Sandoval in fall 2014 on a tax incentive package to entice Tesla to build a $5 billion battery factory in Northern Nevada.
In this year's legislative session, she pushed for tweaks to the governor's original $1.1 billion tax plan to cushion the financial hit to small businesses.
"Throughout her tenure in the Nevada State Assembly, Marilyn Kirkpatrick earned a solid reputation for her in-depth policy knowledge and tremendous hard work," Sandoval said in a statement. "She built bipartisan relationships and her record of accomplishment serves as a constant reminder of how effective we can be when we work together."
Kirkpatrick thanked the governor for his support.
"During my legislative career I learned that there is no greater honor than representing your neighbors when it comes to issues that affect their day to day lives," she said in prepared remarks. "I've fought my entire career to increase education funding, create new jobs in Nevada, make our communities safer, and ensure our neighborhoods are places we can all be proud to raise our families in.
"I started as a PTA mother and Girl Scout leader, and not much has changed in the last decade. At heart I am a mother and grandmother who will go about every day with a commitment to do what's best for the families of Commission District B," she said.
Kirkpatrick was first elected to the Assembly in 2004 and is prevented by term limits from seeking re-election in the November 2016 election.
She served as speaker of the Assembly in 2013 and Democratic minority leader this year after Republicans took control of the chamber in the last election cycle.
Janice Ridondo, Collins' former aide, declined to comment on the appointment.
A day after Collins resigned, she said she hoped Kirkpatrick would be named to the seat.
Collins gleefully echoed on Twitter in the minutes after her appointment was announced.
"The only way I could be happier is if I was 21 (years) old again," he tweeted.
Reached for comment Tuesday, Collins told a reporter "when you learn to quit lying, you can call me back."
The former commissioner did not elaborate on that statement before hanging up the phone.
The move gives Kirkpatrick an incumbent's advantage headed into a 2016 race for District B's commission seat.
Kirkpatrick said she planned to run for that post long before Tuesday's announcement.
So far, her only competition is term-limited Las Vegas City Councilman Steve Ross, whose election chances were drowned "like a rat in a rainstorm" by Kirkpatrick's appointment, Collins wrote in a tweet.
Ross sounded a lot more optimistic.
"Kirkpatrick carried the governor's water this session and last and this was simple payback," he said. "Collins has been working on this for some time.
"They know she can't beat me in an election. (Her appointment) will make for a more interesting race, but I've never backed down from a fight."
News of Sandoval's choice for the seat broke only hours after county leaders scheduled a public hearing on a long-sought More Cops sales tax hike. That hearing will be held on Sept. 1, Kirkpatrick's first day on the job.
It remains unclear where she stands on the proposed tax hike.
Last week, Kirkpatrick said she hadn't even looked at the proposal and wouldn't say which way she would lean on the issue.
She did not return requests for comment Tuesday afternoon.
Ross, once considered a top contender for Kirkpatrick's new job, indicated he would oppose the currently suggested proposal.
Contact Sandra Chereb at schereb@reviewjournal.com or 775-687-3901. Find her on Twitter: @SandraChereb Contact James DeHaven at jdehaven@reviewjournal.com or 702-477-3839. Find him on Twitter: @JamesDeHaven