McCarran officials offer tips for holiday travelers
November 16, 2012 - 1:18 pm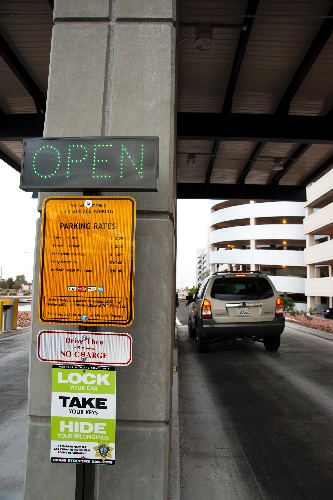 The bags are packed and in the car. The kids have been rounded up. The airline tickets are firmly in hand.
Out the door you rush, headed to McCarran International Airport for the long Thanksgiving holiday weekend trip. You know it's going to be a sea of humanity once you get there, but, hey, you feel good because you've flown out of McCarran before and you know the routine.
But, wait.
Have you been to the airport since late June, when McCarran added its $2.4 billion, 1.9-million-square-foot Terminal 3 and some domestic airlines moved over?
Are you aware that now there are separate parking garages and economy lots for Terminals 1 and 3 and that parking in the wrong one can add as much as a half-hour to your attempt to catch your flight?
Or, if you're on the other end of holiday travel fun and you have family or friends flying in, are you familiar with which terminal they will be coming into and how best to pick them up?
So many questions. One answer, say McCarran officials: mccarran.com.
Resurrecting the same slogan they used when T3 opened – "Know Before You Go" – airport officials on Friday urged all local air travelers, as well as those picking up visiting travelers, to visit their website to become better informed.
580,000 TRAVELERS
It's that old "ounce of prevention" – or, in this case, "preparation" – adage, especially with about 580,000 travelers expected to pass through the airport between Wednesday of next week and Monday .
"What we typically find with our customers is they get used to going to a certain location," said Randall Walker, director of the Clark County Department of Aviation. "They've come to the airport before, so they know where they're going. They tend then not to read the signs.
"Then they come out and things have changed, and they end up at the wrong location."
Or, Walker added, some people travel only during the holiday season and next week might be their first visit to McCarran since the additions and changes were made.
While the airport's website should answer most questions, some of the key points for travelers:
■ T3, in addition to being the international terminal, is home to seven domestic airlines: Alaska, Frontier, Hawaiian, JetBlue, Sun Country, United and Virgin. All other domestic airlines are based at T1.
■ Domestic air travelers are advised to arrive at least 90 minutes before their scheduled departure time.
■ Travelers should park in the terminal garage or economy lot that corresponds with their airline terminal. Not doing so will require taking an interterminal shuttle to the correct terminal that could add as much as 30 minutes to catching one's flight.
■ Travelers making their first trip to McCarran since T3 opened should closely follow overhead reader boards and signs to either the T1 or T3 parking facilities. On Tuesday, McCarran employees will be at the entrance to the economy lots to gauge whether travelers are going to the correct locations.
■ Parking costs are the same for both terminals: long-term at a rate of up to $14 per day, valet for up to $21 per day, and economy lot at $10 per day.
■ Large numbers have been painted on the columns in the passenger pickup areas of both terminals, allowing airline travelers to communicate with those coming for them to coordinate quicker retrievals.
"The time saved by being prepared could be the difference between getting out on time or missing a flight," Walker said of the "Know Before You Go" initiative.
Contact reporter Joe Hawk at jhawk@reviewjournal.com or 702-387-2912. Follow him on Twitter: @RJroadwarrior.