Metro detective accused in robbery of prostitute appears in court
January 27, 2015 - 9:35 pm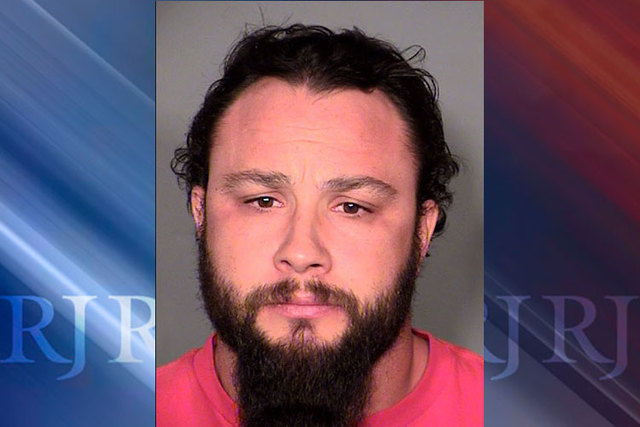 Prosecutors modified charges Tuesday against a Metro detective accused of robbing, beating and trying to sexually assault a woman after a quarrel about a prostitution fee.
Detective Michael Kitchen, 35, was arrested Friday after a woman was reportedly beaten a day earlier in the 2500 block of East Flamingo Road.
About 5:30 p.m. Thursday, someone called police to report a woman screaming. Officers found the woman with a large welt on her forehead and scratches on her breasts.
The woman told police that she told Kitchen a $100 fee was for her "time and company," and when she told him that sex would cost him another $150, he became "angry and ultimately violent," according to a police report.
He punched her twice in the head and shoved her on the floor, the police report said.
The charges against Kitchen include battery with intent to commit sexual assault resulting in substantial bodily harm, battery with intent to commit a crime, robbery, and attempted sexual assault.
Defense lawyer Josh Tomsheck said there were "obviously different stories from different parties," but he declined to elaborate. "We'll let the case play out in the courtroom."
As Kitchen unzipped the woman's pants, the report said, she kicked him, saying she made a "solid connection" without saying where. She put up her arms to block the blows, and he pinned her to the ground with his forearm, then yanked five $20 bills from her bra and left the room, according to the report.
Kitchen initially told officers he drove a police vehicle to the apartment for a massage, as advertised on a website, the report said.
Kitchen said that is something he does "every few months or so."
The detective, who was paid $173,836 in 2013, told investigators that legitimate operations, including one he mentioned by name, were "too expensive." But Kitchen didn't know how much the legitimate place charges and later said he just wanted a massage from an attractive female to help with his soreness. The legitimate company he named lists $49.99 for an "introductory one-hour massage."
Police asked him to describe which types of massage would help him with his soreness.
"Kitchen reminded me that neither of us have extensive knowledge of massages," the investigator wrote.
The investigator then told Kitchen: "I believe he knows certain social media sites are used for criminal activity."
Kitchen denied "malicious intent," the report stated, saying he would have walked away "before battering her over $100."
The woman was taken to Desert Springs Hospital, where she was diagnosed with a concussion and a fractured wrist.
Las Vegas Justice of the Peace Joe Sciscento entered a not guilty plea and set a preliminary hearing for next month.
According to voter registration information, the incident happened about 2½ miles from Kitchen's home.
A detective in the firearms division, Kitchen has worked for Metro since September 1999. He was placed on unpaid administrative leave pending the outcome of the criminal investigation and is being held in the Clark County Detention Center without bail.