Metro officer charged with domestic battery was arrested on similar charges in 2011
January 13, 2016 - 5:30 pm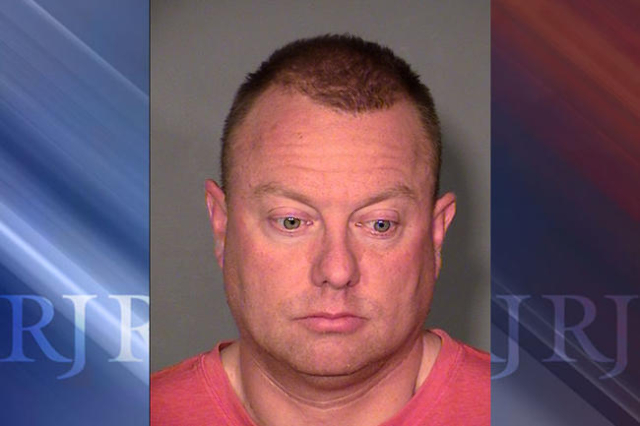 The Metropolitan Police officer who was arrested Monday on domestic battery charges was arrested four years before on similar charges, but that case was dismissed, the Clark County district attorney's office confirmed Wednesday.
James Burt, 41, was taken into custody Monday on suspicion of domestic battery by strangulation and kidnapping involving his girlfriend, an arrest report shows. In 2011, he was arrested on two counts of domestic battery, coercion with force and kidnapping involving his then-wife. They divorced about a year later.
That first case was dismissed less than six weeks after he was arrested.
"What it looks like on the court record is it was almost like an agreement," said Audrie Locke, a district attorney spokeswoman. Between the day he was taken into custody and the day the case was dropped, he performed 100 hours of community service and completed counseling.
"He did what he was told to do by the court and because he did that, the case was dismissed," she said.
Metro initially announced that Burt was arrested Tuesday, but he was taken into custody Monday, his arrest report shows. Metro said Burt was "relieved without pay pending the judicial and internal investigations."
Burt faced similar consequences after the first case: He was initially relieved of duty with pay, then without pay once the charges were officially filed. Once the case was dropped in court, and after an internal investigation, he was fired but "arbitrated and got his job back" a month later, Metro said Wednesday.
The 2011 charges were filed after an in-home argument, according to the arrest report. Burt's wife was on the couch when Burt pushed and hit her, then held down her face and jaw before punching her in the stomach, the report said.
Burt then grabbed his wife of less than two years and "escorted her to their truck."
"(His wife) stated at this point she was afraid of James and fearful of what he might do to her if she did not cooperate with him," the report said. Burt was arrested after police managed to pull his truck over.
On Monday, Burt and his girlfriend of about four months were arguing as she was leaving their house, the arrest report said. After throwing her against the garage door, Burt then "began dragging (her) back into the house," then threw her on the couch, got on top of her and covered her mouth, the report said, possibly breaking her jaw.
The report said Burt then grabbed her by the neck and lifted her off the ground "several times." An hour later, when he let her leave, she made her way to Southern Highlands Hospital because of her jaw. Burt was later arrested at a friend's house.
Both of the current charges Burt faces are felonies, and he is being held without bail at the Clark County Detention Center, jail records show. Should the case be dropped again, Burt could get his job back.
"There's certain times we can relieve somebody of duty without pay. One of those times is when someone is facing a felony charge," officer Jesse Roybal, a Metro spokesman, said.
"You can be charged of something and not be convicted of it, and then we can bring you back on as regular duty," Roybal added.
In 2009, Burt was one of three officers who shot and killed 35-year-old Edmundo Del Valle Jr. during a downtown Las Vegas confrontation. An inquest found the shooting was justifiable.
Reporters Colton Lochhead and Ricardo Torres contributed to this report. Contact Rachel Crosby at rcrosby@reviewjournal.com or at 702-387-5290. Find her on Twitter: @rachelacrosby