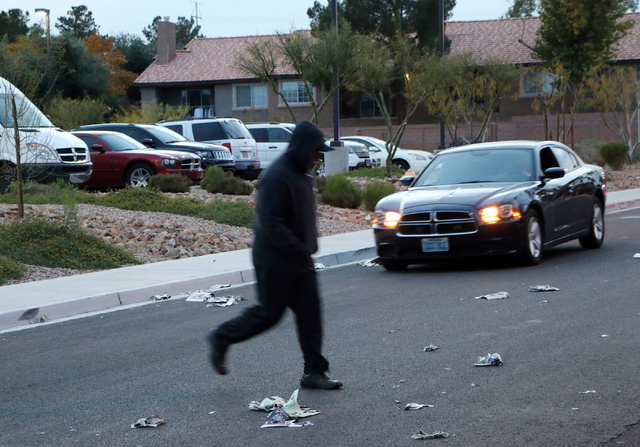 It's everyone's responsibility to avoid fatal crashes with pedestrians, according to Las Vegas police.
That's the message Metro's traffic bureau wants to send to the Las Vegas community. On Wednesday evening, officers held a live-action pedestrian safety demonstration to get the message across.
"It doesn't matter whose fault it is, because somebody is going to get killed," Metro spokesman officer Larry Hadfield said of auto-pedestrian crashes.
As of Wednesday, 31 pedestrians have been in vehicle accidents in Metro's jurisdiction so far this year. Though the number is down from 2012 and 2013, any death is a tragedy, police said.
The demonstrations were rehearsed prior to the event and took place in a controlled environment. Officers blocked off a portion of the street in front of their headquarters, 8445 Eldora Ave., near Sahara Avenue and Cimarron Road.
An officer wore ear buds while other officers tested his hearing as a car drove past him. He was not able to hear the car until it reached him during each of the three tests.
Another example included an officer darting into the street from the sidewalk into the street while a car had to make a hard stop to avoid him.
The final simulations included a 10-year-old girl and daughter of one of the officers. The officer, who has worked in Metro's traffic bureau for 13 years out of his 17 years with the department, has investigated countless fatalities. He said his daughter was touched by the story of a child who was struck by a vehicle on Tuesday and wanted to participate as a volunteer pedestrian.
Metro recommends drivers to be aware of the road, maintain the speed limit so they have time to react, and don't drink and drive. Pedestrians are told to pay attention to the road, respect crosswalks and wear reflective accessories, which are affordable, Lt. David Jacoby said.
"These roadway tragedies, they don't just affect those involved," Jacoby said. "Everyone is important in the community. All of us have loved ones, all of us have family members."
Contact Ricardo Torres at rtorres@reviewjournal.com and 702-383-0381. Find him on Twitter: @rickytwrites