Mirage ventriloquist Terry Fator's dispute with ex-manager reignites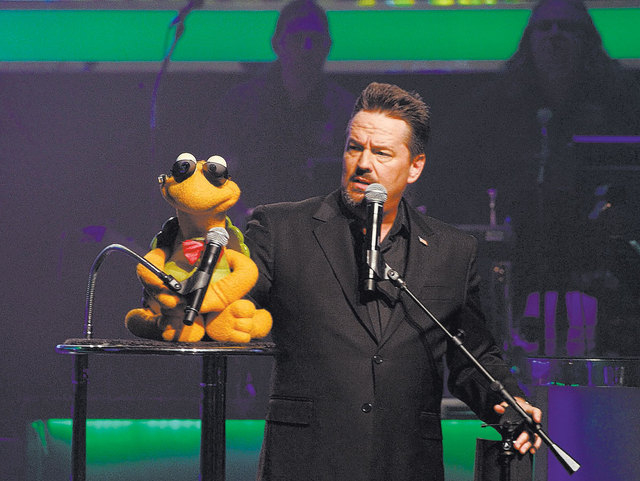 The legal dispute between Mirage headliner Terry Fator and former manager John McEntee is back in court, nearly four years after they reached a settlement.
Fator and three affiliated companies filed a lawsuit Friday in Clark County District Court against McEntee and two of his companies.
The ventriloquist, who rose to fame with his 2007 victory in the "America's Got Talent" competition, wants a judge to declare that the defendants, "who have already received well in excess of $10 million in payments from Mr. Fator, are not entitled to continue their parasitic encumbrance of Mr. Fator's career by extracting yet additional payments from Mr. Fator."
According to the entertainer's lawsuit, the defendants claim he owes them more money "under their purposefully distorted mischaracterization of the terms of a settlement agreement that Mr. Fator entered into with McEntee four years ago."
McEntee, reached late Tuesday in Southern California, declined to comment on Fator's lawsuit.
"I don't like to comment on anything that guy says or does," McEntee told the Las Vegas Review-Journal.
He said he learned about the complaint Monday from his lawyer but has not read it.
According to Fator's lawsuit, McEntee served as his manager and producer until December 2009, when Fator terminated him. McEntee has not rendered any services to Fator since then, according to the lawsuit.
"Mr. Fator first became associated with McEntee following Mr. Fator's 2007 victory on 'America's Got Talent,' when McEntee, through fraud, manipulation, breaches of fiduciary duty, self-dealing and violations of the California Talent Agencies Act, gradually insinuated himself into virtually every aspect of Mr. Fator's career," the complaint alleges.
The plaintiffs, which include Impressivent Inc. and Puppet Boy Entertainment Inc., are represented by Las Vegas attorney Charles McCrea Jr.
According to the lawsuit, McEntee entered into an agreement with The Mirage in which he designated himself, rather than Fator, as the resort's "contractual counterparty." Fator began to appear as a headliner at The Mirage in February 2009.
"In 2009, Mr. Fator, who had gradually become more knowledgeable in entertainment business practices and who had, over McEntee's objection, surrounded himself with increasingly more sophisticated advisors, began to uncover McEntee's conflicts of interest, self-dealing and other defalcations," the lawsuit alleges.
In November 2009, according to the lawsuit, Fator initiated a proceeding against McEntee before the California Labor Commission and accused him of violating the state's Talent Agencies Act.
Following legal proceedings in California and Nevada, the parties resolved their disputes in October 2010 with a settlement agreement.
Under the terms of the agreement, according to Fator's lawsuit, McEntee — who already has been paid more than $10 million — "had no further entitlement to commission any earnings of Mr. Fator" after February 2014.
"Notwithstanding that fact, and in a remarkable display of avarice and greed, McEntee, not content with the windfall fortune that he has already extracted from Mr. Fator, recently and abruptly resurfaced and has asserted that he is somehow entitled to yet additional commission payments from Mr. Fator," the lawsuit alleges.
Also named as defendants in the case are TEI Entertainment and ATEI Company Inc. The case has been assigned to District Judge Susan Scann.
Contact reporter Carri Geer Thevenot at cgeer@reviewjournal.com or 702-384-8710. Find her on Twitter: @CarriGeer.