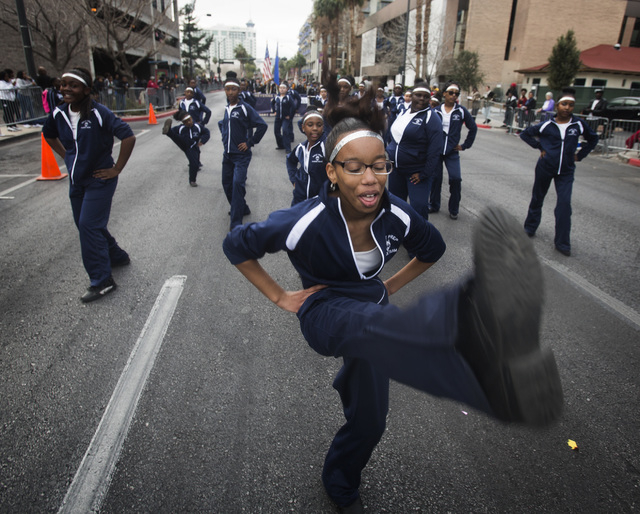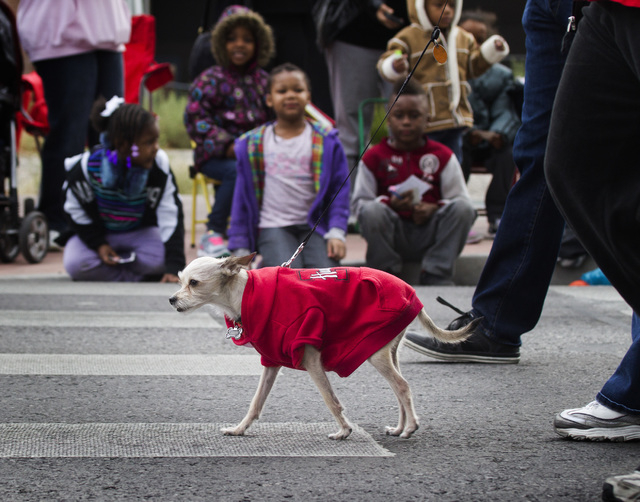 Monday's parade honoring Dr. Martin Luther King Jr. was not about black, white or brown lives, but about "our lives."
The parade lasted more than four hours and drew hundreds of attendees to 15 blocks of Fourth Street in downtown Las Vegas. Dancers, first responders, marching bands, local high school ROTC platoons and politicians streamed by the onlookers.
Many at the parade wore stickers that said "Our Lives Matter." The slogan echoed calls of "Black lives matter" and "Police lives matter" from protests and rallies throughout the U.S. after police killings of black men in New York City and Ferguson, Mo.
"Making sure we remember that everybody counts, that everybody's lives matter," was spectator Sigmund Joiner's reason for attending the parade with a "Black lives matter" sign.
"I love the police department, I think they're great," added the 41-year-old black resident of Las Vegas. "I think they risk their lives every day. I understand how difficult it is to be a cop, but we also have to realize it's just kind of difficult being black."
The annual parade, now in its 33rd year, keeps families coming back.
Anthony Egnor, 58, has made the parade a family tradition for 20 years. Six family members, including two grandchildren, were with him Monday.
He called the parade a "day to reflect on black pride" and on King, who "didn't have to put his life on the line for us," but did anyway.
"It's a pretty good day" and "better than last year," said Egnor's grandson, Kory Graham. The 12-year-old noted that his favorite marchers were the dancers and the ROTC platoons. Kory wants to be in ROTC when he's in college, he said.
Kory's cousin, 10-year-old CJ Turner, described the observance a "very important day." The classic cars were his favorite part of the parade.
Monday was the second time two friends, both aviation safety inspectors, attended the parade together.
William Daniels, 66, has lived in Las Vegas about 30 years and said he attends the parade annually. He said he was raised in Montgomery, Ala., during the Jim Crow segregation laws. "If you didn't have any idea what Jim Crow was about — if you lived in that state — you got first-hand knowledge of it."
His friend, Bob Young, 67, also spoke about segregation.
Young, who is white, said the culture shock was severe when he went to aviation school at Alabama's U.S. Army Aviation Center of Excellence and Fort Rucker.
It was a "rude awakening," Young said. "It was a shock to me to see a sign saying, 'Colored patrons only.'" Water fountains were marked "whites only." Those experiences made him "more interested in civil rights than anything."
One float broadcast King's "I Have a Dream" speech, while others had photos of him and his quotes, such as: "Where do we go from here? Chaos or Community?"
Former Nevada Lt. Gov. Lonnie Hammargren took part in the parade carrying a "Je suis Charlie" banner to support free speech following the Jan. 7 terrorist attack on the French satirical magazine Charlie Hebdo.
Dancers gyrated to percussion sounds, kids waved from their floats while flapping American flags. Fire trucks and police vehicles blared their sirens.
Linda Metellus, 64, and Ruth Washington, 67, said they felt "energized" after dancing their way across 15 blocks with the Las Vegas FanciDancers, a line-dance group from the Pearson Community Center. The FanciDancers are all over 55 years old, they said.
The parade "let's us know that the struggle (for equality) is continuing. It's not over with and there's still a lot of work to be done," Metellus said.
Also walking the entire route was Erik Newman, acting fire chief for the Clark County Fire Department.
"Every day I go to work, I thank those who came before me and paved the way for me to be here," said Newman, who is black. He noted that if it wasn't for King, "I wouldn't be standing here."
He spoke about his career as a firefighter and how the Civil Rights Movement made hiring practices for public agencies more inclusive.
"Everyone got a fair opportunity and that's all that anyone asks for, just a fair opportunity."