Motel 6 going in near Las Vegas Speedway for NASCAR fans, EDC concertgoers
NASCAR fans and Electric Daisy Carnival concertgoers will soon have a place to sleep near the Las Vegas Motor Speedway.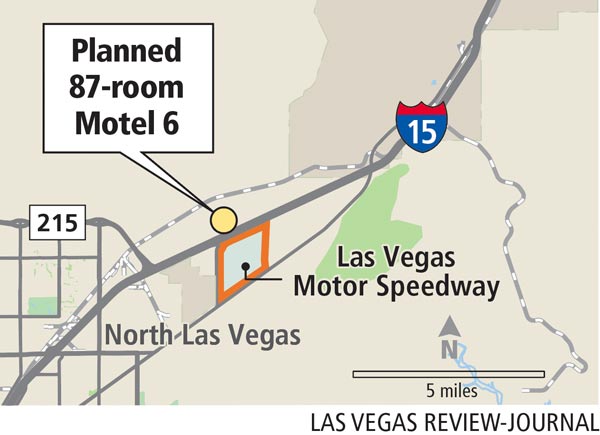 A Motel 6 with 87 rooms will be built on a vacant 6.9-acre parcel spanning the northwest corner of Interstate 15 and Speedway Boulevard, under a plan approved 3-0 Wednesday night by the North Las Vegas City Council. Councilwoman Pamela Goynes-Brown and Councilman Richard Cherchio were absent from the meeting because they were traveling.
Construction could start as soon as September on the $8 million hotel, which will not have a casino, said Turk Cobell, a managing member with Speedway Hotel LLC, the project's developer. The three-floor hotel will stand 33 feet tall, with a 41-foot-tall tower flashing the Motel 6 logo.
"This won't be your grandfather's Motel 6, because the company started using a new prototype with interior corridors and brighter colors that will bring a new, fresh product to the area," said Cobell, who has previously worked for Station Casinos and Mandalay Resort Group.
Cobell said he hopes the 31,000-square-foot hotel opens by next spring, possibly in time for the 2017 NASCAR weekend scheduled for March 10-12 at the Speedway. Other events are also held at the venue, including the Electric Daisy Carnival every June.
A previously approved convenience store, gas station and fast-food restaurant will be built near the hotel, according to a city report.
"I think it's going to be like the little hole that gets poked in the dam and starts a flood," said North Las Vegas City Councilman Isaac Barron, whose Ward 1 includes the planned hotel. "We'll look back a few years from now, and we'll see that this definitely is going to be something that's going to spur the development of not just this region, but also the future of North Las Vegas."
Contact Art Marroquin at amarroquin@reviewjournal.com or 702-383-0336. Find @AMarroquin_LV on Twitter.