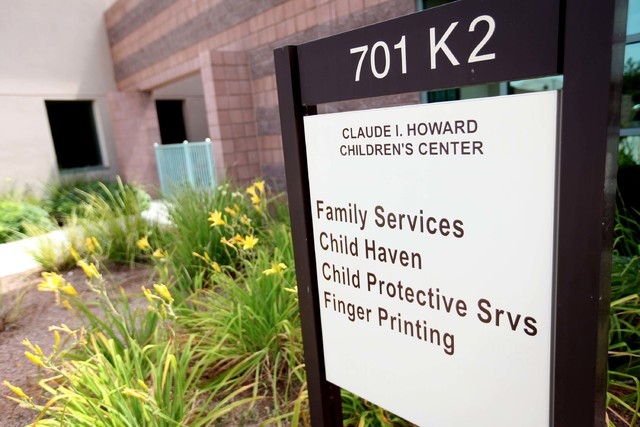 Clark County's emergency shelter for abused and neglected children saw its most recent population spike during spring break for local schools when it was housing up to 80 children, once again exceeding its state-licensed capacity of 70.
That comes at a time when state lawmakers are considering a bill that would eliminate Child Haven's population cap. The shelter has experienced crowding problems in the past. In 2006, it sheltered as many as 164 children at a time.
Crowding then was so bad that young boys were sleeping in beds set up in Child Haven's gym. After that, Child Haven began to operate as a state-licensed child care facility with a maximum capacity of 96.
Bill Grimm, senior attorney at the Oakland, Calif.,-based National Center for Youth Law, is familiar with Child Haven's history and said the proposed bill is "a huge step backward for the safety of children in the state."
"We could be back to the horrific days when too many children and too few staff were placed at the facility," he said last week.
Senate Bill 49 would revise current law to include a definition of emergency shelters that classifies facilities like Child Haven as such, and not as a child care facility. The bill also calls for the licensing standards adopted for emergency shelters to "not limit the number of children who may be placed in an emergency shelter." However, the standards "may provide for a ratio establishing the minimum number of staff-to-children that is based on age and any special needs of the children."
The bill was amended and passed by the Senate Health and Human Services Committee on Friday and will now be referred to the Senate Finance Committee because of related fiscal issues.
If the state Legislature truly cares about the safety of children, the statute should be amended to read "shall limit the number of children at the emergency shelter and shall provide for a ratio," Grimm said.
"It doesn't limit the number of children … and it doesn't even mandate that they come up with a ratio," he said of SB 49. "It seems to me that you could end up with 150 children at Child Haven and one staff person for every 15 kids, and that would be acceptable under this."
Child care facilities are licensed by the state's Division of Child Care Licensing and have maximum capacities.
The emergency shelter license would give Child Haven flexibility to operate, given that it cannot turn children away as child care facilities have the ability to do, said Clark County Assistant Manager Jeff Wells.
Several times last year, and most recently on March 30, Child Haven exceeded its state-licensed capacity. Spring break takes place the week before Easter, which was on April 5 this year.
Under the licensing structure for emergency shelters, the number of children could go up or down and employees wouldn't have to question whether the shelter is in compliance with the license or not, Wells said.
"It just takes away that issue," he contended last week.
The overcapacity issues happened several years ago and "this legislation is just part of our ongoing efforts to make Child Haven what it truly should be — a receiving shelter where we can do good triage," Wells said.
Twenty-two of the 80 children at the shelter on March 30 were placed in a home within 24 hours, said Erik Pappa, spokesman for Clark County.
"It's not designed to be a housing facility, it's designed to be a transition facility," Wells said. "The goal is always to move the children out as soon as we can."
Denise Tanata Ashby, executive director for the Children's Advocacy Alliance in Las Vegas, said she initially had concerns about eliminating the population cap, given past problems at Child Haven.
But her agency also recognizes the unique role Child Haven fills.
"If you do this, capacity could go up. We are not advocates of that, but also recognize the fact that the (Clark County Department of Family Services' campus) can't turn kids away," she said.
The shelter would still have to follow fire code regulations, and during inspections, fire officials would determine the capacity for each of Child Haven's buildings.
If the bill becomes law, Ashby's agency will keep a close watch on what happens.
"I think it's going to be imperative on the agency that they will have a number," she said. "We are going to definitely follow the rule-making process to make sure those provisions are fair."
State Sen. Joe Hardy, R-Boulder City, and chair of the Senate Health and Human Services Committee, which is sponsoring the bill that came out of Clark County, said the word "may'" in the bill when talking about ratios is not a "cop out," but it's rather indented to provide flexibility because the number of children in a shelter could change.
"I don't think we are trying to get out of doing things," he said.
Wells said the bill is a "straightforward piece of legislation."
"We are just arguing that they had put us in the wrong (category) and that we belong in the emergency shelter (category)," he said.
Meanwhile, Child Haven might receive approval to increase its capacity soon. Donna McCafferty, program manager with the state's Bureau of Health Care Quality and Compliance, said state officials are working with county officials to raise the capacity at Child Haven from 70 to 90.
The state anticipates giving approval for the capacity increase within the next two weeks, McCafferty said.
Review-Journal writer Sean Whaley contributed to this report.
Contact Yesenia Amaro at yamaro@reviewjournal.com or 702-383-0440. Find her on Twitter:@YeseniaAmaro.

RELATED STORIES
Nevada 'tough-on-crime' bills could force Jean prison to reopen
Reno Assemblyman Randy Kirner loses cop association support
NLV mayor backs bankruptcy power for cities, counties
Nevada Senate approves minimum wage increase bill
Nevada legislators urged to restart cloud seeding amid drought
Bill to boost maximum speed limit to 80 mph advances
Court papers show legislative extortion probe includes alleged wiretap, false political finance reports
See all of our coverage: 2015 Nevada Legislature.