Mystery surrounds writer's name
December 23, 2015 - 11:12 pm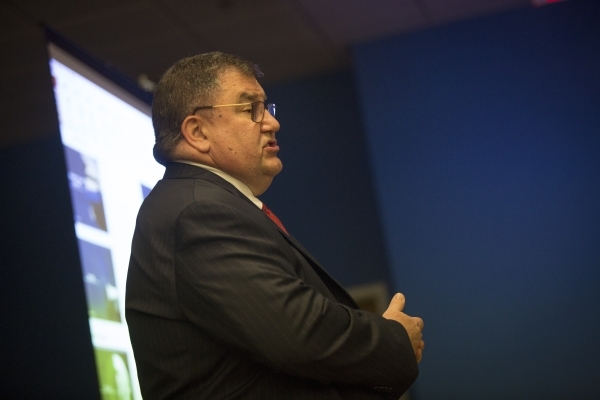 Who is Edward Clarkin?
That question has gained national and international media attention in the five days since the Las Vegas Review-Journal first introduced the mystery author of a long article blasting Clark County District Judge Elizabeth Gonzalez's business court rulings.
Attempts to locate Clarkin, whose story appeared in the New Britain Herald, a small Connecticut newspaper, have been unsuccessful.
An email sent to an address listed on a Clarkin-penned article was returned as undeliverable. Three of those mentioned or quoted in his November article criticizing Gonzalez said they were never contacted by him, according to a story that appeared Wednesday in the Hartford Courant, also in Connecticut. The Courant later reported Clarkin's article contained "several passages that are nearly identical to work that previously appeared in other publications."
After weeks of speculation on social media and more than one fake Twitter account created in Clarkin's name, public records point to one man behind the mystery: Michael Schroeder, manager of News + Media Capital Group LLC, which bought the Review-Journal early this month.
Schroeder's middle name is Edward. California marriage records show his father, Clarence J. Schroeder, married Karen A. Clarkin in 1957. Michael Schroeder was born in November 1958.
Reached Wednesday at his Connecticut office, Schroeder would not confirm his mother's maiden name, nor would he comment on whether he was, in fact, Clarkin.
He also declined to explain why he told an RJ reporter he had "no idea" how to reach Clarkin last week.
Clarkin's identity is far from the only question left unanswered in the wake of the RJ's sale.
And clues pointing toward his identity are among many developments to emerge in the two weeks since the transaction was announced.
Review-Journal writers Howard Stutz and David Ferrara contributed to this report. Contact James DeHaven at jdehaven@reviewjournal.com or 702-477-3839. Find him on Twitter: @JamesDeHaven. Contact Jennifer Robison at jrobison@reviewjournal.com or 702-380-4512. Find her on Twitter: @J_Robison1. Contact Eric Hartley at ehartley@reviewjournal.com or 702-550-9229. Find him on Twitter: @ethartley.