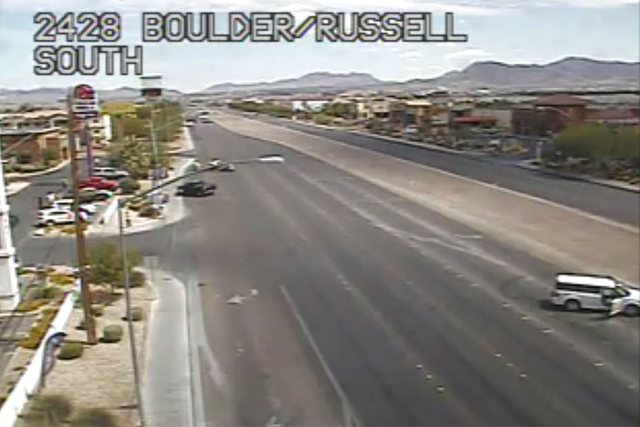 A 63-year-old man died after a three-vehicle crash Wednesday afternoon in the southeast valley, according to Las Vegas police.
Officers were called about 1 p.m. to Boulder Highway, near Russell Road, where the three vehicles collided.
Witness statements and evidence at the scene indicate a 2013 Acura RDX was stopped at a red light in the left turn lane on southbound Boulder Highway, at Russell, when a 2014 Ford Flex was northbound in the left lane on Boulder Highway, approaching a red light, police wrote in a release Wednesday evening.
A southbound Ford F-150 crashed into the back of the Acura. The truck continued southeast, across the intersection, and side-swiped the left side of the Ford Flex. The truck stopped on the east side of Boulder Highway.
First responders found the male driver of the 2013 Ford F-150 in cardiac arrest, said Metro spokesman Officer Larry Hadfield.
The Las Vegas man was taken to St. Rose Dominican Hospital, de Lima campus, where he died, Metro said.
The 30-year-old woman who was driving the Acura and the 64-year-old man who was driving the Flex suffered minor injuries, police wrote in the release. A passenger in the Flex, a 58-year-old woman, suffered moderate injuries.
The crash may have been caused by the Ford truck driver's medical episode, the release said.
The Clark County coroner's office will identify the man after his family has been notified.
Northbound traffic on Boulder Highway was closed for about five hours while police investigated, Hadfield said.
Contact Kimber Laux at klaux@reviewjournal.com or 702-383-0381. Find her on Twitter: @lauxkimber.