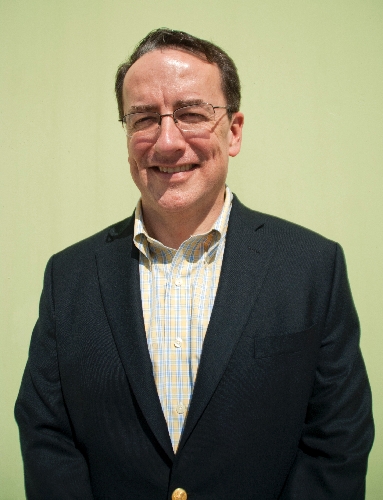 Brian Burton first discovered the meaning of privilege as a 5-year-old growing up in Little Rock, Ark.
Now 51, the Three Square Food Bank president and CEO noticed that when his family's black maid called for a cab, it took more than an hour to show up. When his white mother called, the cab arrived in five minutes.
"It's funny, you don't know how those early moments shape you for life," Burton said. "I certainly saw the inequality that was evident in the community in the '60s and into the '70s. If it had not been for those experiences, I may not be doing this work."
Burton has dedicated his life to "serving the outcast, serving those who are down on their luck," first as a pastor, then as a food pantry director in Dallas.
"It was there I caught a vision for collaboration and utilizing food as a portal to education to help people move out of poverty," he said.
After 15 years overseeing The Wilkinson Center pantry, Burton went on sabbatical to figure out his next steps. Upon his return, he found out about the opportunity to replace Three Square founder Julie Murray. Burton interviewed for and was offered the job on the same day in March 2011.
"I knew this was where I was meant to be," he said. "It had a feeling of destiny to it."
Burton set about expanding the 5-year-old nonprofit, which provides food to agency partners throughout Southern Nevada who distribute the food to those in need. He hired a new chief development officer and this year launched a spring Restaurant Week fundraiser to supplement the popular fall event. More than 100 restaurants participate.
"It's the perfect amalgamation of my life: my theological background, my business training, my work in the community. It all converges here at Three Square," Burton said.
Question: What differences are there between Dallas and Las Vegas in terms of poverty levels and need?
Answer: I was surprised when I got here – even though I had read the statistics, the magnitude of the need surprised me. I didn't realize what a difference it is to the community when the unemployment has been this high this long.
The clients coming through our agency partners are not what I used to see in Dallas as traditional clients – people that were born in poverty. A lot of these folks are formerly middle class and they've had the calamity of being on the wrong side of the real estate bubble or losing their job or having a medical emergency. Forces in their life have conspired against them and created this place they never dreamed they would be in.
Question: There have been some positive economic indicators in recent months. Are you seeing signs of improvement?
Answer: Nevada is one of the few states that have gotten worse in terms of the number of people who are food insecure. It's one out of six. It was one out of eight two years ago. That's sobering. I'm an optimist; I believe there's always a silver lining, always a rainbow, and we have to focus on that. As long as unemployment is high, food insecurity pretty much tracks that. The job's not finished.
Question: You moved from meeting with families at the pantry level to providing agencies with food. What was that transition like?
Answer: It's like I'm a bridge, in a way. One day I may be talking to a billionaire and receiving a large gift from someone who has been very generous with us, and the next day I may be at the Aloha Mobile Home Park and meeting elderly women that have been waiting in the hot sun for several hours for food. It's an amazing crossroads. There's no other job like this on the planet. I get to touch so many different worlds.
Question: Three Square in January sponsored the SNAP challenge, encouraging people to spend only $4 on food per day. What were you trying to achieve?
Answer: The goal was to draw attention to the plight of people who must depend on food stamps as a lifeline for their nutrition, as a temporary or emergency help, so that they can make it through the current crisis. We wanted to put a human face and spotlight on the importance of these federal nutrition programs.
I hope that it creates empathy for those that try to live on $4 a day, which is your average food stamp benefit, to see how hard that is.
Question: Do you plan to do more advocacy work as CEO of Three Square?
Answer: I love advocacy, particularly creative advocacy like the SNAP challenge, because it helps put us in the shoes of someone else who is maybe different or has had bad luck. To me, advocacy is about love. It's about helping your neighbor.
Question: Do you miss being a pastor?
Answer: I don't miss being a pastor because I am a pastor. I consider the work I do as a ministry. It is the purpose I believe I am created to fulfill in this life. That's what keeps me motivated. That's why I try to build bridges to people that maybe don't understand the realities (of what) these clients' lives are like. I consider it a supreme honor, privilege and blessing.
Contact reporter Caitlin McGarry at cmcgarry@reviewjournal.com or 702-387-5273.
VITAL STATISTICS
Name: Brian Burton.
Position: President and CEO of Three Square Food Bank.
Age: 51
Quotable: "No matter who we are, no matter what circumstance we're in, we're all in the same boat. Our destinies are intertwined."
Family: Floyd, a 70-pound basset hound.
Education: Bachelor of arts from Ouachita Baptist University; master's in business administration from Louisiana State University; master of divinity degree in education from Southern Seminary.
Work history: Controller, Fox & Jacobs homebuilders; associate pastor, Wilshire Baptist Church from 1991-1996; director of The Wilkinson Center food pantry from 1996-2011; president of Three Square since March 2011.
Hobbies: Spending time in nature with his dog, reading, entertaining friends from out of town, attending First Presbyterian church.
Favorite book: "The Help" by Kathryn Stockett.
Hometown: Little Rock, Ark.
In Las Vegas since: 2011.
Three Square Food Bank is at 4190 N. Pecos Road. It can be reached at 644-3663.