No prison time for No. 2 man in HOA scheme
November 17, 2015 - 6:03 pm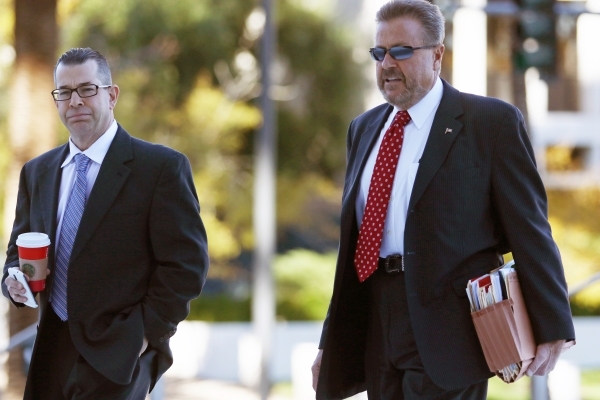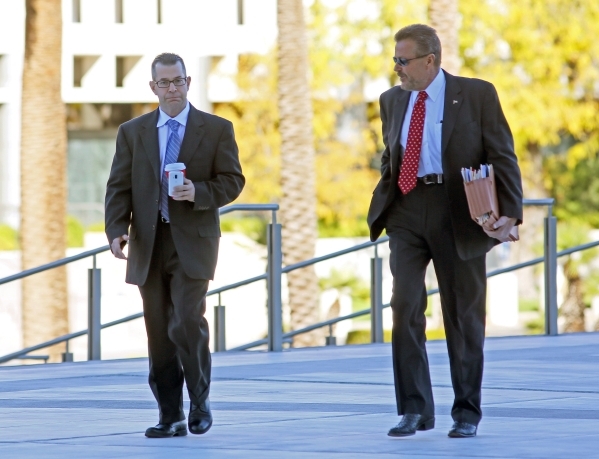 Ralph Priola, the No. 2 player in the massive scheme to take over and defraud homeowners associations, avoided prison time Tuesday.
U.S. District Judge James Mahan sentenced Priola to three years of supervised release and ordered him to pay a share of $12.2 million in restitution with other defendants.
Mahan said Priola could have faced more than 17 years behind bars under new federal sentencing guidelines, but the judge chose to follow the recommendation of prosecutors who sought to keep Priola out of prison because of his early and crucial cooperation in the high-profile case.
Lead Justice Department prosecutor Charles La Bella told Mahan that Priola was "essential" to helping investigators define the parameters of the takeover scheme and was "unshakable" on the witness stand for the government.
An emotional Priola read a statement apologizing for his leading role in the conspiracy.
"I made some horrible mistakes that had a major impact on some homeowners," Priola said. "I have no excuses for my actions. They were despicable."
His lawyer, John Moran Jr., said Priola is continuing to "make things right" for the homeowners victimized in the scheme. Priola is cooperating with lawyers who have filed civil lawsuits on behalf of the HOAs.
In allowing Priola to remain free, Mahan said he felt his testimony was truthful and his decision to cooperate led others to assist the government.
"You came forward and caused other people to come forward and break this open," Mahan said.
Priola, 48, the right-hand-man to the scheme's mastermind, former construction company boss Leon Benzer, provided prosecutors with a blueprint on how the scheme unfolded.
He was the first of more than 40 defendants to cooperate in what is regarded as the largest public corruption case federal authorities have brought in Southern Nevada.
Prosecutors said in court papers that he "significantly advanced" the FBI-led investigation, which began in November 2007. He gave more than 60 interviews and follow-up phone conversations with investigators and then testified at two trials that resulted in the convictions of five defendants.
Priola testified that he participated in the multimillion-dollar scheme as early as 2003 and ran it for Benzer during its height from 2006 to 2008. He spent tens of thousands of dollars paying off lawyers, straw buyers and HOA board members and rigging elections at more than a half-dozen HOAs Benzer had targeted.
The goal was to get the boards to hand Benzer lucrative contracts to do construction defect work.
Priola pleaded guilty in February 2013 to one felony count of conspiracy to commit mail and wire fraud, but had to wait to be sentenced until he fulfilled the terms of his agreement with the government.
Two other defendants, former real estate agent Anthony Wilson and straw buyer Paul Citelli, who pleaded guilty to the same charge, also avoided prison time on Tuesday because of their cooperation in the case.
Mahan ordered Wilson, who testified at both trials, to serve two years of supervised release and pay $115,700 in restitution. Citelli was sentenced to three years of supervised release with no restitution.
Only one defendant, Stephanie Markham, who was convicted at trial in September for lying to the FBI and a federal grand jury about her role in the scheme, is left to be sentenced.
The HOA investigation, overseen by the Justice Department's Fraud Section in Washington, became public in September 2008 when the FBI, Las Vegas police and Internal Revenue Service agents conducted valleywide raids on Benzer's crime organization.
Benzer pleaded guilty and was sentenced earlier this year to 15½ years in prison for directing the scheme, which prosecutors alleged targeted about a dozen HOAs around the valley. He is in prison.
Prosecutors alleged that the late construction defect attorney Nancy Quon bankrolled the takeover scheme and handled most of the defect litigation at the targeted HOAs. Quon killed herself in March 2012 and was never charged.
Contact Jeff German at jgerman@reviewjournal.com or 702-380-8135. Find him on Twitter: @JGermanRJ