Officials: Handle fireworks with care and only where permitted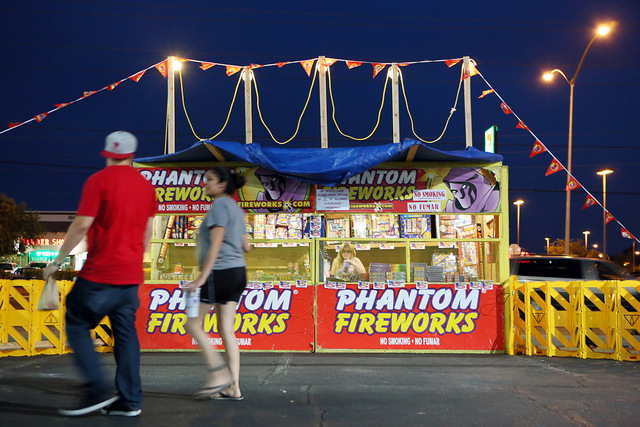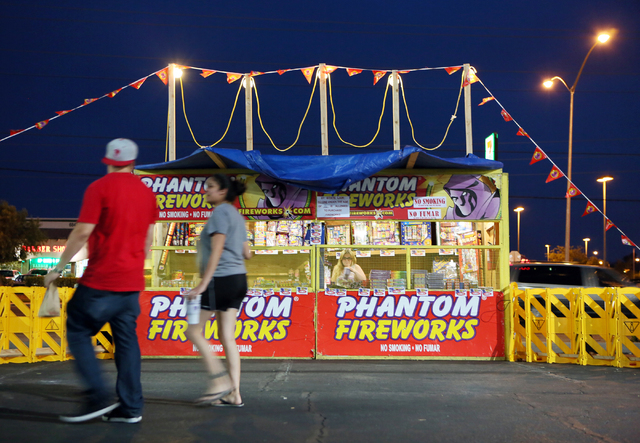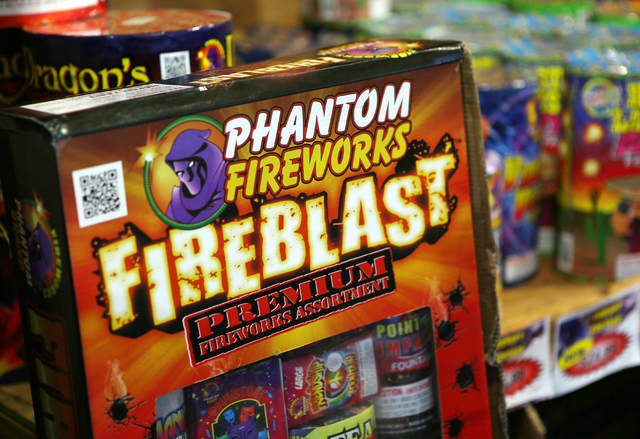 With the valley's triple-digit heat streak expected to stretch through Fourth of July weekend, Southern Nevada officials are reminding everyone that fireworks are illegal on public lands and should be handled with caution where their use is permitted.
If hot and dry conditions continue as expected, Saturday will be the 22nd consecutive day with temperatures exceeding 105 degrees in the valley, according to the National Weather Service.
"The use of fireworks comes at a time of year when wildfire danger is highest in Southern Nevada because vegetation is driest during the spring and summer months," Clark County spokesman Erik Pappa said in a Monday release.
The Saturday high is expected to reach 108 degrees, with nighttime lows dropping to 89 degrees, meteorologist Justin Pullin said. No thunderstorms are expected for the weekend and light breezes should reach 10 to 15 mph.
The "safe and sane" fireworks approved for county and city use are not allowed at Mount Charleston, Red Rock, Lake Mead or other federally protected areas in Southern Nevada, the county's release said.
Safe and sane fireworks — sparklers and fireworks that keep to a small, circular area on the ground — were legal for use beginning Sunday in Clark County. The last day they can legally be set off is Saturday, the release said.
"Even legal fireworks can harm people and cause property damage if they are not used responsibly," Clark County Fire Chief Greg Cassell said. Most fireworks-related injuries happen to children 5 to 14 years old, he said.
Never hold fireworks in your hand, light only one at a time, never relight duds and soak fireworks in a bucket of water before throwing them away, the county advised.
Illegal fireworks include firecrackers, Roman candles, skyrockets and any fireworks made of highly combustible materials.
Possession and use of all fireworks, including those sold legally in Nye and Clark counties, are illegal year-round on Bureau of Land Management lands, BLM spokeswoman Kirsten Cannon said Tuesday.
Fire restrictions, which additionally prohibit the use of campfires, coal stoves and exploding targets, went into effect May 14, Cannon reminded the public.
Violators of BLM fire restrictions could face fines up to $10,000 and a year in jail, as well as costs associated with resource damage, fire suppression and any injuries related to the offense.
So far this year there have been 25 human-caused fires on Bureau of Land Management lands in Southern Nevada, Cannon said.
Heading into the weekend, law enforcement and firefighters will patrol BLM lands surrounding the Las Vegas Valley where fireworks are commonly set off this time of year, Cannon said.
Contact Kimber Laux at klaux@reviewjournal.com or 702-383-0381. Find her on Twitter: @lauxkimber.