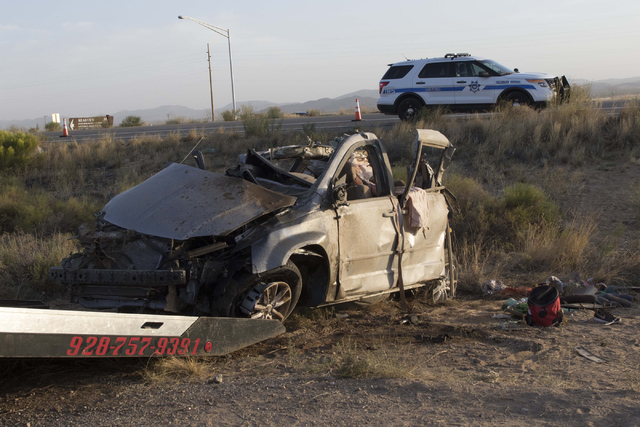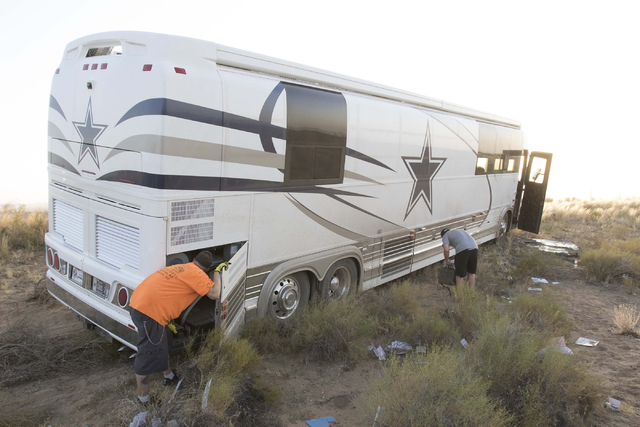 The four Chinese nationals who died Sunday when their van turned in front of and collided with an oncoming Dallas Cowboys tour bus in northwest Arizona were identified Wednesday by the Arizona Department of Public Safety.
All four dead hailed from Guangdong, China, the department said in a statement. They were driver Guang Xiang Li, 52, and passengers Yuetong Li, 19, and Suiqing Ou and Sangqin Bi, both 52. All were wearing seat belts.
Next of kin notification has not been completed, the department said.
The department said the van had been southbound on U.S. Highway 93 about 1:30 p.m. and was trying to turn west to access Pierce Ferry Road when it collided with the oncoming bus, which had been traveling northbound. Both vehicles ran off the road.
"The van … failed to yield the right of way from a stop sign and was struck by the motor coach," Department of Public Safety spokesman Quentin Mehr said Tuesday.
The bus, carrying Dallas Cowboys.com columnist Mickey Spagnola; Foster Naylor, the Cowboys' mascot Rowdy; videographer Jacob Walraven; and bus driver Emory Tyler, was bound for Gameworks in Town Square in Las Vegas. It was to arrive at 3 p.m.; it had left from Phoenix earlier that day.
No one on the bus required medical attention, the department said.
The department hasn't said whether the Chinese nationals in the van were taking Pierce Ferry Road to visit the Skywalk at Grand Canyon West.
"Any loss of life while traveling on the road is heartbreaking and tragic," Lt. Col. Dan Lugo, assistant director of the Highway Patrol Division, said in a statement. "When driving on our highways and byways drivers need to always be cautious and aware of road and traffic conditions around them."
About 70 people lined up Sunday at GameWorks at Town Square hoping for an autograph from Spagnola and photos with Rowdy.
Cowboys owner Jerry Jones expressed remorse in a statement Monday.
"We as an organization are deeply saddened, and our thoughts, prayers and concerns at this time are with the family members and loved ones of all who were lost," Jones said.
Dave Hawkins contributed to this report. Contact Matthew Crowley at mcrowley@reviewjournal.com. Follow @copyjockey on Twitter.