Old McCarran Airport tower meets a $1.99M demise
Updated May 1, 2017 - 8:29 pm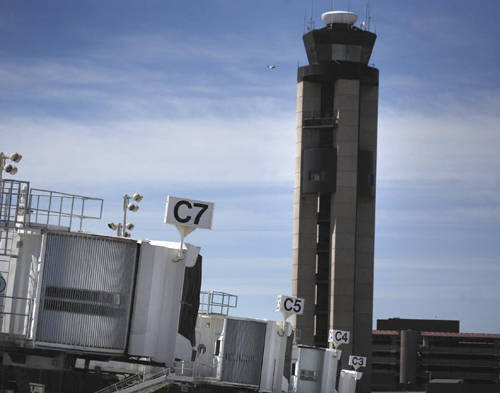 Just like everything else considered outdated in Las Vegas, McCarran International Airport's former air traffic control tower is pegged for demolition.
Forget the immediate, spectacular images of hotel implosions.
Standing in the shadow of its flashier and taller replacement, the 185-foot-tall tried-but-true tower will be carefully dismantled over the next several months, just yards away from jetliners maneuvering along an active airfield.
"We are working near the airport operations area, so we have to make sure that stray debris doesn't end up over there," said Darren Brinker, a project engineer for the Federal Aviation Administration.
The tower served as a lookout point for air traffic controllers from 1983 until a new 352-foot-tall tower opened last year at McCarran International.
Now deemed too short, the obsolete tower will be razed as part of a $1.99 million project funded by the FAA.
Jamaal Haltom, a Las Vegas air traffic controller since 2010, said he won't miss the old place, now that he's settled into a new $99 million tower that delivers unobstructed views of planes flying through the nation's eighth-busiest airport.
"The new tower's height gives us a better line of sight for aircraft, and we can see taxiways that were previously obscured by new construction around the airport," Haltom said. "We can move aircraft more expeditiously without having to stop operations anymore."
Crews from Advanced Integrated Solutions started gutting the tower's interior in March, starting with hazardous materials abatement, Brinker said. By mid-April, power conduits and conductors were removed, while walls, ceilings and light fixtures got torn out.
The ground radar system was removed last week and will be refurbished for a new air traffic control tower under construction at Charlotte Douglas International Airport in North Carolina.
An empty shell of its former self, the tower is now ready to come down, Brinker said.
Scrap salvaged for other projects
The most noticeable changes will start in about two weeks, when several construction cranes will carefully lift a 525-square-foot cab from the top of the tower, where controllers once kept watch over aircraft departing and arriving at Las Vegas.
Scaffolding and netting will envelop the tower to catch loose pieces of debris as crews slowly cut apart the tower's exterior, piece by piece, until the project wraps up in early August.
"Right now the winds are a concern," Brinker said. "We aren't expecting any problems, but we have to make sure that we don't disturb underground lighting cables running within 40 feet of the tower."
After construction clears, the tower's 13,740-square-foot base building will remain standing. Airport spokesman Chris Jones said it will be converted into office space for Clark County's Department of Aviation.
What's considered trash in Las Vegas will be recycled into projects elsewhere, Brinker said. A relatively new heating, ventilation and air conditioning unit was salvaged and set aside for use at another FAA facility, while the contractor will recycle much of the concrete and steel torn from the structure.
However, the future is unclear for the controller's cab after negotiations fell apart to reuse it at Boulder City Municipal Airport.
"Upon researching how to demolish the tower appropriately and rebuild it here, we found that it could not be guaranteed that we wouldn't have issues once it got down here," said Marissa Adou, assistant airport manager in Boulder City.
"The cab would have to be rebuilt with federal funds, and there was no money set aside in case there were errors," Adou said. "It was decided that it would be better for the city to build a new tower when the time comes."
Contact Art Marroquin at amarroquin@reviewjournal.com or 702-383-0336. Find @AMarroquin_LV on Twitter.
McCarran International Airport's air traffic control towers
Old tower
Opened: 1983
Height: 185 feet
Controller cab: 525 square feet
Base office building: 13,740 square feet
Traffic in 1983: 140,000 annual flights
New tower
Opened: 2016
Height: 352 feet
Controller cab: 850 square feet
Base office building: 52,800 square feet
Traffic in 2016: 535,740 annual flights
Source: Federal Aviation Administration