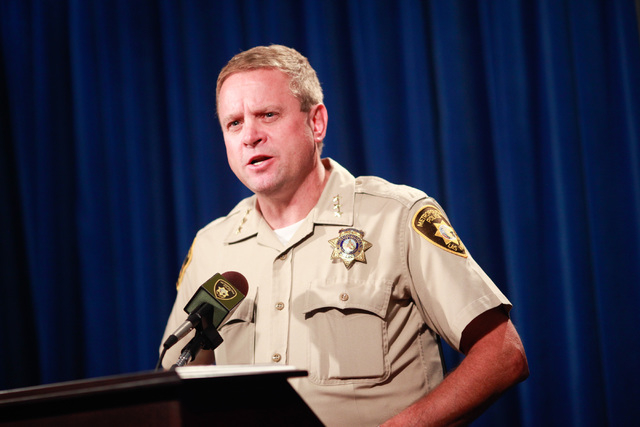 Metropolitan Police Department Undersheriff Kevin McMahill appeared on local public radio Friday to defend a new policy that rotates detectives into patrol shifts. Since the detectives were deployed last week, they went nine days without a homicide, he said.
The policy, dubbed the violent crime initiative, is a response to a 25-percent spike in violent crime valleywide this year. Plain-clothed officers and detectives will have to work at least one two-week patrol rotation until the current batch of recruits finishes training at the end of the summer.
"We've had a very significant increase in crime since the beginning of the year," McMahill said on KNPR's "State of Nevada" program. "We're starting to see a turnaround to some of that."
So far this year, Las Vegas police have responded to 34 homicides. In the same time period in 2015, there were 20 homicides.
Police union leaders criticized the move last week, saying many of the affected officers have been out of patrol for a long time and are being thrown back on the street without warning or new training.
Lt. John Faulis, chairman of the Las Vegas Police Managers and Supervisors Association, told the Las Vegas Review-Journal that many don't even have stun guns or uniforms.
But McMahill told KNPR on Friday that the policy has made an impact.
"Despite what you might have read in the newspaper from the head of our unions, the reality is that every one of those detectives is still at the very core of who they are a police officer. These are not people who sit behind a desk and shuffle paper all day long," he said.
"There's been a few stories that they're all upset and they don't know how to do it. I can tell you, I've talked to a whole lot of them, and every last one of them, while they don't like their days off being changed or their shift being changed, which I completely understand, they get it … Since they've been deployed they went nine days without a homicide. Still not good enough, but I tell you what, they've had an impact."
McMahill said the rise in violent crimes is being fueled by drug addiction and the failures of social services — things like mental health and unemployment.
But that's not all: he said there has been an influx of gang members from California.
"Today, right now, what we're seeing is a significant number of those gang members are coming from Oakland," he said. "They're trying to come in and take over some of the local drug trade, and we have friction between a variety of gangs, which has led to some of the shootings that we have."
Contact Wesley Juhl at wjuhl@reviewjournal.com and 702-383-0391. Find him on Twitter: @WesJuhl
RELATED:
Metro plan to put detectives on the streets raising concerns
Sheriff on shifting detectives to streets: 'It would be a disservice for me not to'