Panel recounts Las Vegas police efforts to reduce deadly force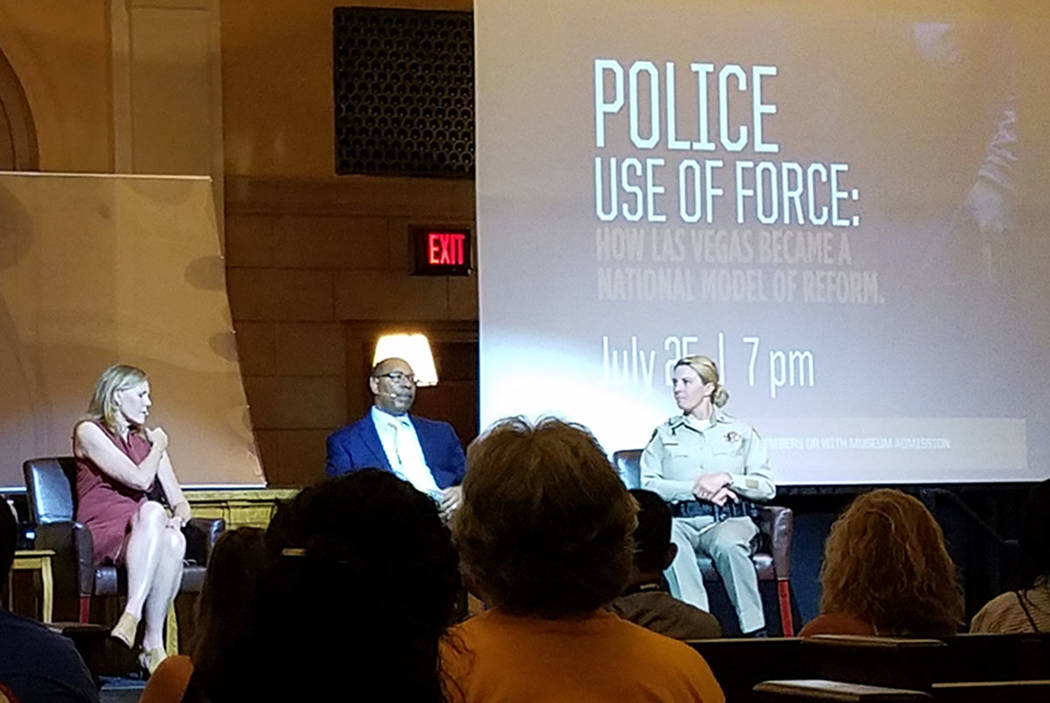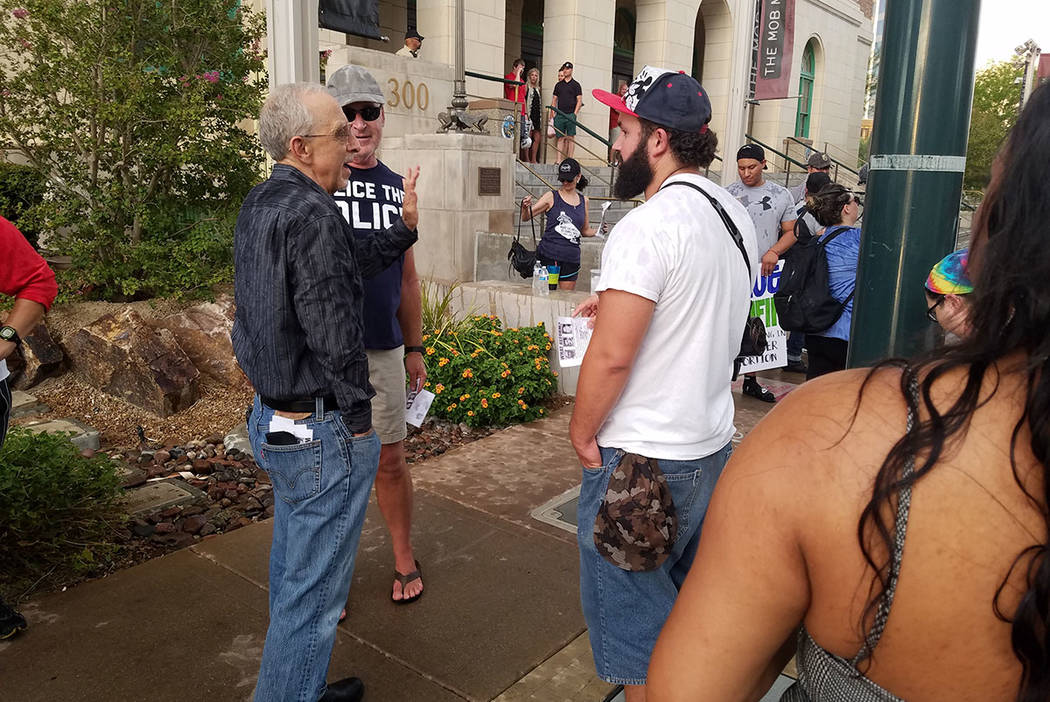 A panel this week recounted the Metropolitan Police Department's efforts to reform its use of force guidelines over the past several years.
The forum took place Wednesday night at the Mob Museum, which has an interactive exhibit on deadly use of force.
"Police Use of Force: How Las Vegas Became a National Model of Reform" focused on Metro's use of force policy changes and the department's efforts to increase transparency and emphasize de-escalation tactics. Panelists included current and former Metro leaders, a representative from the Sheriff's Multi-Cultural Advisory Council, and a public safety and justice expert.
Major policy changes followed the Las Vegas Review-Journal's five-part series in 2011 on the high rate at which Metro officers used deadly force, said Crime and Justice Institute Executive Director Christine Cole. The Department of Justice then worked with Metro leadership to identify and address shortcomings in its use of force guidelines.
Metro had recognized the need for reform even before the Justice Department got involved, former Clark County Assistant Sheriff Greg McCurdy said. Metro sent lieutenants to speak with multiple police agencies just before 2007 to discuss holding officers accountable for deadly shootings, he said.
"We knew then it was a problem," McCurdy said.
In November 2012, the Justice Department issued a list of 75 recommendations for changes to oversight, tactics and technologies. Metro worked closely with the department to embrace the reforms, becoming a model for other departments to do the same.
Metro's new policies emphasized de-escalating situations, stronger oversight and transparency, Metro Capt. Kelly McMahill said. She cited Metro's commitment to reviewing every instance an officer used force, as well as its protocol for releasing information after an officer-involved shooting.
"You deserve answers," she said.
Metro worked quickly to implement the reforms, said McMahill, who was tasked with training 5,500 Metro employees on the new guidelines in a five-week span.
The task proved challenging, she said. Some officers resisted the changes.
But, she said, a culture change has occurred, and officers are open about their mistakes.
There are new conversations about police work, such as slowing down and forming plans when responding to intense calls, McCurdy said. "It's about a lot of things that we weren't really talking about" before, he said.
Even after the reforms, distrust in police remains, the panelists acknowledged. Multi-Cultural Advisory Council representative Jose Solorio said the council has encouraged the department to hire from a more demographically diverse pool of candidates, which should help to improve community relations.
"We strive for the day when the police force looks like our community," he said.
The downtown Las Vegas forum drew criticism from a few in the crowd who held fliers with the faces of those killed by Las Vegas police. One mother wore a shirt bearing the face of her son, Keith Childress Jr., an unarmed man fatally shot by Metro officers Dec. 31, 2015.
"I want them to see there's grieving mothers in this room that you are not holding police accountable for," Jackie Lawrence said.
Lawrence, 48, questioned the effectiveness of a body-worn camera policy where officers can forget to turn on their body-worn cameras.
"I don't really see your reform," she said.
Activists also gathered outside the museum, handing out fliers questioning Metro's use of force reforms. Kenia Leon, 38, said Metro's reforms don't go far enough.
"We decided that we needed to make our voices heard about the lack of transparency and bring a call to attention to the police brutality that's still happening," she said.
Longtime civil rights activist Gary Peck praised the reforms Metro has made but called for additional changes to Metro's use of force and body-worn camera policies.
"To the extent Metro representatives were honestly self-critical and sensitive to the concerns of the community, I commend that," Peck said. "And I hope they will continue to work on policies and practices that can be improved."
Contact Mike Shoro at mshoro@reviewjournal.com or 702-387-5290. Follow @mike_shoro on Twitter.