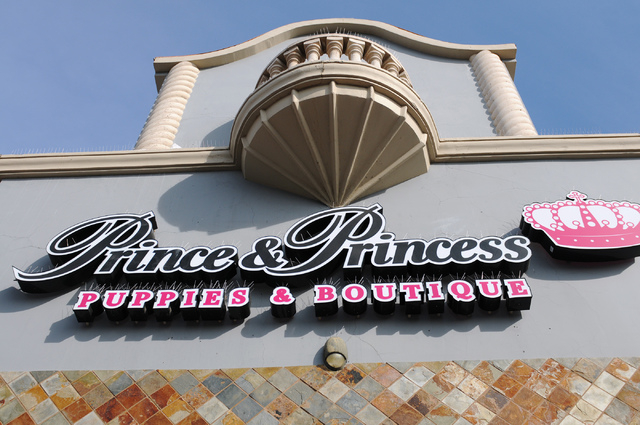 Accused pet store arsonist Gloria Lee is free on $340,000 bond.
Lee, who faces arson and insurance fraud charges for the January blaze at the Prince and Princess Pet Boutique, bonded out of the Clark County Detention Center last month, court records show.
Lee and fledgling boxer Kirk Bills, 27, face 31 charges, including 27 counts of attempted animal cruelty. Lee faces an additional three charges of arson with intent to defraud an insurer, insurance fraud and attempted theft.
A trial is set for July 14 before District Judge David Barker.
Surveillance video from the pet shop shows a woman letting a man with dreadlocks and wearing a hood into the shop. The man then tried to start a fire using kerosene and gasoline splashed onto the animal cages. The woman is seen removing documents from the business and helping the hooded man by collecting the empty fuel cans before the fire was set.
Prosecutors say the man and woman in the video are Bills and Lee.
The blaze was quickly extinguished by a sprinkler system in the store, and the dogs survived unharmed.
Lee later told investigators that she was forced at gunpoint to let the man into the store, and she said her estranged husband, Donald Thompson, was behind the arson, according to grand jury testimony. But authorities didn't believe her because they say she appeared to be working with the man in the video.
Lee also made a claim for more than $3,500 with the Hartford Insurance Company after the Jan. 27 fire, prosecutors said.
Bills' defense lawyer has said that video is dark and it's unclear who the other person is in the video.
The county took charge of the 27 dogs that included 25 puppies after the arson. The Animal Foundation adopted out the young dogs, the so-called "arson puppies" via a $250-a-ticket raffle.
The two adult dogs are in foster care through the animal rescue A Home 4 Spot.
Bills and Lee have pleaded not guilty. Bills is being held on $310,000 bail at the county jail.
Contact reporter Francis McCabe at fmccabe@reviewjournal.com or 702-380-1039. Find him on Twitter: @fjmccabe.