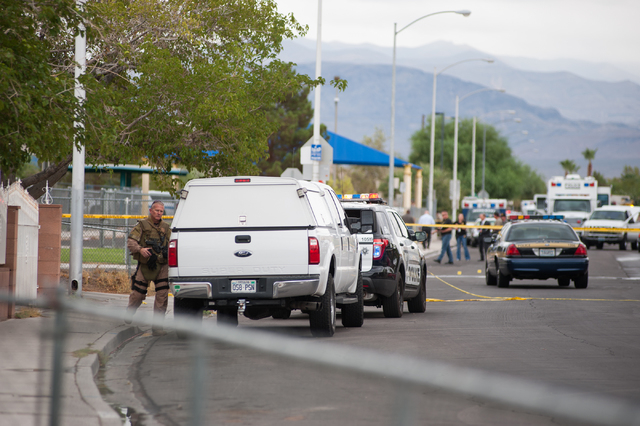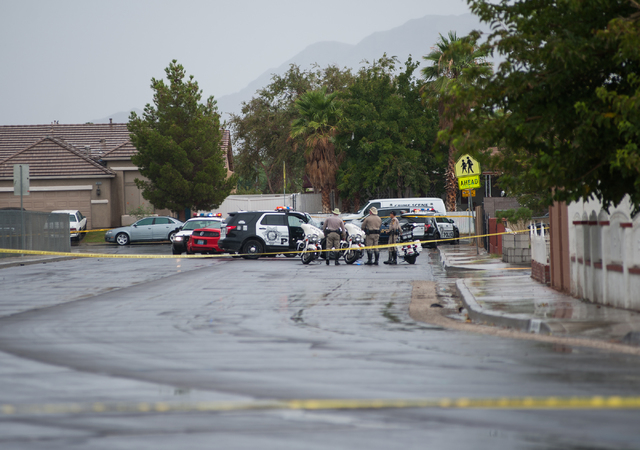 Las Vegas police and SWAT were investigating three scenes connected to a northeast valley officer-involved shooting Sunday afternoon.
Shots were initially reported just before 10 a.m. in the 4500 block of Cleopatra Avenue, in an apartment complex near Cheyenne Avenue and Nellis Boulevard.
When officers responded, they found one person who had been shot and had nonlife-threatening injuries, Capt. Matt McCarthy said. Police believe the shooting might be gang-related.
Soon after, officers began following a red Ford Mustang, occupied by a male driver and male passenger. A Metro patrol unit tried to conduct a traffic stop, McCarthy said, but the car fled east.
The officers followed, and the car lost control and fishtailed in a neighborhood near Alexander and Pecos roads. The patrol unit took advantage of this, McCarthy said, and performed a PIT maneuver — Pursuit Immobilization Technique. The vehicle crashed.
Both suspects fled the vehicle. The passenger briefly forced himself into a home and barricaded himself there. He didn't take hostages and was eventually taken into custody.
The driver was chased by a Metro sergeant who had been in the patrol car. The man pulled out a gun, McCarthy said, and the sergeant fired shots and the man went down.
He was taken to a hospital that was not named by police, where he was being uncooperative Sunday afternoon and would not give police his name.
As of 1:30 p.m., police were investigating three scenes — the apartment of the original shooting, the barricade and the area where the Mustang crashed and a suspect was shot, police said.
The sergeant involved in the shooting had only recently returned to work, police said. His squad was involved in the June 8 shooting at CiCi's Pizza, when Jerad and Amanda Miller ambushed and killed officers Alyn Beck and Igor Soldo.
The sergeant was given several weeks of administrative leave to recuperate. His bosses offered to give him more time off, but the sergeant wanted to return to his squad earlier, several officers said.
In officer-involved shootings, the involved Metro staffer is placed on routine paid administrative leave until a review of the incident is complete.
Kristen DeSilva and Annalise Little contributed to this report. Contact Wesley Juhl at wjuhl@reviewjournal.com and 702-383-0381. Find him on Twitter: @WesJuhl. Contact Mike Blasky at mblasky@reviewjournal.com. Follow @blasky on Twitter.