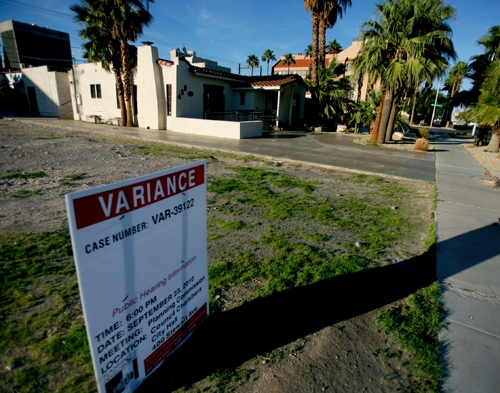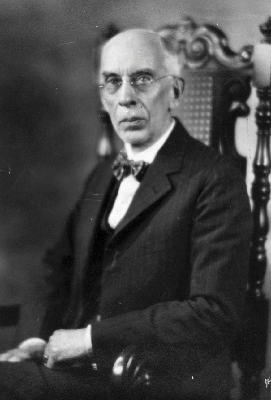 Preserving a house that once belonged to Charles P. "Pop" Squires, a leading figure in Las Vegas history, is too expensive, the Las Vegas City Council decided Wednesday.
The council approved plans to build a five-story, 55,000-square-foot office building at 400 S. Seventh St., where the Squires house and one other vacant house are located.
Both will be demolished.
"Unfortunately, after doing a lot of investigation, the cost proved prohibitive," Jay Brown, an attorney representing the property owners, told the council.
The estimate for moving the house was $350,000, with an additional $150,000 expense for setting up the house at a new location and connecting utilities.
"There's a basement there, and you have to cut it into four pieces to move it," Brown said.
Instead, the owners will pay to digitize the archives of the Las Vegas Age, the newspaper Squires edited from 1908 to the 1940s. There also will be a commemorative brass plaque in the lobby of the new building and an effort to preserve any significant architectural elements of the houses.
"It always breaks my heart to tear down something," said Mayor Pro Tem Gary Reese, who initially said the house would have to be preserved and moved before the project could be approved. "It is cost-prohibitive. I think what we're getting here in the downtown is great."
While the property hasn't been designated historic, it is part of the Las Vegas High School Neighborhood Historic District.
The planned building was styled to fit in with the neighborhood and the 1930s-era high school, said architect Scott Brown, and the owners are trying to import a 150-year-old ceiling for the lobby from a mansion in Pennsylvania that is being torn down.
"This is a great building," said Councilman Steve Wolfson, whose law firm is a few blocks away. "This is a great addition to the downtown area."
The building will be shared by six owners — five law firms and a private investigation firm.
Squires bought land in the 1905 auction that set up Las Vegas. He started a bank and a hotel, helped bring electrical service to the city and helped write the city charter.
What he is perhaps best known for is maintaining a weather station, both at his original house on Fourth Street and at the Seventh Street house.
Squires recorded a temperature of 118 degrees in 1931, although the National Weather Service doesn't accept the measurement and lists the valley's record high temperature as 117 degrees.
Contact reporter Alan Choate at achoate@reviewjournal.com or 702-229-6435.