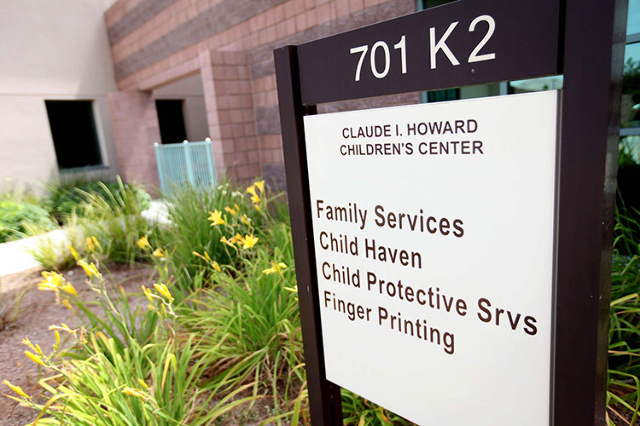 Clark County's shelter for abused and neglected children is battling a chronic staffing shortage, racking up $2.5 million in paid overtime so far this year to cover vacant shifts, according to county officials and documents obtained by the Las Vegas Review-Journal.
The situation concerns child advocates, who question whether the shortage hinders Child Haven's ability to meet the needs of its vulnerable residents, and frustrates the staff dealing with the lack of needed workers.
"I can't make more staff magically appear," wrote Joni Justice, a county child development supervisor, in an April 9 email to staff. "Getting angry and frustrated only makes our pitiful situation more frustrating."
The shelter has 50 full-time employees and four vacancies — two child development technicians and two child development specialists, Clark County spokesman Erik Pappa said. However, the population at the shelter can skyrocket suddenly, creating an instant demand for more staff to accommodate the children who cannot be turned away.
The Clark County Family Services Department fills that gap by using county juvenile justice workers to fill in at the emergency shelter, where the population can grow quickly, as it did last Thanksgiving when 97 children were in residence.
The overtime is needed to comply with Child Haven's licensing regulations as the campus population ebbs and flows, according to Pappa. Family Services is seeking a long-term solution that will reduce reliance on overtime, but officials said it's too soon to say what that solution will be.
Child Haven staff have been notified on several occasions that if no one volunteers to work extra hours, "mandatory overtime" will be required of them, according to county documents.
Some of the options that county officials are considering to decrease overtime costs include adding more staff and increasing the number of Family Services' staff certified to work at the shelter.
Juvenile justice employees started working overtime at the shelter around the second quarter of 2014.
There are about 30 juvenile justice employees with current child care licenses, which makes them eligible to fill in at Child Haven, Pappa said. Of the $2.5 million paid in overtime so far this year, $1 million went to juvenile justice staff.
Family Services "monitors staff use of voluntary overtime and has made every effort to assure that staff do not work an exorbitant amount of voluntary overtime," he said.
Child Haven also has a new manager — Dawn Sanchez. Its previous manager, Jolie Courtney, has been transferred to a different area in the department as part of a manager realignment, Pappa said.
'Mandatory Overtime'
Various emails from late last year and earlier this year show the shelter's desperate need for more staff to work day, swing and overnight shifts at the campus that never closes.
The staffing shortfall has child advocates questioning whether the needs of traumatized children are being adequately met.
Denise Tanata Ashby, executive director of the Children's Advocacy Alliance, said her biggest concern is what's going to be done to fix the problem.
"These are kids with very high needs, particularly the ones at Child Haven," she said, adding that the shelter's population includes medically fragile children who are harder to place in foster homes.
Latisha Brown, state child care licensing manager, has received no complaints that Child Haven is out of compliance with licensing regulations.
The average length of stay at Child Haven this year is about nine days. Policy calls for children to be placed in permanent housing within 24 hours of arriving at the shelter.
On Aug. 6, 64 children were at the shelter. On Aug. 13, the population had decreased to 45. On Aug. 20, it went up to 56.
County emails from late last year and earlier this year show a constant need for more staff. A December email from Child Haven management to staff was a reminder that if no one volunteered for extra shifts, officials would have to use mandatory overtime.
"We just need to keep it fair, maybe alphabetical order or something," the email reads.
A January email to shelter workers told them to stay on the job until there's adequate staffing or until excused by their supervisor or senior staff. "If volunteers are not sufficient, mandatory overtime will begin," the email reads.
Another email from February points to the same issue. "If we don't get the volunteers, please assign mandatory OT. Thanks," the email reads. Other county emails continue with the same message.
Pappa said officials have not invoked mandatory overtime at the shelter in seven years.
"Staff do know that if we do not get volunteers, we may have to go to mandatory, but we have not actually done it," he said.
Training Concerns
Melanie Delgado with the Children's Advocacy Institute based at the University of San Diego said Child Haven's situation is concerning.
"These kids have experienced trauma. They have been removed from their homes," she said. "They are dealing with the loss of their families. They need to have the attention and services they need. The shortage of staff takes away the ability to provide that."
It's one thing if they are using juvenile justice workers who are trained to deal with foster children. But if they are using staff who are trained to work with rehabilitating youth, then that's a different mindset, she said.
All Child Haven staff, regardless of their classification, are required by the state to "receive initial and continuing education training in child care," Pappa said.
Child Haven employees receive annual certification training in two approved behavior modification programs, he said. Juvenile justice staff are not allowed to work at Child Haven unless they have obtained all necessary licensing.
The shelter has not fallen below state staffing regulations, Pappa said.
When children enter Child Haven, a mental health screening is completed to determine if the child has any immediate clinical needs. The results are then forwarded to Family Services for review, Pappa said.
Within in 72 hours of being admitted to Child Haven, children meet with a Healthy Minds representative and receive an intake assessment to determine their mental health needs.
Healthy Minds provides therapeutic services to children on campus, Pappa said. It also provides staff to assist with giving children one-on-one attention.
Contact Yesenia Amaro at yamaro@reviewjournal.com, or 702-477-3843. Find her on Twitter: @YeseniaAmaro