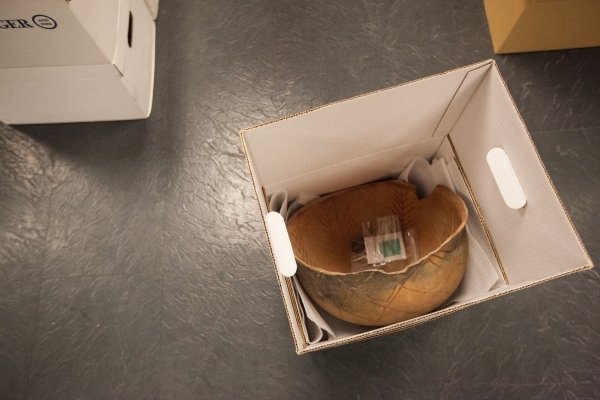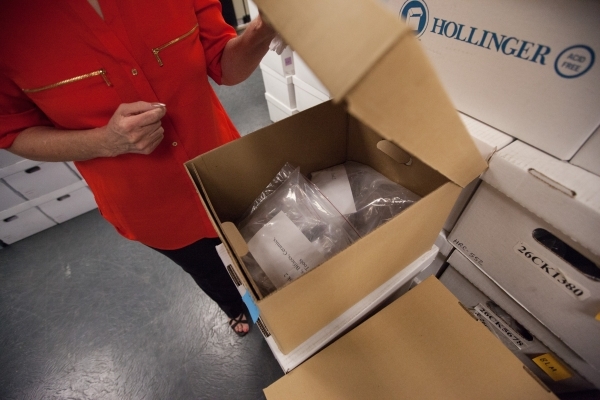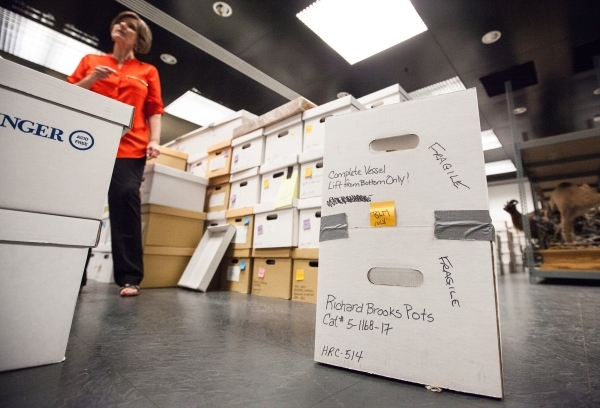 Roughly 800 boxes of pottery shards, woven baskets and other artifacts collected across Southern Nevada are now in the hands of the Las Vegas Natural History Museum, which recently won federal approval to store such ancient treasures.
Earlier this year, the Bureau of Land Management declared the museum a repository for all archaeological and paleontological finds on public land in the area. The designation cleared the way for the 24-year-old museum on Las Vegas Boulevard just north of downtown to house artifacts collected over the past four decades and spanning more than 10,000 years.
"Their place of origin was Southern Nevada. We wanted to bring them back," said Marilyn Gillespie, the museum's founding director.
The American Indian artifacts and other items were housed at the Harry Reid Center at UNLV until several years ago, when they were moved to the Nevada State Museum in Carson City. They returned to the valley Sept. 15 inside three U-Haul trucks.
"When our collections curator was unloading it, it was like Christmas Day," said Glenn Orsburn, the museum's facilities manager and exhibit technician.
Staff members are just beginning the painstaking process of going through the boxes to document what they have.
"We're very excited, but you have to do these things very slowly," Gillespie said. "We have to take extra special care of these items. It's a responsibility we take very seriously."
For now, the boxes are stacked inside the museum's new collections and research facility across Las Vegas Boulevard in a 10,000-square-foot building owned by the Las Vegas-Clark County Library District.
"Our goal is to get some of these items on public display," Gillespie said. "To my knowledge, they've never been on display before."
The museum's new role as a federal repository could lead to other prized items landing there, including ice age fossils scratched from the hills at the valley's northern edge in what is now Tule Springs Fossil Beds National Monument.
"That's our goal," Gillespie said. "We are in conversation with the National Park Service."
Some Tule Springs fossils were returned to Las Vegas from the San Bernardino County Museum in California earlier this year and are now being kept at the Nevada State Museum at the Springs Preserve. Park Service officials have said they want to get all fossils collected from Tule Springs back to Las Vegas one day.
The Las Vegas Natural History Museum opened in 1991 with a borrowed collection housed in a city-owned building built 30 years earlier as an Elks Lodge. Gillespie said they have made their unusual museum space work over the past 24 years, but it's been challenge.
"I've always said it's hard to do dinosaurs with an 11-foot ceiling," she said.
The private, nonprofit museum became a Smithsonian affiliate in 2002 and was accredited by the American Alliance of Museums in 2013. The facility was officially designated as a state repository for artifacts and fossils last year, and now it has the same federal status, albeit only from the BLM so far.
"I am very proud of the museum's journey," Gillespie said. "We've come a very, very long way."
Contact Henry Brean at hbrean@reviewjournal.com or 702-383-0350. Follow him: @RefriedBrean