Review-Journal reporters lauded for coverage of newspaper's sale
January 13, 2016 - 6:45 am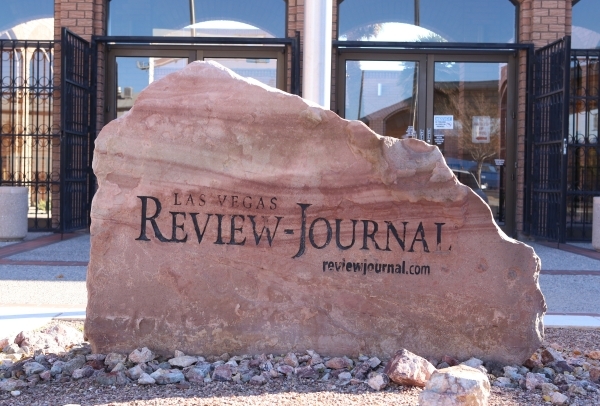 Las Vegas Review-Journal writers have been awarded the first "Sidney Award" of 2016 by the Sidney Hillman Foundation, a New York-based nonprofit dedicated to honoring socially conscious journalism, for its coverage of the Adelson family's purchase of Nevada's largest newspaper.
The monthly prize is awarded for outstanding journalism that fosters social and economic justice, the foundation's website says.
Reporters James DeHaven, Howard Stutz and Jennifer Robison met that criteria in January, according to the foundation's lead writer and contest judge Lindsay Beyerstein, when they diligently investigated the identity of the newspaper's anonymous buyer in December.
"It stood out, because it was a jaw-dropping scoop," Beyerstein said.
Journalists usually are nominated for the award, but in this instance the judges selected the Review-Journal on their own after reading about the effort, which attracted national news coverage.
"The team was brave to forge ahead, against the owner's wishes," Beyerstein said in the award announcement. "Their coverage is a coup for transparency, accountability, and journalistic independence."
After the Dec. 10 announcement that the Review-Journal had been sold to "undisclosed financial backers," known only to staffers as newly formed Deleware-based News + Media Capital Group LLC, DeHaven, Stutz and Robison set out to identify the new owners.
They reported that Patrick Dumont, the son-in-law of casino mogul Sheldon Adleson, had arranged the sale for the Adelson family.
Amid pressure from national media outlets, Adelson eventually confirmed his family's stake in the newspaper, saying "my money that the children have with which to buy the newspaper is their inheritance. I don't want to spend money on a newspaper."
In an era where the credibility of the media is constantly being questioned, DeHaven, Stutz and Robison exemplified fearless investigative reporting, Beyerstein said in a phone interview Tuesday.
"It reflects well on the whole newspaper," Bayerstein said, stressing the involvement of recently departed editor Mike Hengel and deputy editor James G. Wright.
Aimed at encouraging investigative journalism, the Hillman Foundation launched its prize program in 1950 to honor writers and broadcasters. Recipients in 2015 included the New York Times, ProPublica, Buzzfeed and the Los Angeles Times.
Contact Kimberly De La Cruz at kdelacruz@reviewjournal.com or 702-383-0381. Find her on Twitter: @KimberlyinLV