Ride 2 Recovery hits the Strip
November 7, 2015 - 3:01 pm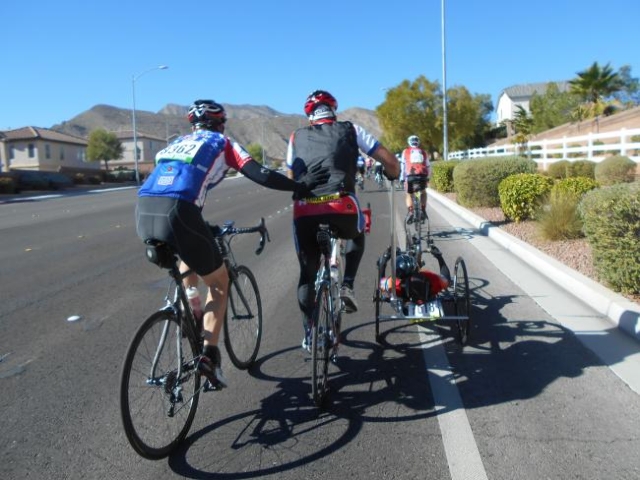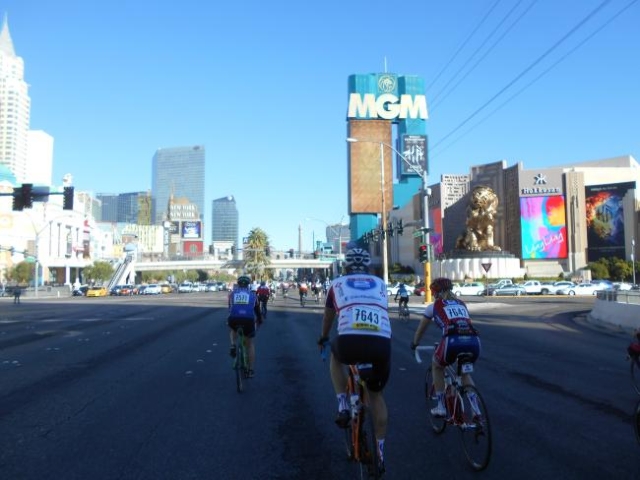 Need a jolt of inspiration?
You should have pedaled Saturday morning with the injured war veterans who were among the 800 bicyclists in the Ride 2 Recovery Honor Ride down the Strip and on the roads of Las Vegas.
Ride 2 Recovery stages these community bicycle rides to raise money and awareness about the plight of the injured veteran, who use the bicycle and also recumbent cycles fashioned specifically to accommodate their war injury. Ride 2 Recovery, based in Calabasas, Calif., has held previous rides in Las Vegas during the Interbike national bicycle trade show and also an off-road mountain bike ride outside Blue Diamond.
Every pedaling wounded warrior had a powerful story Saturday.
Consider retired Air Force MSgt. Christopher "Aggie" Aguilera who lost five buddies when his military helicopter crashed in 2010. Aguilera was severely burned and critically injured and eventually would have his left leg amputated in June 2013.
But there was Aguilera at the front of the group of bicyclists in his recumbent cycle to help start the ride at the festival grounds across from the Luxor on the Strip. There were rides of 20, 40 and 70 miles that began and ended at the festival site owned by MGM Resorts International.
Aguilera recalled the dark days trying to recover after the helicopter crash.
"I was trying to survive while my friends were dead. I was in a dark place," he told the bicyclists before the ride. "I'm in a much better place than where I was five years ago."
Regrettably, not all veterans recover as well as Aguilera.
Veteran Lou Norris of Las Vegas said he was biking Saturday to bring attention to the 22 veterans who commit suicide every day. Norris wore a bike jersey with the number, "22," on his back to remind people of the suicide problem.
"All these people are here to celebrate vets and help the vets," Norris said. He noted he enjoys the bicycle comradery of the Ride 2 Recovery events.
Most of the bicyclists were local residents who wanted to donate their money to the veterans' cause. They were inspired by many scenes of veterans pushing other veterans up some of the bicycle course hills.
Joe Rajchel, 55, of Henderson pedaled a Trek hybrid bicycle and joined his wife Carol and son Joe to honor the memory of his father, who was a World War II veteran.
"What the veterans did was something meaningful," Rajchel said.
Bicycling was a great way to honor the recovering vets, he said.
"It's a form of exercise that anyone can do," he said. "You don't have to be an athlete."
Contact reporter Alan Snel at asnel@reviewjournal.com Follow him on Twitter:
@BicycleManSnel