'Right place at right time': Nurse saves former RJ designer who collapsed on bike ride
Updated January 18, 2023 - 3:55 pm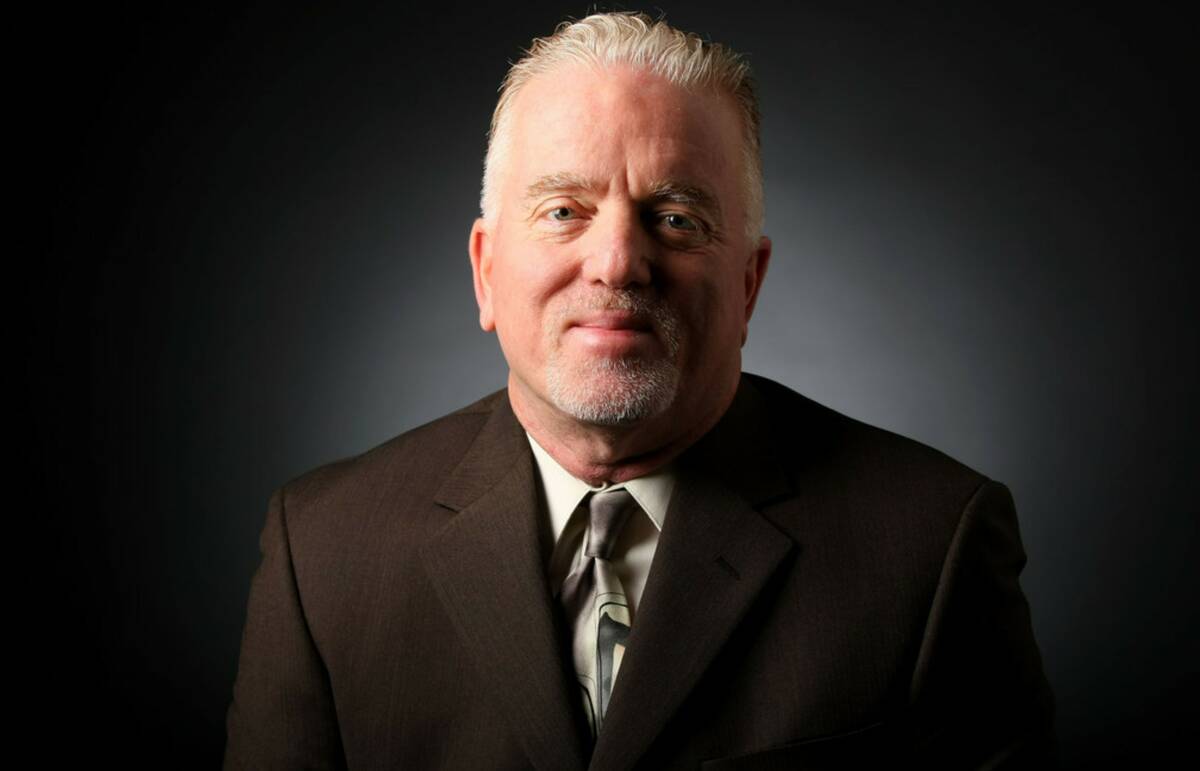 Jaime Principe said she was "in the right place at the right time" on Jan. 11 when a cyclist had a moment similar to the one Buffalo Bills football player Damar Hamlin had nine days earlier.
Paul Doyle, a 61-year-old cycling enthusiast and former Las Vegas Review-Journal page designer, was pedaling on a bicycle trail with a friend at Lake North and Crystal Bar drives in The Lakes neighborhood when he suffered a massive heart attack and fell off his bike to the ground.
Luckily for Doyle, Principe, a 47-year-old registered nurse trained in CPR, happened to be driving in her car after leaving work close to where Doyle collapsed. In a pivotal moment, Principe stopped to see if she could help.
"I saw a big crowd around Paul and proceeded to go there," said Principe, employed at the nearby Fertility Center of Las Vegas. "He had also turned blue and there was no pulse."
She began to perform chest compressions to pump blood to his brain and other organs while telling a young woman to call the fertility clinic and ask Lesleigh Pena, a nurse colleague there, to bring an automated external defibrillator, or AED, a machine used to revive heart attack victims.
After Principe compressed Doyle's chest for about five minutes, Pena got there just as emergency personnel pulled in and took over lifesaving efforts on Doyle, using a defibrillator machine and injecting epinephrine into him, Principe said.
"That pretty much started his heart, and they continued to do the heart compressions," Principe said.
"I was in the right place at the right time," she said. But it was not her first time giving the lifesaving treatment.
Some years back she heard screams for help about a 5-year-old girl who appeared to have drowned in a pool. Principe removed the girl from the pool and revived her after several rounds of 30 chest compressions and two breaths into the girl's mouth, she said.
Another time she was at in a casino when a man collapsed in a bingo hall. Principe said she and another nurse also at the casino did chest compressions and used an AED to save him.
"I'm happy to help," she said. "The thing is to remain calm and focus on that patient."
She and Pena hope to meet up with Doyle while he's in the hospital or after he is discharged, Principe said.
"That is definitely our wish, hopefully one day, that we can meet and give him a big hug," she said. "That would mean more to me than anything."
Doyle was taken to Summerlin Hospital Medical Center, where doctors determined he had a complete blockage of an artery in his chest, Doyle's niece Alyssa Doyle said.
That reflects the classic symptoms of a heart attack, in which the build-up of plaque in an artery blocks the circulation of blood and could be fatal, according to the Mayo Clinic, a nonprofit medical center.
On Jan. 2, on an NFL field in Cincinnati, Buffalo Bills safety Damar Hamlin made a tackle, stood up and promptly dropped to the ground due to cardiac arrest — an electrical malfunction where the heart is arrested, or stops.
Their cases are different, but Paul Doyle and Hamlin both needed CPR and an AED to get their hearts pumping again.
Hamlin's team credited assistant athletic trainer Denny Kellington for performing CPR on him on the field before a medical team revived Hamlin via a defibrillator and resuscitator on the way to the hospital.
'Long road to recovery'
Someone in the United States suffers a heart attack about every 40 seconds and an estimated 356,000 people per year go into cardiac arrest, according to the American Heart Association.
Alyssa Doyle gave consent for her uncle to have surgeons perform a bypass procedure, where a blood vessel from another part of the body is implanted to detour around the blocked area so blood can flow through.
She communicated with him afterward, streaming live on FaceTime on her phone, and he recognized her, but he was under heavy medication that affected his ability to speak, she said.
"He had a great surgery and everything went as good as they go," Alyssa Doyle said. "His vitals are stable. There is still a long road to recovery."
The plan is that once Paul Doyle is well enough for visitors, likely after he leaves the hospital, they will reunite with Principe and Pena, Alyssa Doyle said.
"That will be for sure on the top of the list to get done," she said.
Along with the Review-Journal, Paul Doyle also once worked for the Las Vegas car dealership Friendly Ford, Alyssa Doyle said.
'Such a freak accident'
He has long been an avid cyclist, taking part in biking marathons, she said.
"This was such a freak accident," she said. "He's been such an active guy. This took me and my family by complete surprise."
She started a GoFundMe page for her uncle with a goal of raising $50,000, what she figures he is going to need to help defray the cost of his medical bills, prescription drugs, rehabilitation efforts, living expenses from work missed during his convalescence and bills that are past due while he is in the hospital.
By Wednesday morning, 36 donors had given $4,570, according to the GoFundMe website.
In a message to donors on the page, Alyssa Doyle said that she was "hoping with your help we can turn the page and help Paul start out this next chapter keeping him strong & steady to win the race."
Contact Jeff Burbank at jburbank@reviewjournal.com or 702-383-0382. Follow him @JeffBurbank2 on Twitter.